I am so excited to share these Free Motion Quilting Practice Designs with you!! One of my most popular videos is where I show you how to make  8 quilting designs using one basic motion, I regularly get comments from people who tell me they can't wait to try the designs. This is going to make it so much easier!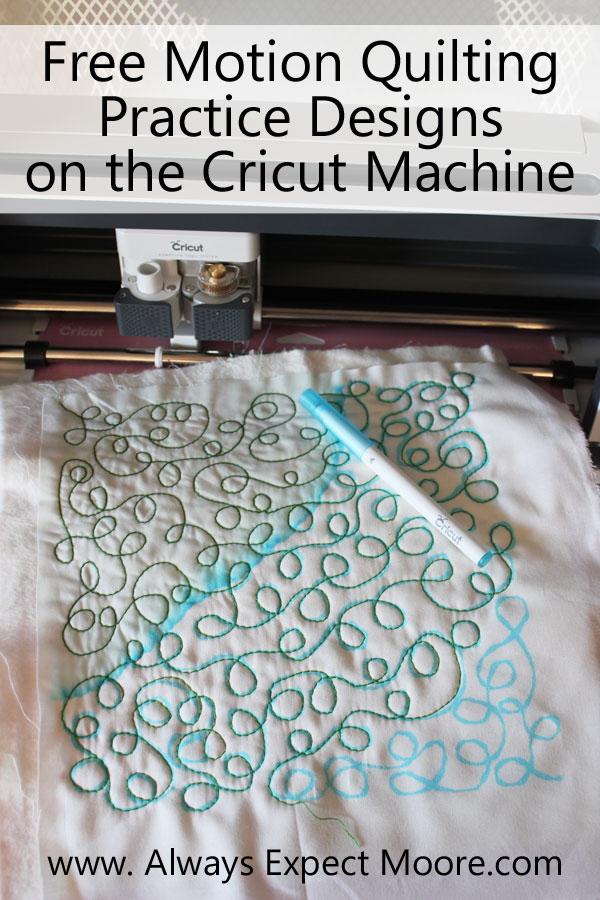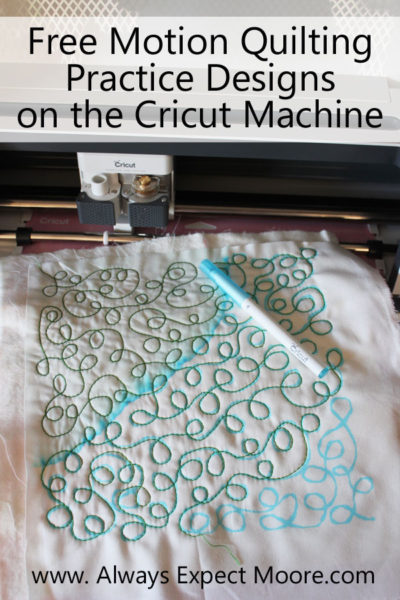 This post contains affiliate links which help support this site with no additional cost to you.
When you first start Free Motion Quilting, you spend time getting used to working with your machine. You need to "synch" with your machine. Like a mind-meld, but for quilting. My friend Christa Watson calls this the "hum-purr". (By the way, if you don't know Christa, go check out her book Machine Quilting with Style. An awesome book for Machine Quilters! And check out her blog Christa Quilts.)
Since you're spending that time finding your "hum-purr", it can be hard to also focus on your design, and where you want to go next. So, when I found out that Cricut was coming out with a water-soluble fabric pen, I was EXCITED! I could draw out those designs for you, you can draw them with your machine (any Cricut machine that can operate with a pen – it doesn't have to be the new Cricut Maker.)
Here is what you need:
Cricut Machine that uses pens and the Cricut Design Space
Cricut Mat (I used a fabric mat)
Cricut washable fabric pen
12″ square of cotton fabric for drawing on (light color that the pen will show up on works best)
13″ square (or larger) of scrap batting
13″ square (or larger) of scrap fabric for backing
Sewing machine with Free-motion foot
Super slider (optional, but I love it)
Basting Spray (you can pin baste or thread baste – but I love spray basting)
Download one of my .svg files for Free Motion Quilting. Right now I have a loopy fill and a border file. Let me know what you think, and I'll add some more.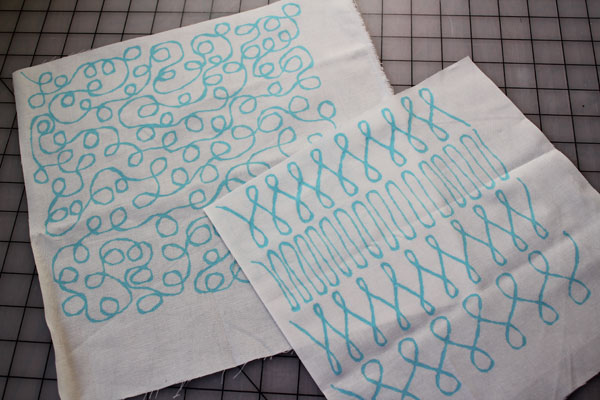 Open Cricut Design Space.
Upload the file into Design Space. It is an SVG file, so it is pretty easy.
Resize the file to whatever size square you would like.
Ungroup the image.
Remove the background shape (I have it sitting in a square for easy resizing)
Over in the right-hand panel, click on the scissors, and change that to write (select washable fabric pen, 1.0, Blue)
Your file is ready!
Put your 12×12 fabric on the mat. Load the mat, put the fabric pen in the pen holder, and let the machine draw the design.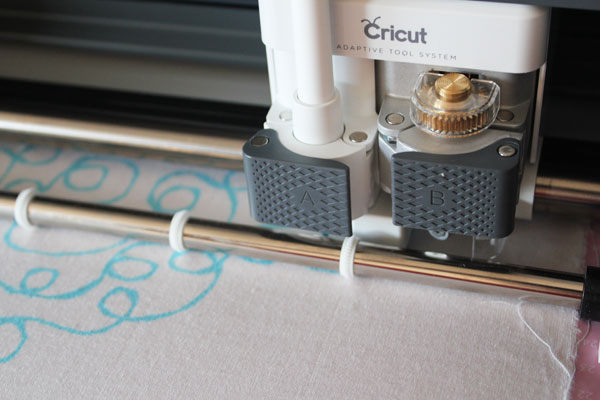 Once it is done, you can unload the mat, turn this layer into the top of your quilt sandwich, and start quilting! If you haven't watched my video, I give you all the basics for Free Motion Quilting these designs in my post on 8 quilting designs using one basic motion.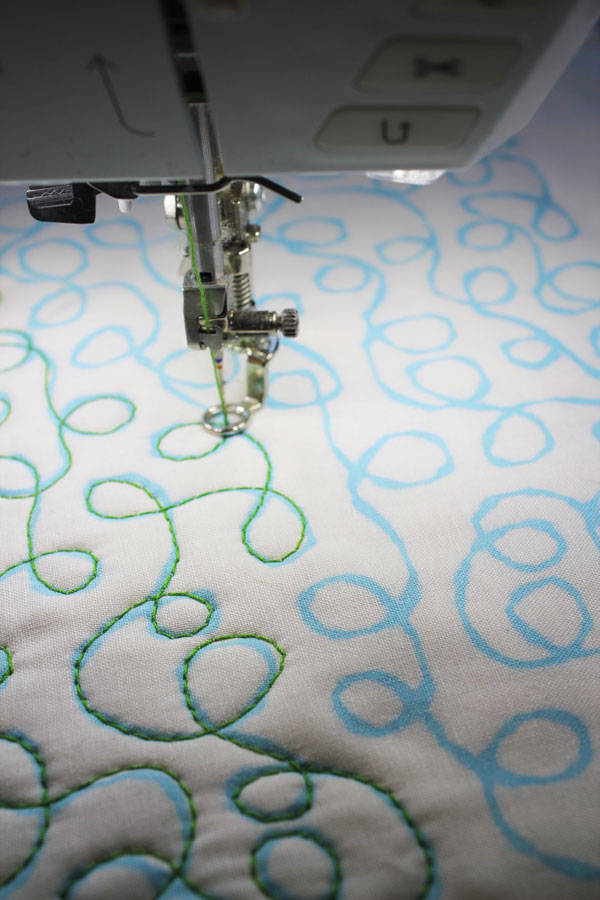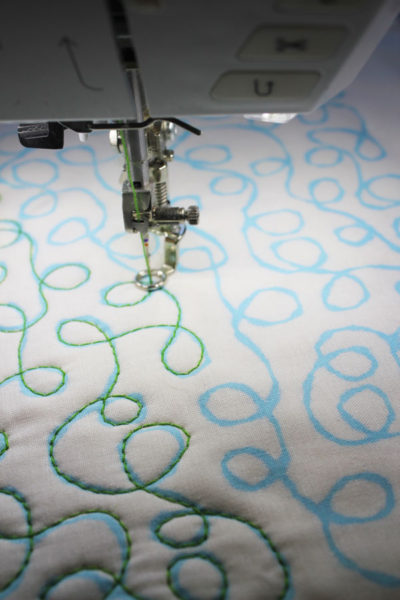 I'm using my favorite Wonderfil 12wt thread here. You can use whatever you like – but I love this thread for really standing out against any fabric!
Once you're done, admire your work for a minute.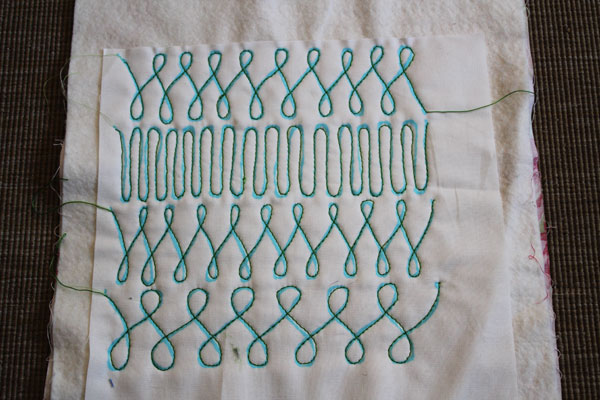 Then, you can wash away all that blue ink!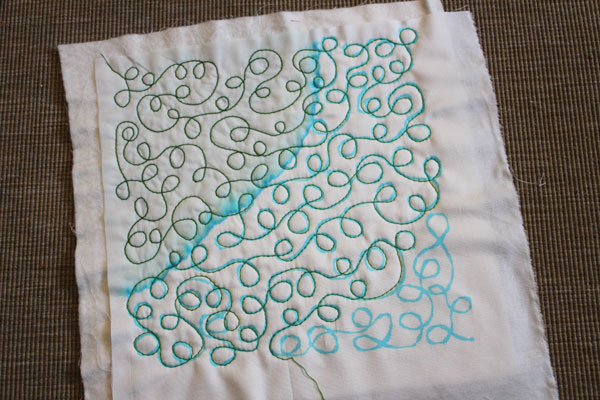 How cool is that?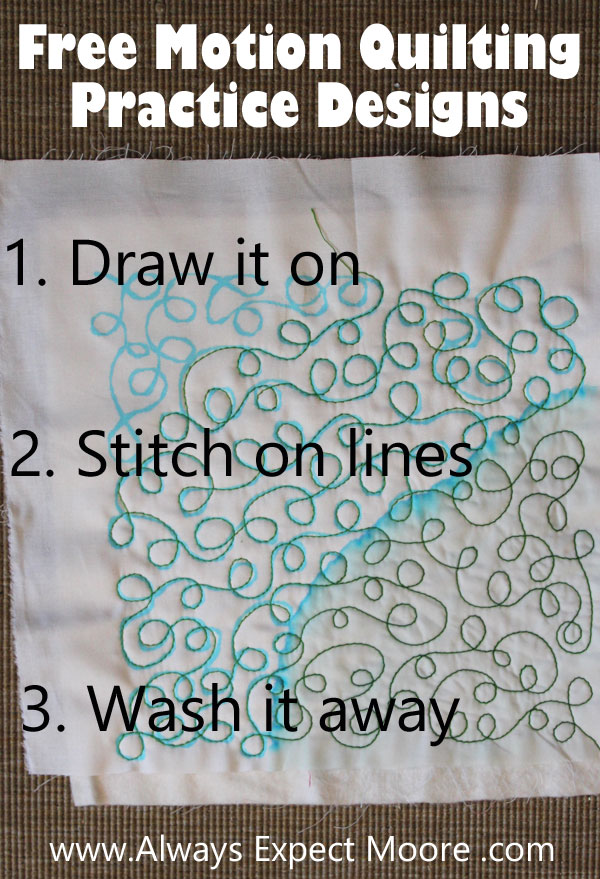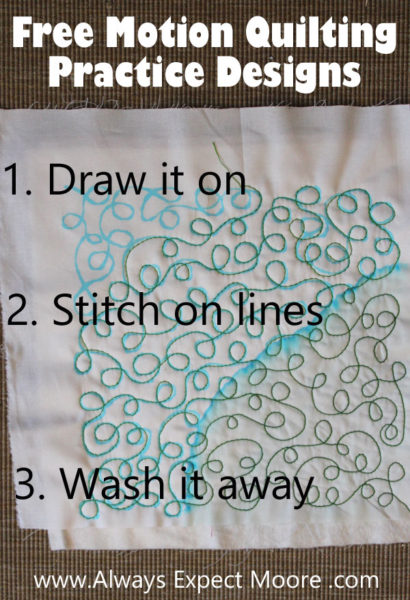 By the end of a practice square or two, you'll have found that hum-purr, and be ready to try it on your own, without practice lines!
Want to know what to do with your practice pieces? You can save them as reminders of your quilting journey. If you like, you can trim them up, bind them, and turn them into mug rugs and place mats.
Save