I'm so excited to share with you my new project … which could become your new project! The Cricut Maker Block of the Week! Over the course of several weeks, I am going to teach basic quilting techniques using the Cricut Maker.
Last month, I was invited to Salt Lake City to participate in the launch of the new Cricut Maker. This machine is extra exciting because it has a rotary blade attachment. The machine can rotate this blade 360 degrees to cut directionally. Which makes it perfect for cutting non-bonded fabrics (fabrics that don't have an interfacing or interlining fused to the back). When I saw this, I was super excited. As a quilter who has taught all kinds of quilting classes, and is excited about teaching beginners how to quilt, I saw an opportunity to teach new quilters how to sew their first quilt! And teaching new quilters is a serious passion of mine.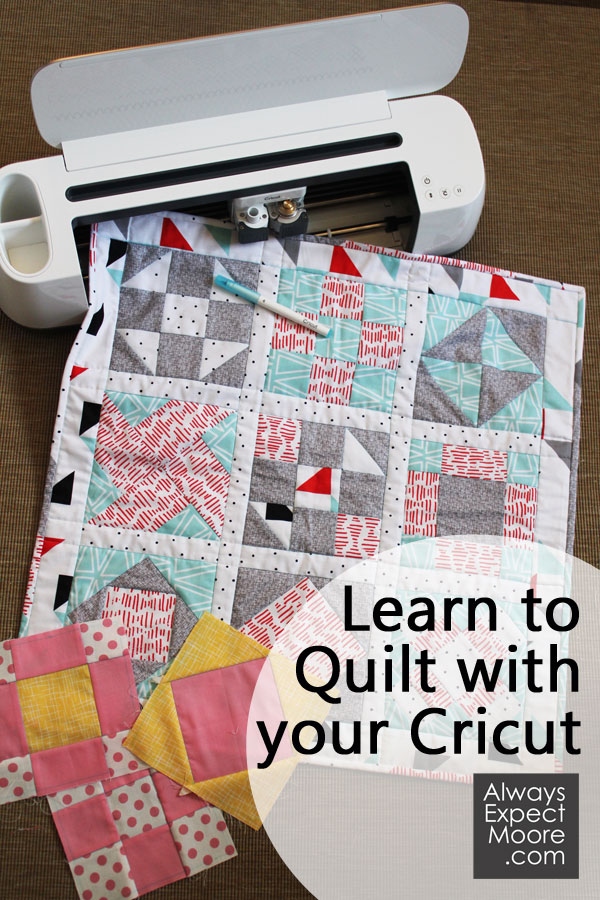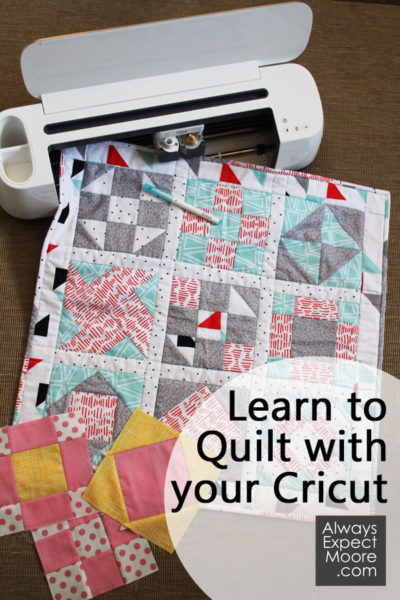 Here are the details for the Cricut Maker Block of the Week:
Lessons begin Friday, September 22nd. It will take us 14 weeks to finish this quilt (so you can have it done in time for Christmas!). It finishes at 23″ x 23″ square, so it makes a great baby quilt or wall hanging. We will go through all the steps – cutting and piecing the blocks, adding the sashing and borders, quilting your quilt on your home machine, and even binding the quilt! It sounds like a big commitment, but most weeks you'll be done in less than 90 minutes.
Every Friday I will share the lesson both here and on YouTube. You can watch the video, read the step-by-step instructions with photos, or do both. You can leave questions and comments both here and on YouTube if you need help.
The lessons won't go away – if you start a week later, a month later, or 6 months later… everything will still be there. If you get busy (hey, life happens), everything will still be there for you to pick up when life settles down. As my uncle says, "No hurries, no worries."
The cost is FREE. I'm not charging you anything to learn how to make this quilt. Cricut gave me the Maker machine, and this is my way of paying it forward. I will get a few pennies from ads on the YouTube Videos, and ads here on this site. And if you choose to purchase materials through my affiliate links, I'll get a small commission which helps compensate for my time and materials. But I won't ever ask you to send me any money. There won't be a sales pitch at the end of the 14 weeks for a pricy course (although, hey… there is a thought… nope. nevermind. not interested).
If you'd like to join in, you'll want to gather your supplies. Here is what you'll need. BTW, I've put affiliate links here – if you purchase through these links, awesome! If you don't, I'll never know. Either way, we're good.
Here is what you'll need to make the Cricut Maker Block of the Week Quilt:
Cricut Maker Machine. Yes, it has to be the Maker. It is the one with the rotary blade, and that is really a must here. That first link will take you to the Cricut Site to buy the machine. If you pay for Cricut Access, you'll get 10% off buying the machine there. If you're an Amazon junkie, you can buy the Cricut Maker on Amazon. If you hate waiting, the Cricut Maker is being sold at JoAnns and Michaels as well. Just call ahead to make sure they have one in stock.
Fabric. I've designed the project to be made using a single bundle of Cricut Designer Fabric, plus 7/8 yards of backing fabric. I've used the Rock Star bundle for the first quilt (pictured above), and the Garden Girl sampler for the quilt I'm making on the video. But, I've designed this so that any of the available bundles will work. Or, you could create your own bundle. You'll need 5 cuts of fabric, each 1/3 yard. Pick a fun print for the border, and 4 smaller prints or solids for the blocks and sashing. Make sure you get your 7/8 yards of backing fabric. Amazon lovers, you can buy the Cricut Fabric on Amazon.
12 x 24″ Fabric Mat. The machine comes with a 12 x 12 mat, but to cut the borders and sashing, you'll need a 12 x 24″ mat.
Cricut Fabric Pen. We will be using this to mark seam allowances. If you're an experienced quilter, you can skip this. If you want to pay way more, you can buy the fabric Pen on Amazon. My Michael's and JoAnns carry these pens as well, for the normal price.
Printable Stickers. I used Cricut Printable Vinyl because they are durable, but Printable Sticker Paper will work as well. We're going to use 1 sheet to print-then-cut labels for the fabric. If you don't have access to a printer, you could use regular labels and write the colors on them, or use marker to mark the colors (pink, yellow, white, purple, aqua). This will help you know which fabric to use when, especially if you're using a different fabric bundle than I am.
Thread. I'm not terribly picky about thread. I have friends that are passionate about certain brands of thread. If you're at a quilt shop and they have spools of Aurifil 50wt, that is great. If you're at the store and see Coats & Clark, that is also awesome. You want a quilting-weight thread. If you're not sure, ask a sales associate at the store, and they'll help you find an appropriate thread. Find a color that blends in with your fabrics – white, cream, or light grey are often great choices. Some people are going to tell you that it has to be 100% cotton thread. I'm not going to. Go with what makes you happy, here.
Sewing Machine. The Cricut will cut the fabric, but we need a sewing machine to put the pieces back together. Use what you have here. I have a big, fancy machine… but I'm not using it for this quilt. I pulled out my nearly 20-year-old fully-mechanical Viking machine to sew this project on. I did this to show you that while fancy machines are fun… you don't need to break the bank to sew something pretty.
Iron. Whatever you use to get wrinkles out of shirts when you have a job interview or parent-teacher conference will work great. If you don't have an iron, find an inexpensive one at Walmart or Target. If you that hate ironing – don't worry, this isn't "real" ironing. This is quilt ironing, which is WAY more fun!
Ironing board/Ironing pad. You don't want to melt your tabletop, so an ironing board or ironing pad is a great idea. In a pinch, you could use a folded bath towel, with a smoother tea towel over the top. It can be our little secret.
That will get you through the first 11 weeks! If you want to buy all your supplies now, read on. If you want to hold off on buying any more, then save the rest of this list until later.
After week 11, you'll  also need:
Batting – a 25″ x 25″ piece of batting is plenty. You can purchase a crib sized quilt batting. I suggest a LOW LOFT batting. Either 100% cotton or 80-20 blend. I've been using Fairfield batting for years, and keep a giant roll in the sewing room. No need for you to invest in that yet! If you want cotton, try their organic cotton batting. If you want a blend, try their 40/60 blend batting. If you want something really fun, try their evergreen batting. It is made from recycled bottles which gives it that green color – but the green won't show up on your quilts. It is really lovely for free motion quilting, and I wish I could buy a big roll of it!
Safety Pins or basting spray. We'll talk about this more in week 13, and which is best for which type of quilting you want to do. If you have safety pins on hand, those will work. If you're buying new ones, check out the curved safety pins. If you are going to try free-motion quilting, I recommend basting spray. I like Thermoweb Spray N Bond.
Walking foot or Free Motion Foot – this will depend on how you want to quilt your quilt. If you are new to quilting, a walking foot is usually the best choice. There is no one-size-fits-all for sewing machine feet. Check with whatever store distributes your brand of sewing machine to find a foot that fits your make and model. A walking foot can run you from $20-100, depending on how fancy your machine is. If you're an adventurous beginner, or have some more experience, you might want to try free-motion quilting. Get a free motion foot for your machine. An Embroidery foot might work as well. I will be teaching both the walking foot and free motion quilting techniques in week 13.
Ruler, Rotary cutter, and mat (for squaring up). If you have a friend who is a quilter, ask them if you can square up your quilt at their house. If there is a quilt shop local to you that offers their classroom for open use, consider that. But if you find that you love quilting, this is worth the investment! Here are the supplies I love:
Omnigrid 6×24″ Ruler
Fiskars Rotary Cutter, I like 45mm size, but you can go with whatever you have. Omnigrid and Olfa make good rotary cutters as well.
Omnigrid Mat
Hand sewing needle
Thimble (optional) – my favorite is the Dritz Comfort Grip Thimble.
By now you're probably thinking: WOW! That is a TON of stuff!
Well, you're right. The first quilt you make is nearly always going to be the most expensive, as you purchase supplies that you'll be using over and over again. If you treat them right, these supplies will last a decade or more. In my over 20 years of quilting, I've only had two 6×24″ rulers. The first one lasted me 15 years – and my mom had used it for many years before she handed it down to me.
If you're not sure – before you make the investment, ask around. Someone surely has some quilting supplies in their closet they'd be willing to loan you. And maybe you can get them excited about quilting again, and make quilts together!
That's everything you need to know to get started! Make sure you bookmark this post so that you can keep the supply list handy. Or start yourself a "quilts I'm going to make" Pinterest board (if you haven't already). This can be your first pin!
I'm super excited to start on this quilting journey together! Please reach out if you have any questions!