Who doesn't love a simple heart quilt? And if you ask me, a scrappy heart quilt is even better! This Log Cabin Heart Quilt is quick to stitch up with the help of the Curvy Log Cabin Trim Tool to get those fabulous curved-looking top blocks! All you need is the ruler, 3/4 yard of assorted heart-colored fabrics, and a yard of background fabrics … oh, and the Log Cabin Heart Quilt pattern!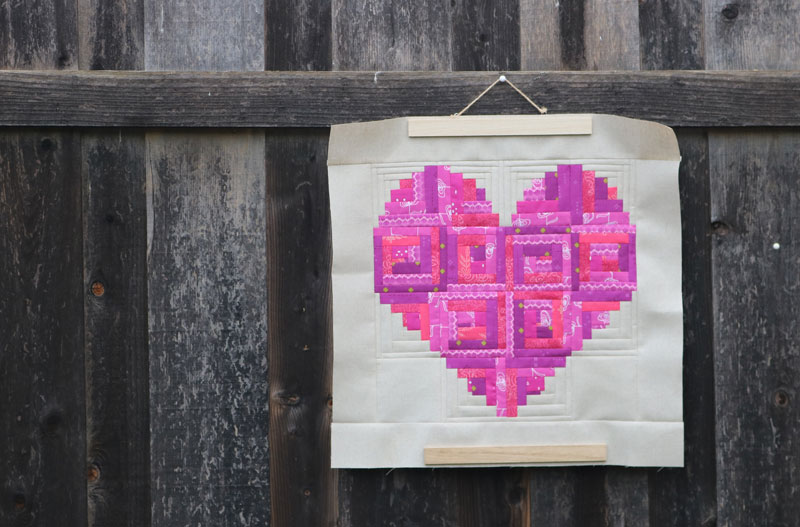 Of course I went through my stash of Art Gallery Fabrics for this heart mini quilt. You'll find assorted Art Gallery Fabrics Prints including Matchmade, Meriwether, Maara, and Elements collections. For the background fabric I chose this fabulous Art Gallery Fabrics Denim in Soft Sand. YES! I went with Denim for the background, and it gives this quilt fabulous texture!
The Log Cabin Heart Quilt is also special because it is the first Ruler of the Month pattern! What is the Ruler of the Month? I'm so glad you asked!!
Each month, I'll be sharing a new fun ruler with you, as well as a quilt or other project that you can make with the ruler! For the first month the pattern will be free. Once the next month's pattern and video are released, the previous pattern will get moved to my pattern shop for you to purchase.
This month, I'm sharing the Creative Grids 4″ Curvy Log Cabin Trim Tool. This ruler guides you through the process of trimming up a mini log cabin block that looks like a curve!
This is a super fun ruler, and I've made a video to show you how to use it to make your Curvy Log Cabin Blocks.
And, of course I show you how the Spot on Dot works with this ruler. Lines on quilting rulers are even more fabulous when you can see them clearly!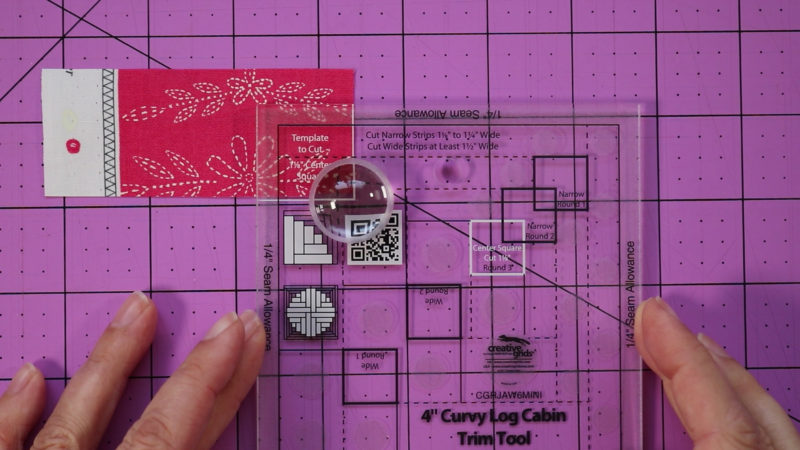 I encourage you to purchase the ruler at your local quilt shop. However, if you need to purchase it online, here are affiliate links to purchase the Curvy Log Cabin Trim Tool at The Fat Quarter Shop: https://shrsl.com/23l6y or on Amazon: https://amzn.to/2vLMnOs
This pattern was free to newsletter subscribers in February of 2020. If you missed the free download period, you can purchase the pattern in my shop:
Buy the Log Cabin Heart Quilt Pattern here.
I can't wait to see your fabulous and scrappy Log Cabin Hear quilts!