You just got my free 12″ block pattern, and I hope you love it. But what's next? What do you do once you've made the block? You could just stick it in a drawer or tuck it in the closet, but what fun is that?
I have your solution! TWO great patterns that show you how to turn orphaned 12″ quilt blocks into finished projects you can be proud of!
And, you can buy both these digital pattern collections for HALF OFF for a limited time only! Click the "Shop Now" button to get both pattern collections or read on for more details!

Ten 12″ Quilt Block Projects
I've designed Ten Projects that can be made with 12″ blocks – any 12″ block or blocks you want! If you have a stack of orphan blocks begging to be turned into something fun, or if you found a fun quilt block that you want to make into something but don't need to make a whole quilt out of it, then this is the perfect pattern for you! And right now … it is 50% off!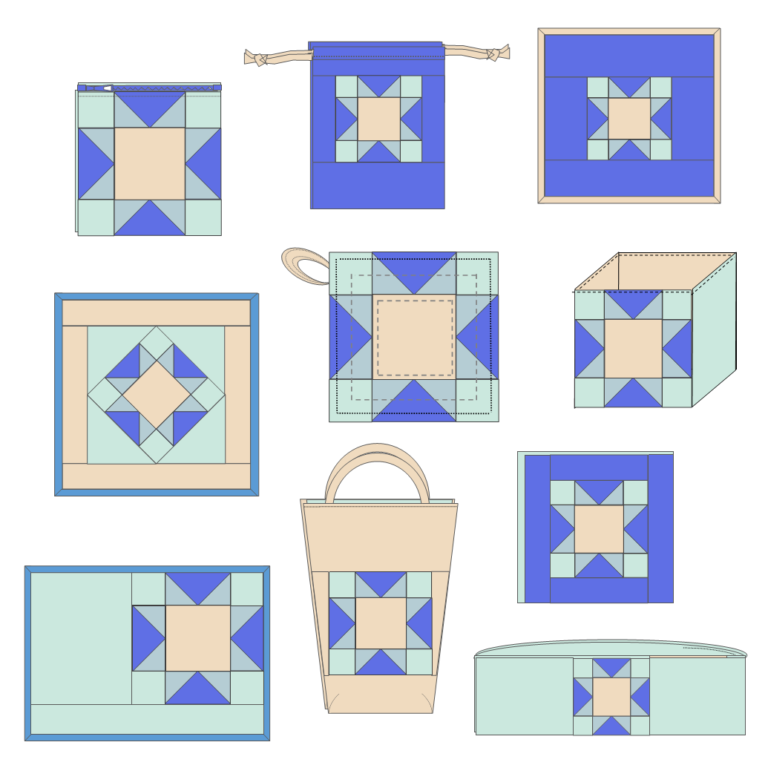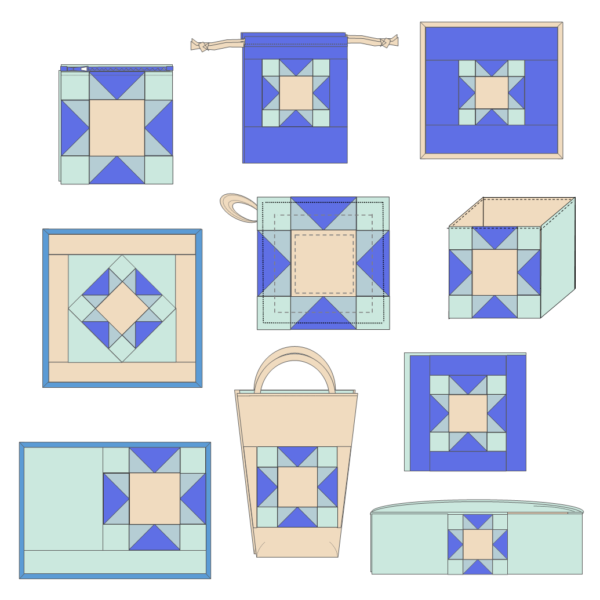 The pattern includes instructions for 10 different projects:
Tote – This handy tote works as a quick purse, book bag, or project bag.
Basket – Perfect for storing bulky quilts, the basket shows off your quilt block and is great for storage and organization!
Pillow – The pefect sofa pillow made from a quilt block, made with a simple envelope closure.
Zippered pouch – So handy, and perfect for holding all the things, now made cute with your favorite quilt block.
Placemat – Get pleasure from your fabulous quilt block every day by turning it into a placemat.
Table topper – Add some fun to your home and turn your block into a table topper great for a coffee table or dining table.
Wall hanging – Your quilt block becomes decor when you turn it into a wall hanging!
Cowl – Wear your favorite quilt block by turning it into a cowl!
Gift bag – A gift is even sweeter when gifted in this fabulous drawstring gift bag!
Pot holder – Your quilt block becomes functional (and a great gift) when you turn it into a pot holder.
Full color instructions guide you through cutting your fabric and piecing together your project.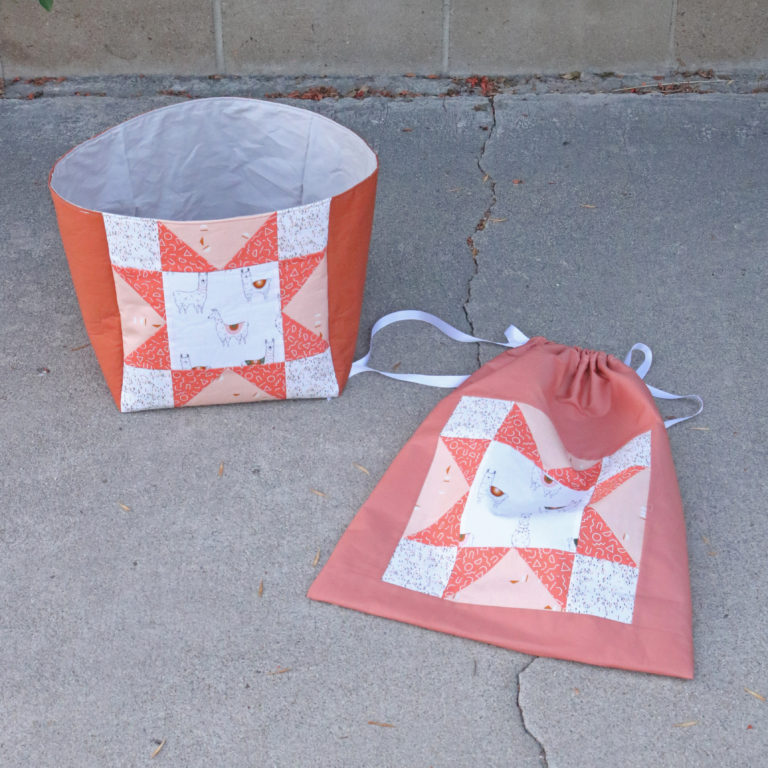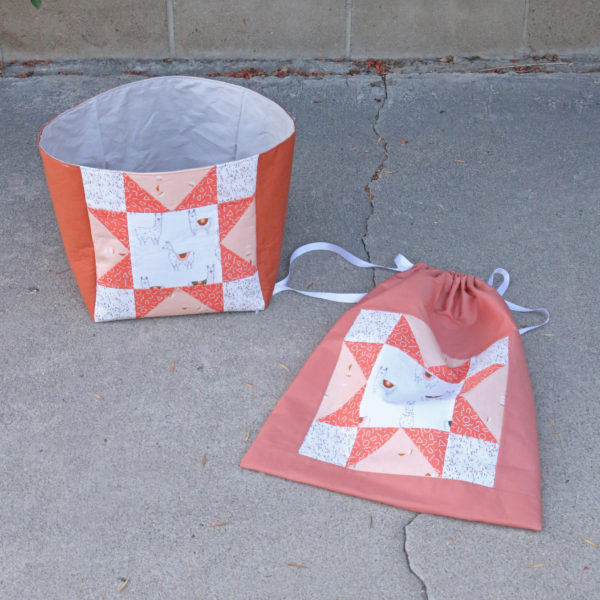 This fifteen page pattern also includes instructions for making the Saw Tooth Star quilt block shown on the pattern sample pieces, and tips for squaring up your quilt blocks!
You can use any 12″ finished quilt block pattern that you like, or you can use the included Saw Tooth Star quilt block pattern. The Saw Tooth Star block comes together very easily, as it is basically a "fancy nine patch" block. The large center is fabulous for featuring your favorite fun fabrics.
Quilt Layouts from 12″ Blocks
I love small projects, but sometimes blocks are begging to become actual QUILTS! So, I've created a 23 page full-color digital book with detailed instructions on how to turn your orphaned quilt blocks into finished quilts.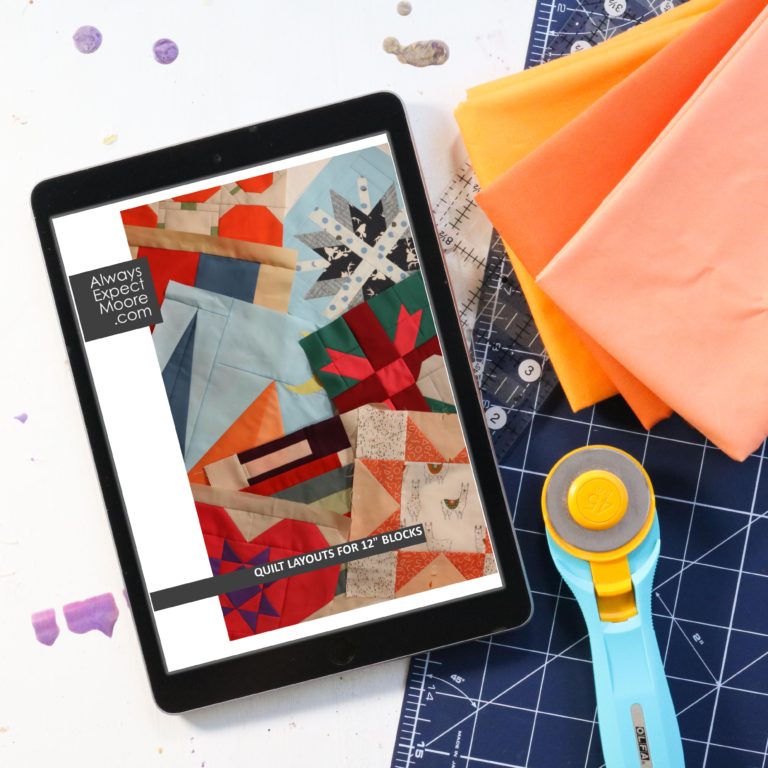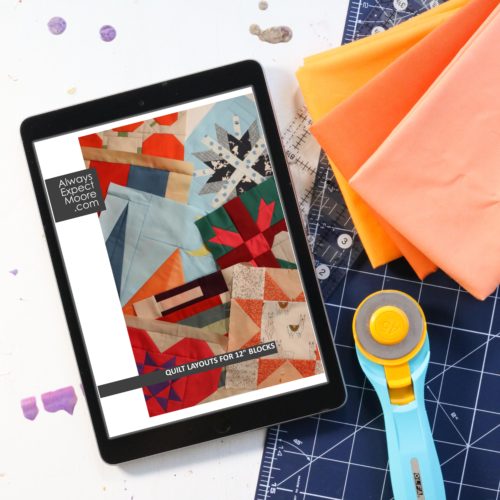 This digital book has 11 different quilt layouts. Using different numbers of blocks and finishing in different sizes, this book gives you the fabric requirements, cutting instructions, and sewing instructions. Each of the 11 patterns is designed for a confident beginner to follow the steps and find success!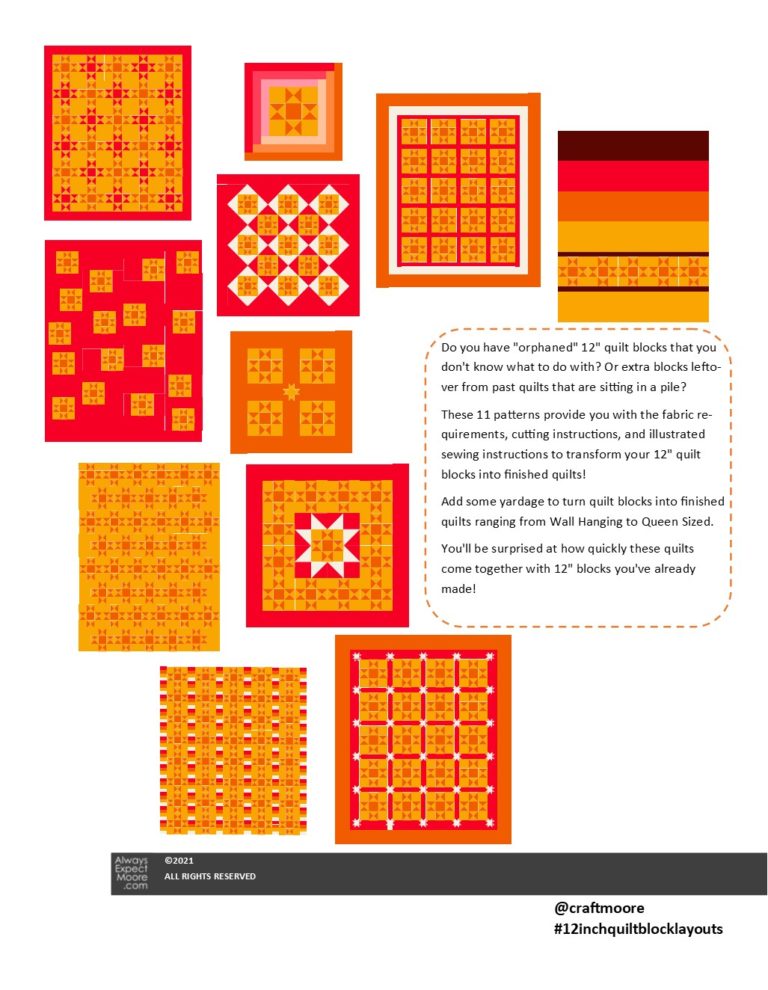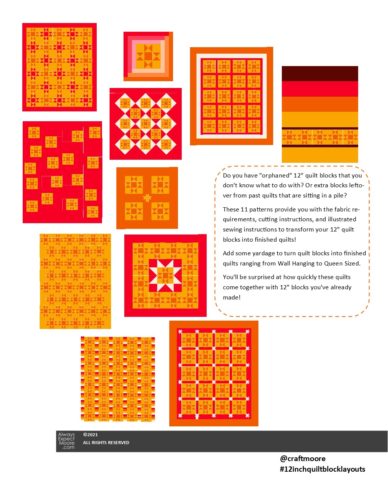 Patterns range in size from wall hanging all the way up to Queen Sized quilts. Fabric requirements vary per pattern, and all the details are outlined in the digital book.
Pattern styles vary from simple to detailed and modern to classic. Your block choices and fabric selections will also influence the final look of the quilt – every quilt you make using these patterns can be its own unique masterpiece!


Use code 12INCHBLOCKS to get 50% off the either pattern (or both) today! This offer is for a limited time only, so buy yours now before the deal goes away…