I'm so excited to share more of my Jelly Roll Race Quilts here today! Those of you who follow my blog know that I made a Jelly Roll Race Quilt in less than 24 hours from start to finish earlier this year, I called it my "#Instaquilt" because I Instagrammed the process of cutting fabric, stitching, getting it to the quilter, and binding it. Since then, I've been busy coming up with fresh ways to revise this new classic so that I can share them all with you at Riley Blake Fabric Fest here in Las Vegas.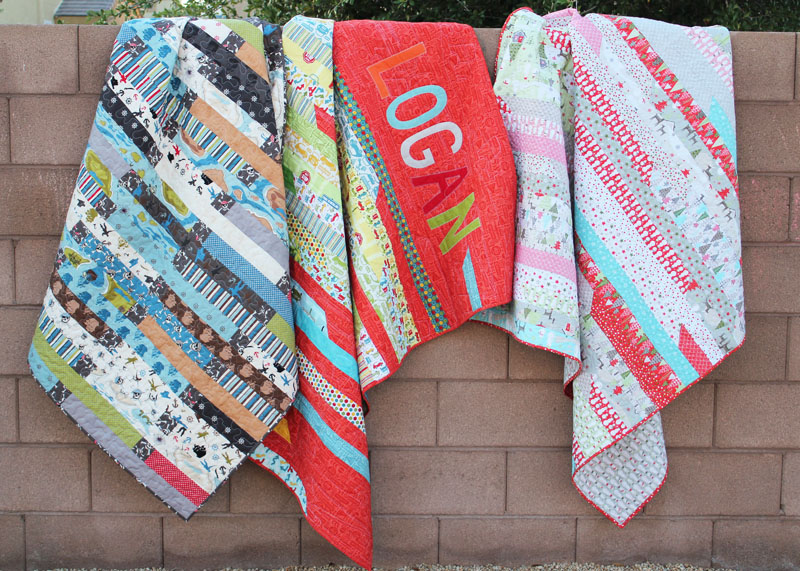 I first learned about this quilt when I was working at Quiltique, an awesome quilt shop in Henderson, just outside of Las Vegas. One of our customers shared it with me, and it was love at first stitch. I have 2 nieces and 3 nephews all born in the last 3 years (3 of them in the last 12 months), so having a fast "go to" quilt pattern is a must!
I'm going to be teaching the Jelly Roll Race Quilt at Riley Blake Fabric Fest this fall. BUT – not just the plain jelly roll race quilt. I've deconstructed, re-constructed, and updated the jelly roll race quilt. These variations add 10-30 minutes to the time it takes to make a regular jelly roll race quilt – and give you so much more variety! If you've never made a Jelly Roll Race quilt before, I'll show you the basics. Then we'll take it up a notch with fun ways to make the quilt your own. Let me take you through some of these new quilts I've stitched up…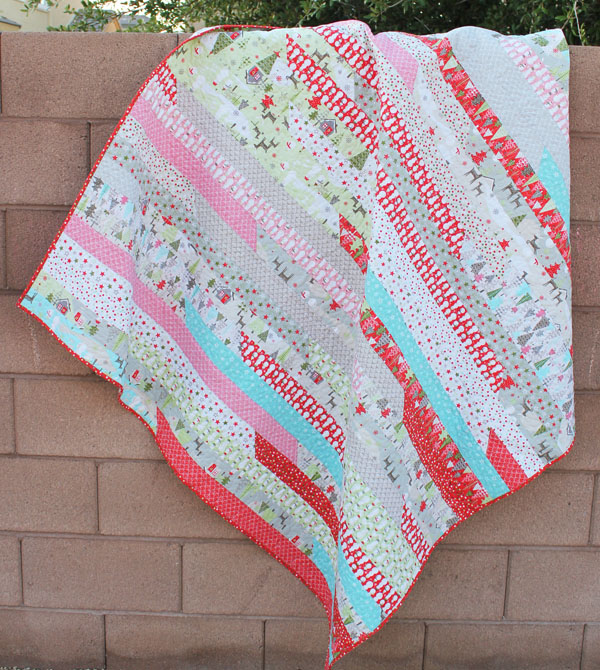 This first is a Standard Jelly Roll Race quilt. If you've seen or done one, you can tell by the mitered seams, and the random placement of the fabric. I used 42 strips from Riley Blake's new Christmas Fabric "A Merry Little Christmas". Don't you love how cheery it looks? This quilt is the perfect Christmas gift! I love giving quilts as Christmas presents, and these quilts are the best for making as gifts. They don't take weeks to make, they look cute in any fabric, and there is very little waste. After piecing your quilt top, the only waste you have is one piece 2.5″x18″, and the little bit you trim off to square your quilt top.
This second one is so much fun! I used Riley Blake's "Pirate Mateys" and added squares between half-strips of fabric. There are some secrets to putting this top together, but it is a lot easier than it looks, and the result is darling! I'd love to do more of these with bright colored squares that really pop against the fabric.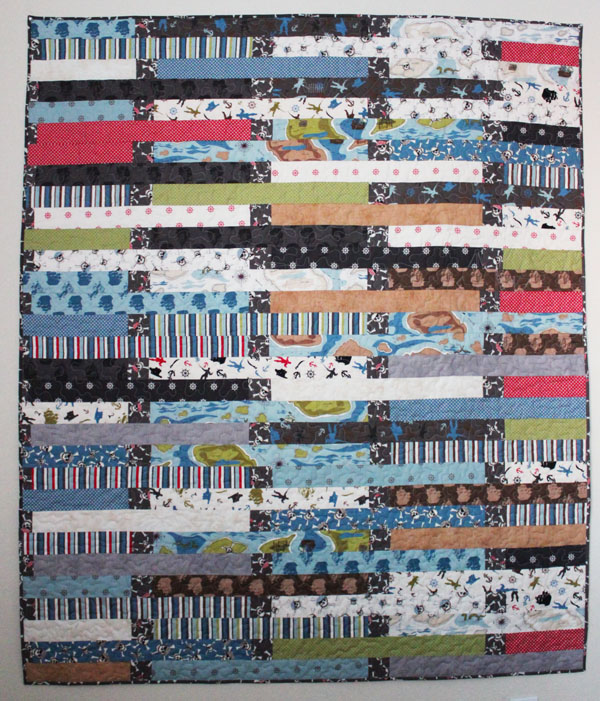 I've been enjoying this quilt a lot, it sits on my livingroom floor and my kids play on it all the time. My friend Nichol of A Desert Quilter quilted all of these for me, and she quilted some darling pirate motifs into this quilt top!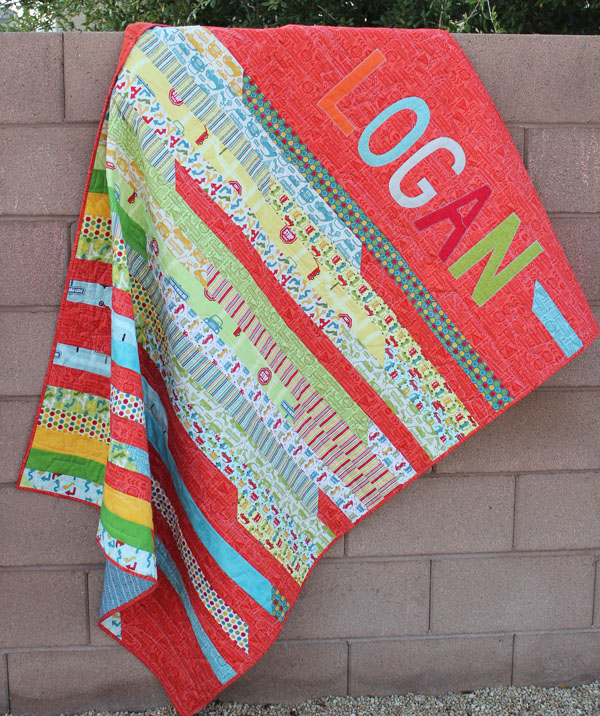 This last one, made out of Riley Blake "Cruiser Blvd"  has me completely tickled. A Jelly Roll Race Quilt is like a deck of cards. You shuffle up the strips, stitch them together, and there is no telling where they will show up. For this quilt, I "stacked the deck." I've mapped out the final locations of the strips, and I put them in the order I wanted them to give me a beautiful "solid" space to applique in. This technique is so much fun for anyone who likes to applique, who wants to super-customize a quilt, for machine embroiderers who like to have large areas to embroider on, or machine quilters who like to have space in which to stitch up quilts and really have their quilting stand out… really, just about anyone will love the options that stacking the deck gives you! Here is the whole quilt all laid out: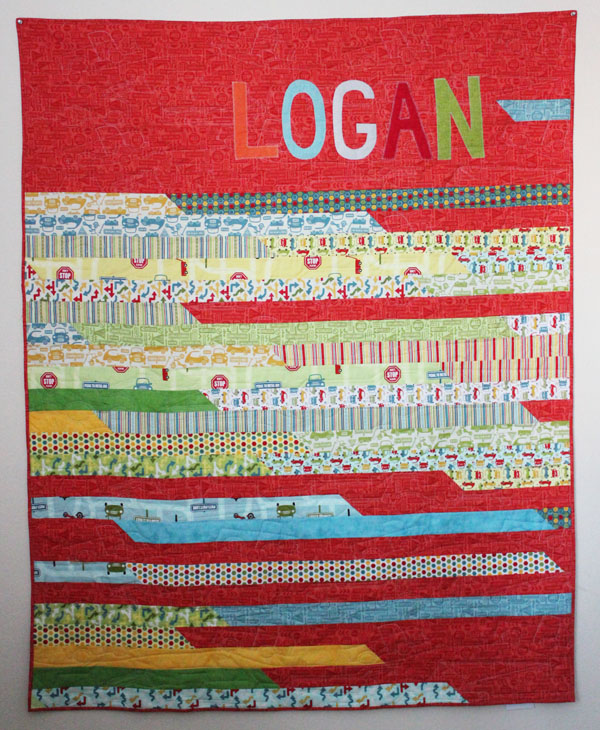 My son is 4 and a half, and he loves this quilt. It is "his" quilt and he loves reading his name on it. Once you've deconstructed the placement of the strips in a Jelly Roll Race quilt, there are so many new possibilities that open up to you!
I still have at least one more idea up my sleeve … but I'll wait to share that one at Fabric Fest. You'll have to come to my class so that I can share it with you!
Giveaway!
The base to make these quick quilts are Rolie Polies from Riley Blake. So, I'm giving away TWO Rolie Polies to one lucky winner! Just leave a comment at the end of this post letting me know which of these fast quilts you'd most like to learn more about! Make sure to include your contact information so that I can get in touch with you if you win.
This post is part of an awesome blog hop with the rest of the teachers who will be sharing all their amazing talents at Riley Blake Fabric Fest. Check out the rest of these great teachers!
During the blog hop, these great sites will be blogging all about Fabric Fest and the wonderful classes they are teaching. They will also be giving away some great prizes, so you'll want to keep this list close by!
Trust us.
You CAN'T miss a single day! 
Wednesday, June 5
Jina Barney of Riley Blake Designs
 Friday, June 7
Saturday, June 8
Nancy Zieman/Deanna Springer of Nancy Zieman.com
Monday, June 10
Tuesday, June 11
Wednesday, June 12
Thursday, June 13
Amanda Herring of The Quilted Fish
Friday, June 14
Saturday, June 15
Bonnie Bailey on Riley Blake Designs
 Monday, June 17
Lila Tueller of Lila Tueller Designs
Tuesday, June 18
Wednesday, June 19
Thursday, June 20
Friday, June 21
Eleanor Burns/ Sue Bouchard of Quilt in a Day
Saturday, June 22
 Monday, June 24
Tuesday, June 25
Wednesday, June 26
 Thursday, June 27
Sandy Workman of Pine Mountain Designs
Friday, June 28
Sydney Haglund of Memory Quilt Maker