With the kids starting school, Fall approaching (the first day of Autumn is September 22nd), and Halloween just around the corner, I'm ready to add some pumpkins to my decor! I created this fun Pumpkins quilt block that you can easily turn into a jack-o'-lantern quilt block by adding some fabric paint, creative quilting, or applique. This is part of the Quilt Block Mania series, and this month we're sharing Halloween themed quilt blocks. Be sure to scroll all the way down to check out the other blocks in the series!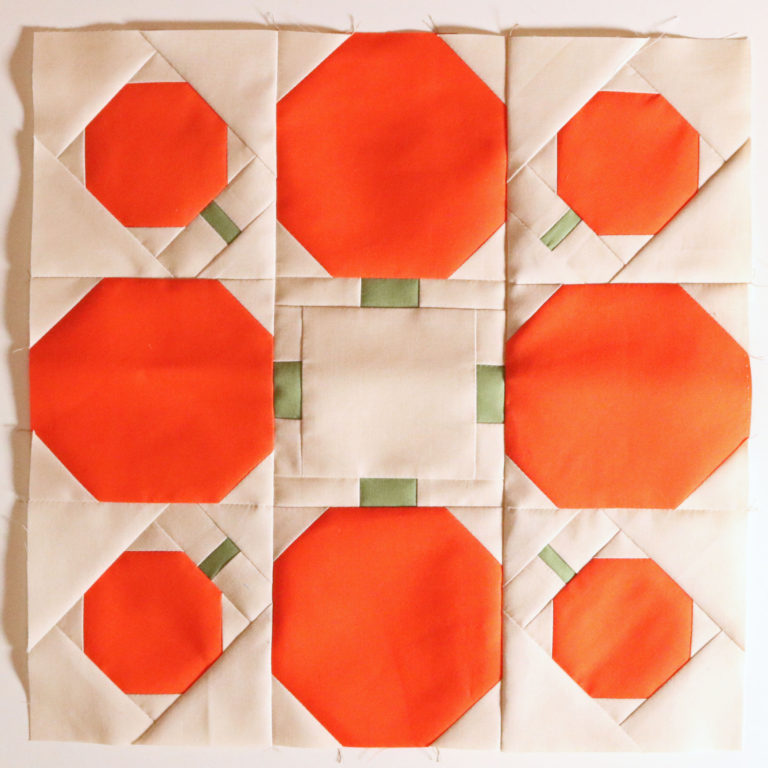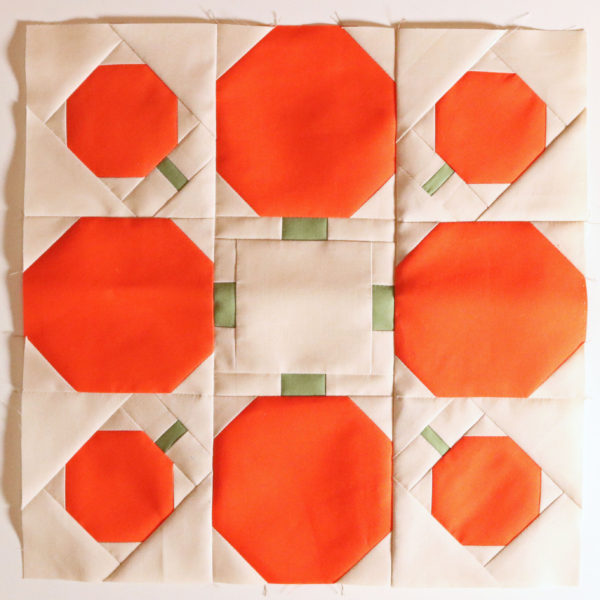 I love that with a little bit of quilting, these pumpkins make a perfect pumpkin wreath! I can't wait to turn this one into a quilt!
I love getting lots of detail into my quilt blocks. And just like last month's Stacked Books quilt block, that means there is some small piecing. The best way to get accuracy with small pieces is to starch your fabrics first. Check out this video where I show you how easy it is to starch your fabrics for precision piecing.
I also have a fabulous pattern with 10 different projects you can make using 12″ quilt blocks just like this one! After you fill out the form to get your Pumpkin Patch Quilt Block pattern, you'll get all the details on my 12″ Quilt Blocks Projects!
To get your pumpkin patch quilt block pattern, fill out this form:
Make sure you check your junk or promotions email folder, if you don't see the email from me right away that is often where it ends up. If you've checked, and are still having trouble with the download, please email me at carolina@carolinamoore.com and I'll make sure you get the pattern. I made this pattern because I really do want people to have it!
Check out these other fun Halloween quilt blocks!
"Which Hat?" at Pretty Piney
Black Cat at Inquiring Quilter
Ring of Pumpkins at Always Expect Moore
Haunted House at Powered by Quilting
Three Treats at Sew Brainy
Bat at Slice of Pi Quilts
Day of the Dead Skull at Duck Creek Mountain Quilting
Gypsy Wagon Fortune Teller at Orange Blossom Quilt
Monster at Seams to be Sew
Patchwork Pumpkin at Quilted Diary
Stacked Pumpkins at Perkins Dry Goods
Spooky Star at Block of the Mo .com
Leaf Ghost at Off the Wall Quilt
Leaf and Vine at Quilt Moments
Frankenstein at Around the Bobbin
Bat by Heidi Pridemore
Candy Corn by Quilt Fabrication
Dark night by Cotton Street Commons
Pumpkin by Sew on the Go
Pumpkin and Bat by ScrapDash
Pumpkin Chain by Stash Bandit
Happy Jack-o-lantern by Patti's Patchwork
Foundation Pieced Creepy Eyes by Amarar Creacions
Spooky Trees by Aunt Em's Quilts
Upside Down Witch by Appliques Quilts and More
Scaredy Kitty by Tacy Gray
Sun-Boo-Net Sue by Blue Bear Quilts
Spider by Oh Kay Quilting
Candy, Pumpkins, and Witch Hat by Utah Quilt Appraiser