Writing a Thank You Note is a lost art. With all the technological ways we have to give our thanks – Facebook, Twitter, Texts, e-mails… the hand-written thank you note is dying.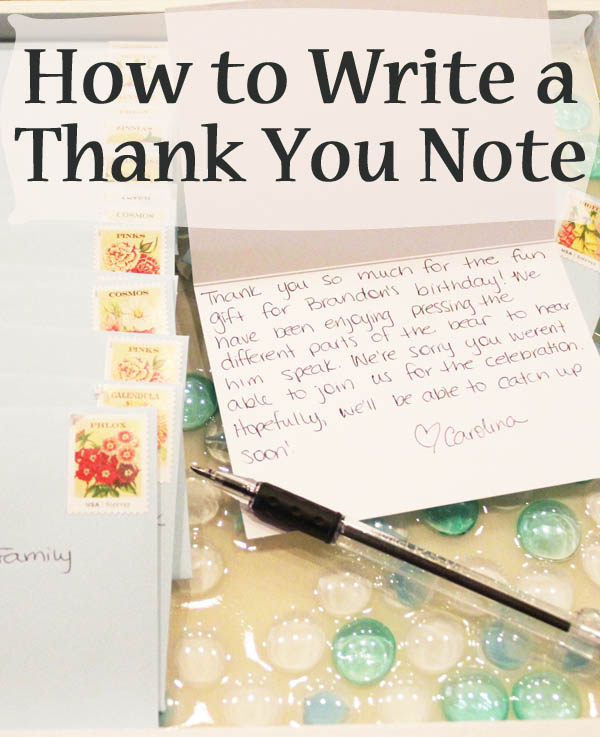 I'm not saying that every thank-you needs to be hand-written. Sometimes, a simple text message is best. Sometimes, giving the person a shout-out on Facebook so that all your friends can share in the awesomeness is the perfect touch. And any way that you reach out to thank someone is better than not thanking them at all. But there are times that a hand written thank you note is the best way to express your gratitude.
Starting your Thank You Note
You can start with a salutation of some kind. "Dear Auntie" might sound stuffy, so you can start with "Hello" or jump right into your note.
Thank them specifically
Start your note by saying thank you, and give the reason why. Say "Thank you for the wonderful gift" or "Thank you for sharing your time." "Thank you for taking time out of your day." Be specific as to why you are thanking them.
Tell them why you are greatful
Don't stop at thanking them for their action. Tell them the significance of their actions or gift. Phrases like, "It meant so much to me that you took time out of your day to help me with my project, having you there made it go much more smoothly, and the finished result was better than I could have imagined." tell the recipient that they mattered. When thanking a person for a gift, tell them what you love about the gift. "I love the sewing kit and have it tucked in my bag – it is so helpful for small projects on the go, and it has already come in handy on several occasions."
Thanking someone for money or a gift card
Thanking someone for money or a gift card calls for special attention. Let them know what the gift has been used for, or will be used for. "Thanks so much for the check. I've deposited it in my savings account so that I can use it on my upcoming vacation. I'll be sure to think of you when I'm relaxing on the beach!" "The Target gift card has already come in handy – I bought some cute and colorful new tops for myself."
When thanking someone for money or a gift card, don't mention the amount. The value of the gift is not measured in dollars, it is measured in your appreciation for their kindness.
End the thank you note with a forward-looking message
If you can, use a forward-looking message to end the thank you note. Tell them you look forward to seeing them soon, or at a specific upcoming event. If you have no plans to see the person in the future, tell them you look forward to seeing them online, or seeing their photos on Facebook. Make a final, shared connection with the recipient of your thank you note.
Use an appropriate sign-off
End your note with a sign-off that feels appropriate. "Sincerely" might feel too formal for a situation like this, so try "Love", "with thanks", "thanks again", or (my favorite) a symbol like a heart or a smiley face.
Remember that the most important part of writing a thank you note is saying thank you. If someone gave you a gift – a present, time, money, they gave it because they wanted you to have it. Showing your appreciation for what they gave – in whatever form you can show that appreciation – is the way that you value that gift.