I'm so excited to share this Lady Bug Quilt Block with you! It is a simple pattern – great for a confident beginner – and who doesn't love ladybugs? When I started thinking up ideas for this month's "bug" theme, I just knew I wanted the ladybug! If you scroll down you'll find links to lots of other fabulous bug-themed quilt blocks!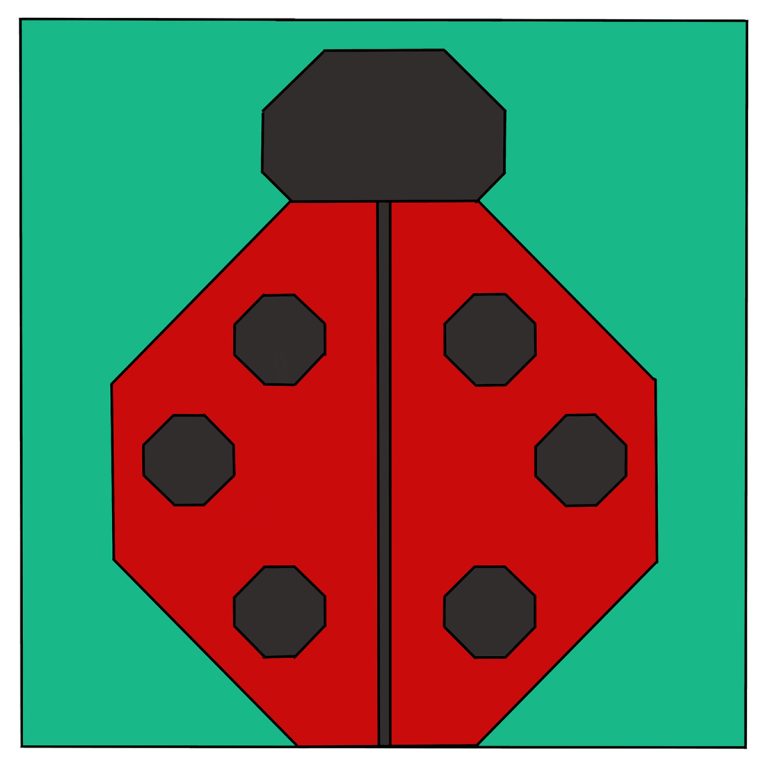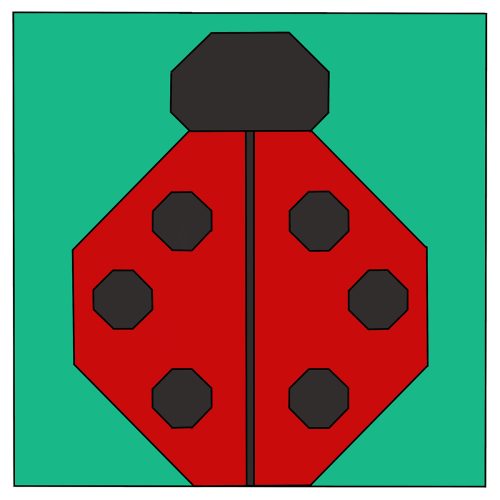 This ladybug quilt block is traditionally pieced – you don't need to do any applique or foundation paper piecing to make this pattern. The entire block is made by cutting regular shapes and sewing them together. However, I did have to slip some eighths into this quilt. When designing quilt blocks, I like to keep to quarter, half, and whole measurements on the quilting ruler. But, to get that fabulous line down the middle of the ladybug's back, I had to use eighth measurements on two cuts in this block. If you're shy about cutting a fraction smaller than a quarter, then maybe you'll love the ruler that was designed for cutting seven-eighths measurements! I have a video that shows you exactly how this ruler works:
You can purchase the seven-eighths ruler in my shop here.
You don't need the seven-eighths ruler to make this quilt block, but you may find it handy when cutting triangles for your next half-square triangle quilt project.
The lady bug block finishes at 12″, and is completely free! Sign up here to get your free download of the Lady Bug Quilt Block:
Check out all these other great bug themed quilt block patterns:
Ladybug Quilt Block by Carolina Moore
Snail by Appliques Quilts and More
Dragonfly by Mom and Me Quilting Co.
Aragog by Inquiring Quilter
Bugs in a Jar Quilt Block by Julia of Inflorescence
Christmas Beetle by Duck Creek Mountain Quilting
Bug Jar Quilt Block
Butterfly by Penny Spool Quilts
Beetle Bug by Perkins Dry Goods
Caterpillar by QuiltFabrication
Jewel Beetle by Sugar Sand Quilt Company
Bumblebee Block by BoBerry Design Co.
Arachnid at Patti's Patchwork
Butterfly Wreath by Jessica of Blue Sky Modern Craft
Marvelous Moth by Blue Bear Quilts