Over on 30 Minute Crafts, I'm doing a whole week of printables for a donut party. I baked up over 200 mini donuts for my little party, and thought I'd share the recipes with you! Today I'm sharing my Mini Chocolate Donuts. They are super easy to make, and not too sweet!
This post contains affiliate links. Purchasing through affiliate links helps support this site.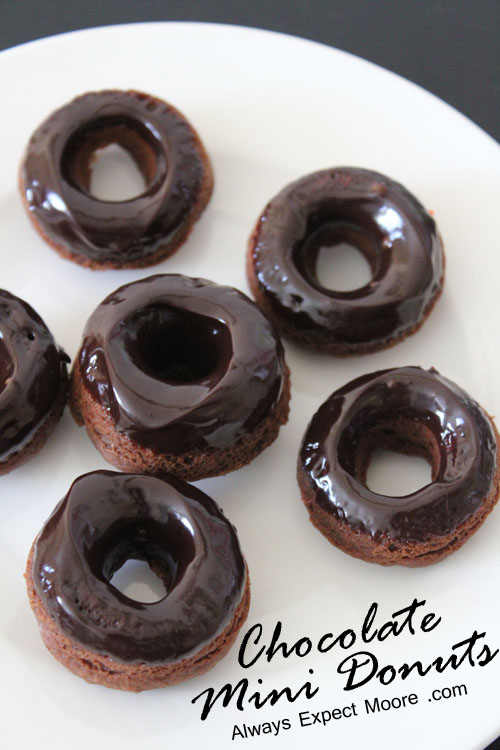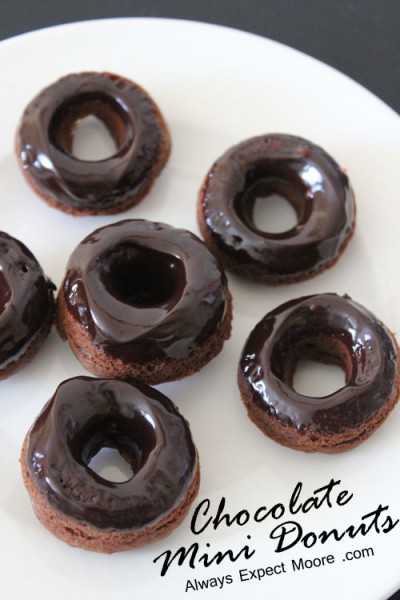 These donuts are baked in the Wilton Nonstick 12-Cavity Mini Donut Pan. I have 2 of the pans, which makes the baking go a whole lot faster! I topped them with my cheater chocolate ganache. Simple to make in the microwave, and no heavy cream needed, my faux chocolate ganache is the perfect way to top these mini mouthfuls. Afterwards, you can also add sprinkles! Yum!
CHOCOLATE MINI DONUT RECIPE
1 1/4c flour
1/2 c granulated sugar
1/4 c cocoa powder
1 1/4 tsp baking powder
3/4 c whole milk
1 egg
2 tbsp melted butter
Preheat oven to 425 degrees. Spray donut pan with nonstick spray.
Mix together dry ingredients. Add wet ingredients and mix until fully combined.
Put batter in a zip-top bag, and cut off a small corner. Use bag to fill each donut cavity 1/2 full. Bake for 5-7 minutes. Allow to cool slightly, then carefully remove from pan.
Makes about 6 dozen donuts.
CHEATER CHOCOLATE GANACHE
1 c mini semisweet chocolate morsels
4 tbsp whole milk
Put ingredients in microwave-safe bowl, then microwave for 90-120 seconds. Stir to combine ingredients well. Carefully dip baked donuts into ganache to coat the top. Place in refrigerator to set the ganache.