These Banana Spice Donuts are super delicious, and easy to make! I whipped up a couple dozen of these mini doughnuts the other day, and had a tough time not gobbling them all up! They get much of their sweetness from the banana, the spice adds some extra flavor, and the sugar on top adds crunch and texture. These are delicious all around!
This post contains affiliate links. Making a purchase through these links helps support this site.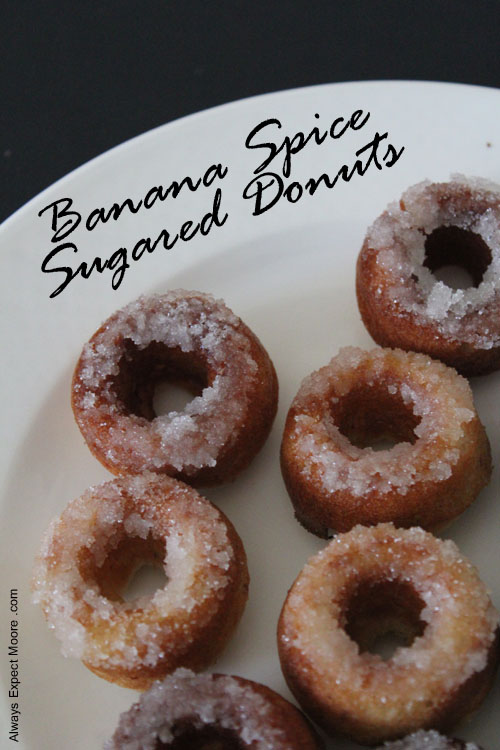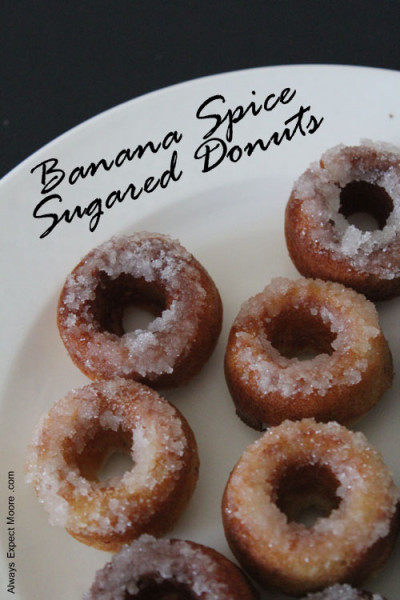 Make your own banana spice sugared donuts by using a Wilton Nonstick 12-Cavity Mini Donut Pan
. I have two of these pans, which makes it much faster to whip up the 6 dozen mini doughnuts that a single batch of dough makes.
BANANA SPICE SUGARED DONUT RECIPE
1 1/4 c flour
1/2 c sugar
1 1/4 tsp baking powder
1 tsp pumpkin pie spice
1/4 tsp salt
1 ripe banana, well mashed
1/2 c whole milk
1 egg
2 tbsp melted butter
Preheat oven to 425 degrees. Spray pan with nonstick spray.
Mix together dry ingredients. Add in wet ingredients and mix until fully combined.
Put batter in a zip-top bag, snip off a small corner, and squeeze batter through the hole into the cavities of the mold. Fill each cavity about half full.
Bake 5-7 minutes. Allow to cool slightly before removing from pan.
To coat with sugar:
Put a 1/2 c apple juice in a small bowl, and 1/2 c sugar on a plate. Dip each doughnut in the apple juice, then shake off any excess juice. Dip in the sugar, then place on a plate to dry.
You can substitute another juice, such as orange juice or lemonade, if you like.