These vanilla chocolate chip donuts are downright delicious! I decorated them with vanilla frosting and chocolate sprinkles, but you can really eat them without any frosting … they are great right out of the oven!
This post contains affiliate links. Making a purchase through an affiliate link helps support this site.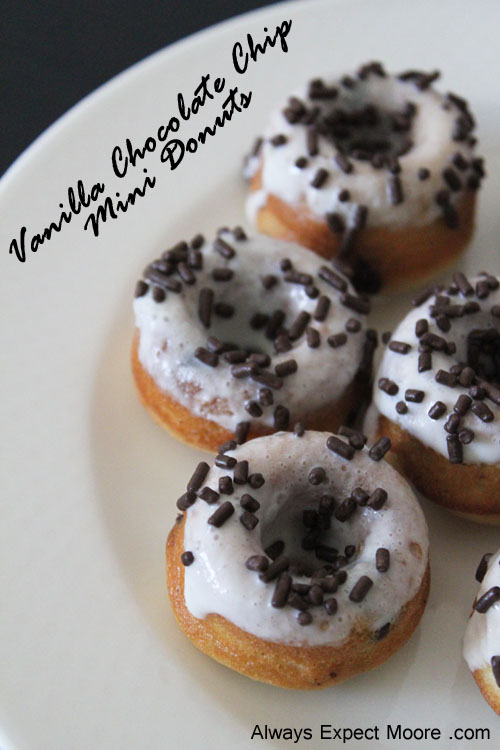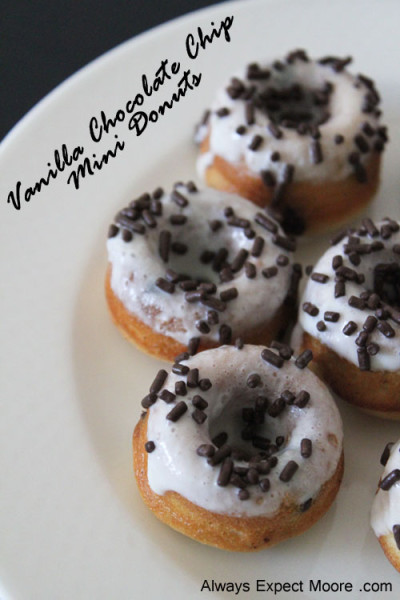 Making these vanilla chocolate chip mini donuts is easy with the Wilton Nonstick 12-Cavity Mini Donut Pan
. The pan is inexpensive, but only holds 12 mini doughnuts, so I have two pans, which makes the baking go twice as fast.
1 1/4 c flour
1/2 c sugar
1 1/4 tsp baking powder
3/4 tsp salt
1/2 cup whole milk
1 vanilla bean – scrape the inside, add to the batter, throw away the shell
1 tsp vanilla extract
1 egg
2 tbsp melted butter
1/2 c mini chocolate chips
Preheat oven to 425 degrees. Spray doughnut pan with nonstick spray.
Stir together dry ingredients. Add wet ingredients until fully incorporated, then add chocolate chips.
Fill a plastic zip-top bag with the batter, and snip off a small corner. Use this to fill each cavity of the baking pan half full. Bake for 5-7 minutes.
Allow doughnuts to cool slightly before removing from pan.
These donuts are delicous unfrosted, but you can easily frost them with some canned frosting that has been thinned. Scoop out 3tbsp vanilla frosting into a bowl. Slowly add 1-2 tablespoons of milk, mixing well to incorporate. Dip each doughnut in the bowl, then sprinkle with chocolate sprinkles.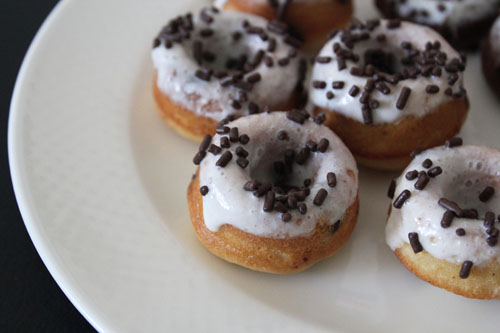 Check out my other mini doughnut recipes – chocolate mini donuts and banana spice sugared donuts.