This shop has been compensated by Collective Bias, Inc. and its advertiser. All opinions are mine alone.
For more ideas on how to create your own #BackyardBash, check out the tumblr page at www.drpepperbash.com.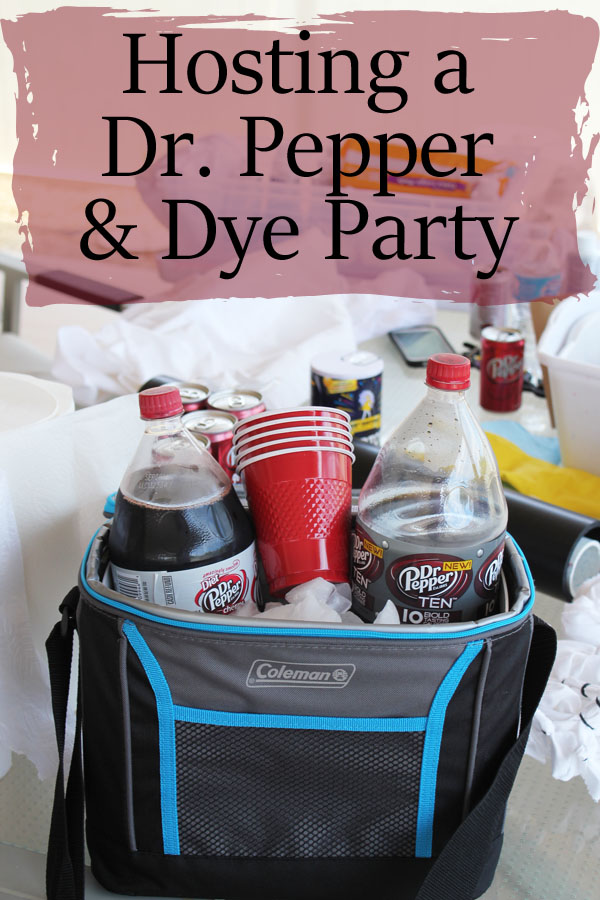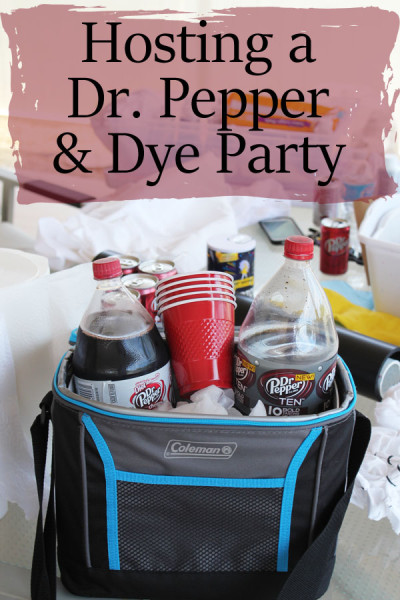 This past weekend, I invited my friends over for a backyard bash for some one of a kind tie dye fun. I recently took a class on shibori dye techniques, and it amped up my pre-existing love for dye. I wanted to share this with my friends who haven't tried dye before and… (spoiler alert) they loved it! I love throwing parties, including outdoor parties, and this was a one of a kind idea for creating a get together for my crafting friends!
Several of my friends came over, kids in tow, for a fun mommy-date. I hired a sitter to stay inside with the kids while we moms braved the 100+ degree heat to play with our dye.
I have a big bin in my craft room filled with all my dye supplies, so for me hosting the party was as easy as having people bring their own items to dye, pulling out the bin, gong to Wal Mart for some Dr Pepper and Cheeze-Its… and tidying the house of course! If you want to host your own dye party, but don't have a dye bin handy, I'll give you some tips on what to buy at the end of this post.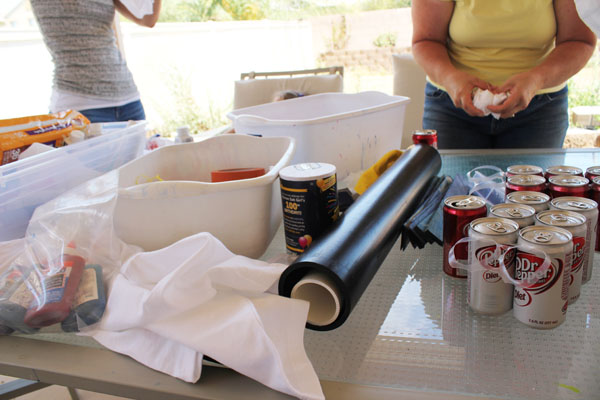 We had a great time trying different dye techniques. We did traditional twisting dye…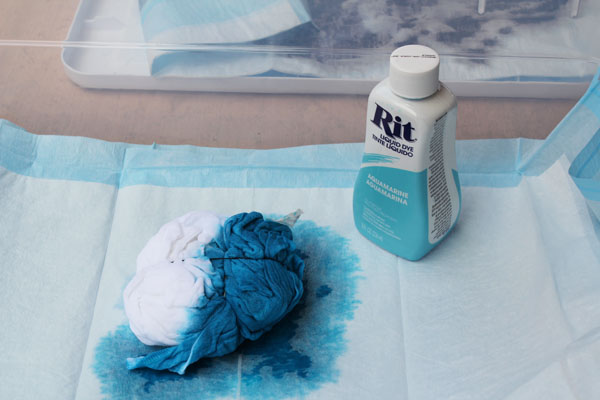 and I shared some techniques for using rubber bands to get different looks.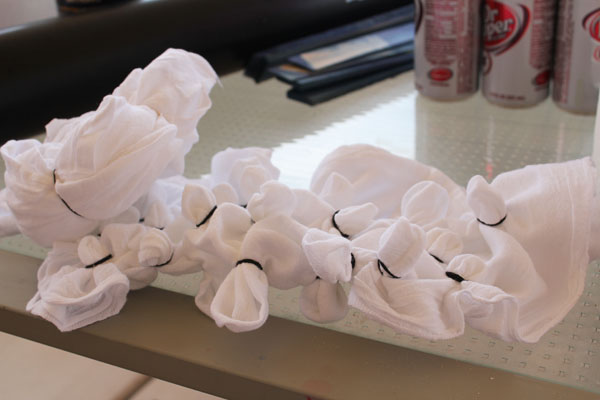 Once everything was sitting in dye, we headed inside to snack. The fabric got to marinate in the dye, and develop a nice, rich color.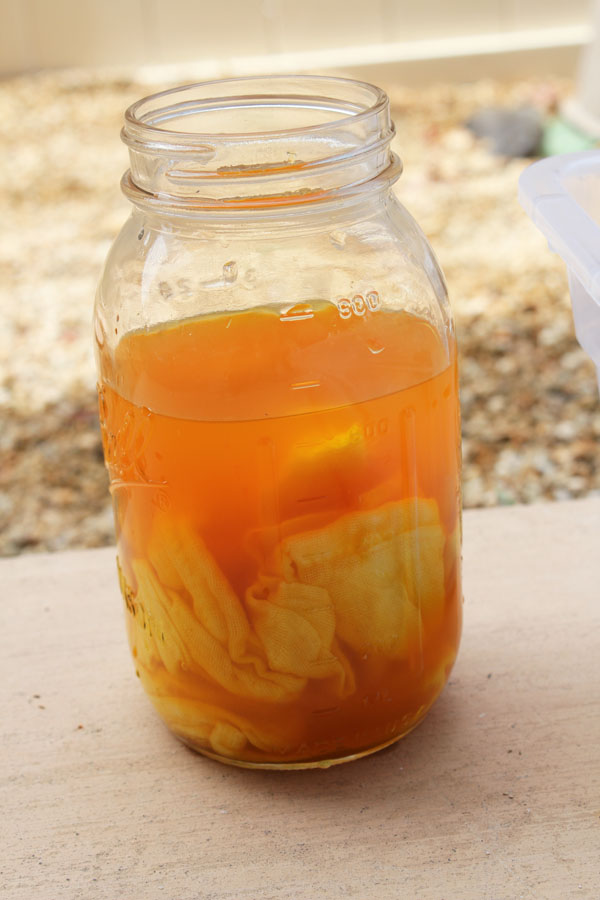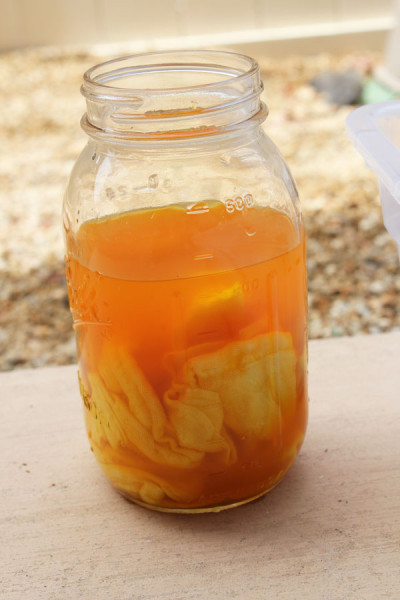 After we ate, we took turns rinsing out our dyed creations.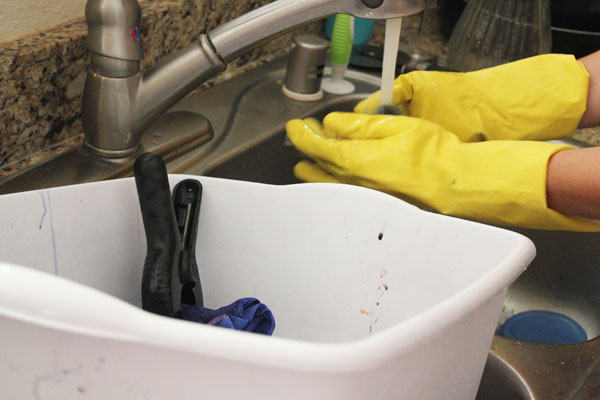 It was so much fun to see what everyone created! This blue shirt below was as easy as folding, clamping, and soaking in dye.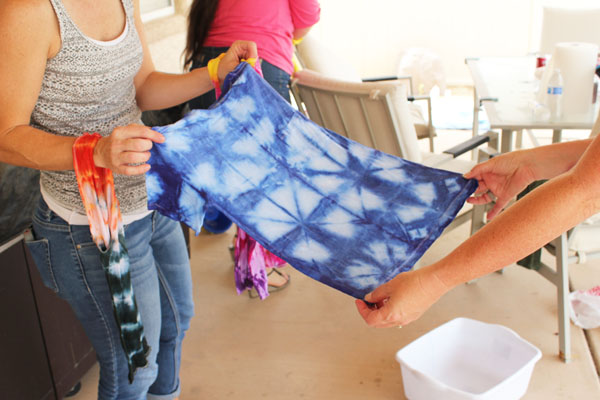 These pearl grey and petal pink dyed fabrics will be going into a quilt.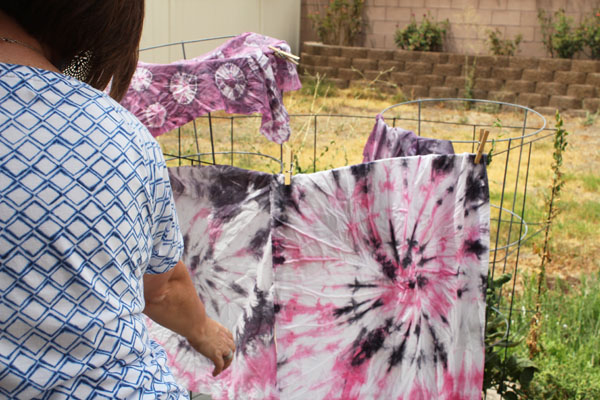 Different colors and different techniques, and in one afternoon we made half a wardrobe!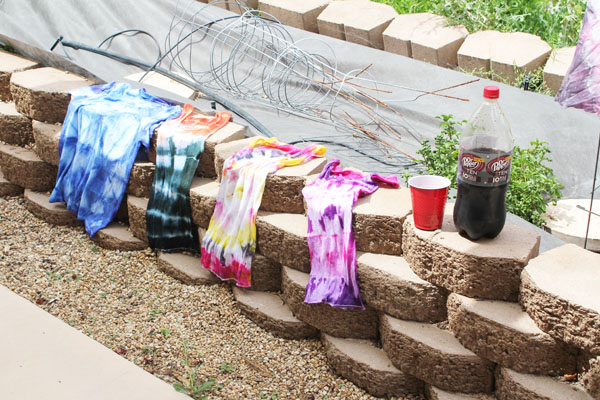 Although it was hot, we had a perfect day with just a slight breeze. To keep garments down while dying, I was able to use Dr Pepper cans! These worked perfectly!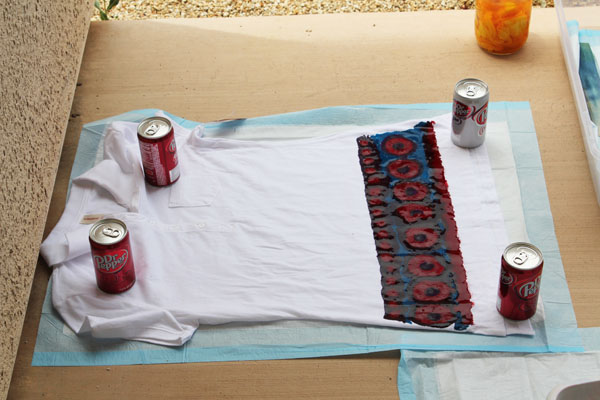 This shirt is a new technique I thought I'd try – I can't wait to show you the results later this week!
If you want to host your own dye party (and you know you do!) here are my tips: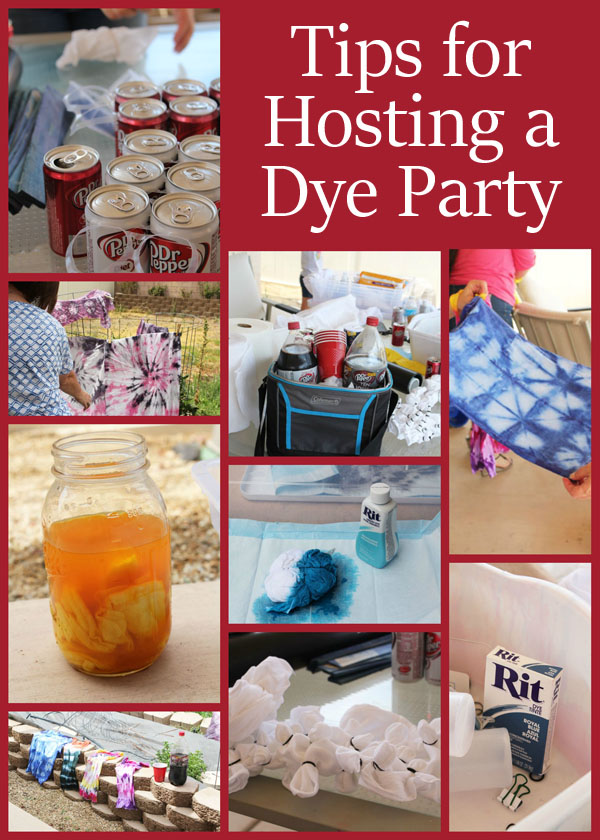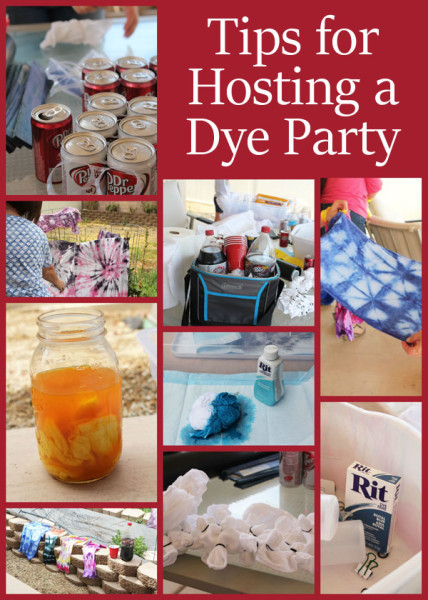 Start by deciding on a day and time that works. I picked a day when I would have a sitter handy to watch the kids. Half a dozen kids over while I have my hands in dye could be a recipe for disaster… so I wanted someone to keep an eye on the goings-on inside the house. Since I live in the desert, I wanted an early morning time (but not TOO early!), so we went from 10-2. This gave us enough time to prep our pieces, let them soak in the dye for at least an hour, and give everyone time to rinse.
If you're new to dye, look for some different dye techniques online. Try them out before the party, if you can. I had a sampler from the class I took to show my guests what different dye techniques would look like. You might want to print out instructions for various techniques if you have lots of people coming.
Make sure you have the supplies you need on hand. Depending on the techniques you'll be showing your guests, you'll need different supplies. I headed to Wal Mart to buy my Dr Pepper, and any other supplies I didn't have on hand already. While I was there, I also picked up a little Coleman cooler to keep my drinks cool during the party.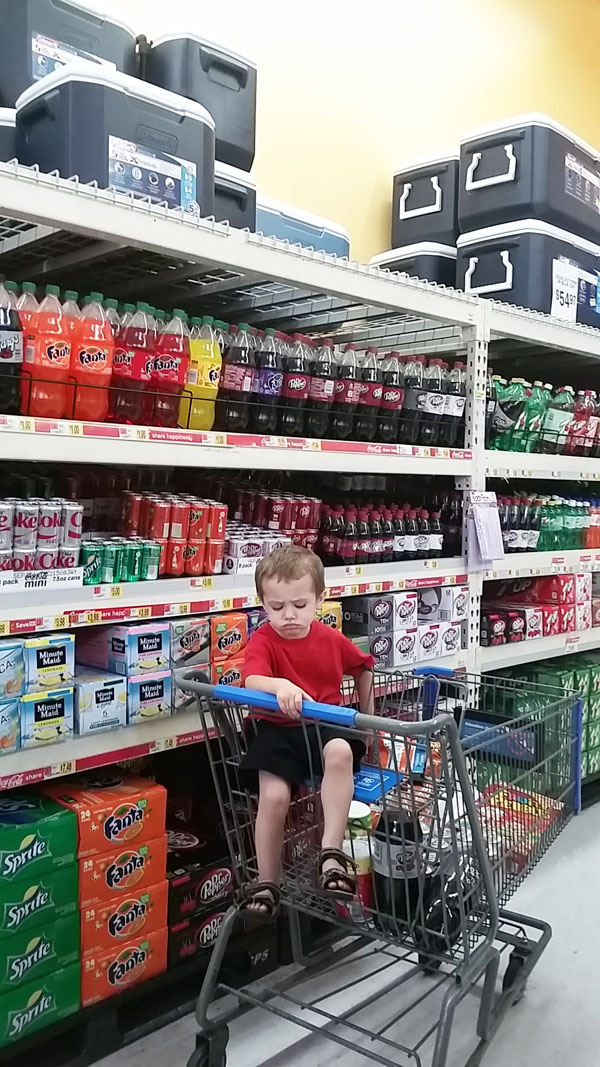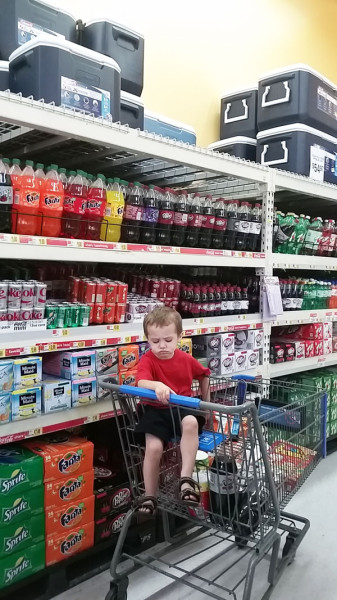 My shopping buddy wasn't in the mood for taking pictures.
Here is my supply list:
Several different colored bottles of Rit Dye
Rubber Bands (I buy the large pack of black rubber bands from the hair section of the store)
Several containers for dye baths (large mason jars, wash bins, and plastic storage bins all work well)
Salt (helps give more vibrant color on cotton)
Stir Sticks (to stir your dye)
Water
A sink close at hand for rinsing
Rubber gloves (or guests who like colorful hands)
Dr Pepper, pizza, and some snacks – like Cheeze-Its!
Puppy Pads (for under dye trays)
Squirt and spray bottles
Plastic bags for taking home wet dyed clothes.
Have your guests bring their own items to dye – shirts, towels, sheets, shoes – anything white or light-colored (over-dying on pinks, yellows, light blues, and other light colors looks awesome!). The items can be old and stained (the dye will help hide the stains) or brand-new from the store.
After your guests rinse out their clothes, have an area they can hang them to dry. Because of the Las Vegas heat, lots of the clothes dried before my guests headed home. I also gave them washing instuctions: Wash each piece in LOTS of water (with a second rinse cycle if your washer has it). Don't mix colors – if you have several garments with blue dye, they can be washed together… but don't wash two different garments of different colors. Washing red and blue together, if you haven't fully rinsed, can result in a whole lot of purple (ask me how I know!)…
Thanks again to Dr Pepper for making this such a fun party! #BackyardBash #CollectiveBias