I am a member of the Collective Bias®  Social Fabric® Community.  This shop has been compensated as part of a social shopper insights study for Collective Bias and its client.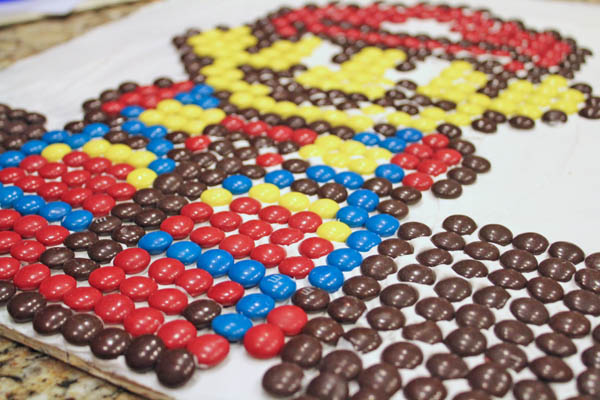 Last week, I got crafty with the boys and M&M candies making 8-bit sprites. These are super fun and easy to make! First, I headed off to Walmart to buy big 42-oz bags of M&Ms. While there, I bought tubs of frosting, aluminum foil, and foamcore board.
You can, if you like, just use M&Ms on a table… but knowing I was going to be putting these together with two little "helpers", I knew that bumps, knocks, and other accidental movements. All the other supplies prevent "oops" from turning into "OH NO!!" And when working with kids, that is a must!
I looked online for patterns to use. You can make up your own, but searching for cross-stitch patterns and Perler Bead patterns gets great results. I then printed out my patterns so we would have them handy while creating.
I measured out my M&Ms so I would know how big to cut my foamcore. (19 MMs for every 10 inches is what I came out with)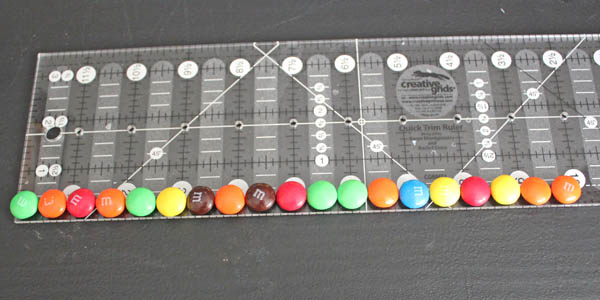 I cut the foamcore a little larger than needed for each pattern, then covered with foil.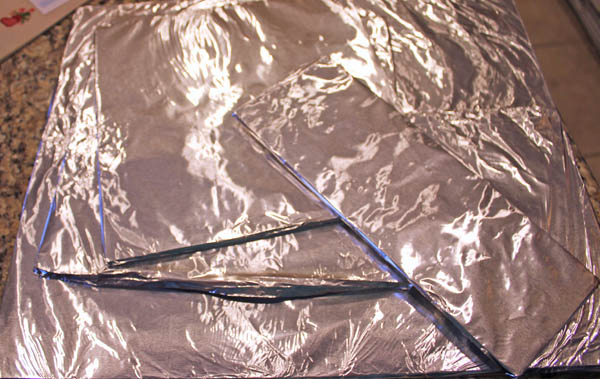 I did a test with my youngest on a scrap of foamcore – we made a "candle" from his favorite game for Xbox – Minecraft. The foamcore was coated with a light layer of frosting before starting. This frosting acts as an edible glue to keep the M&Ms in place. Perfect for my little helpers!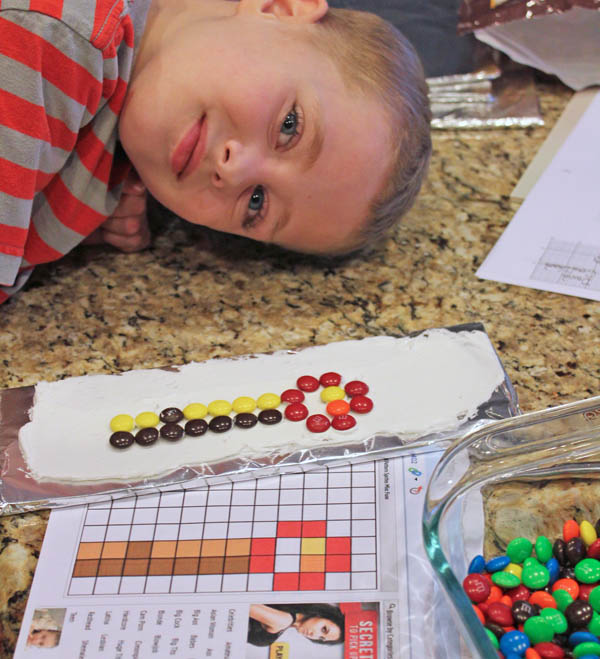 Once we got the hang of it, we all worked on our pieces…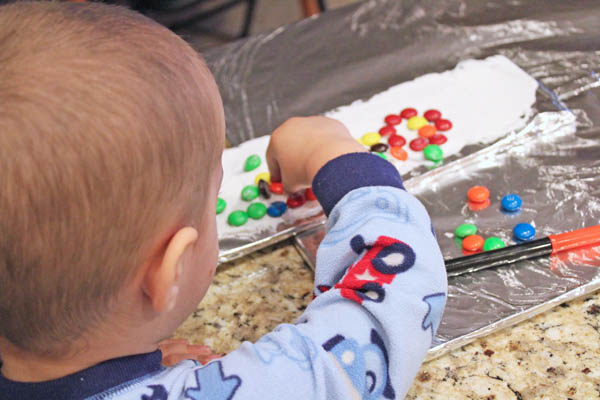 …even my husband got involved, making a racing helmet.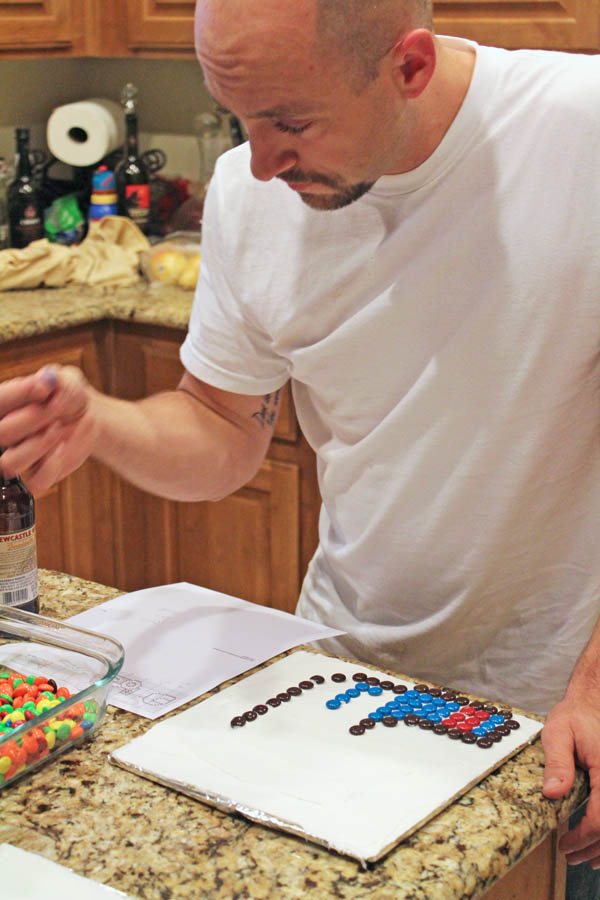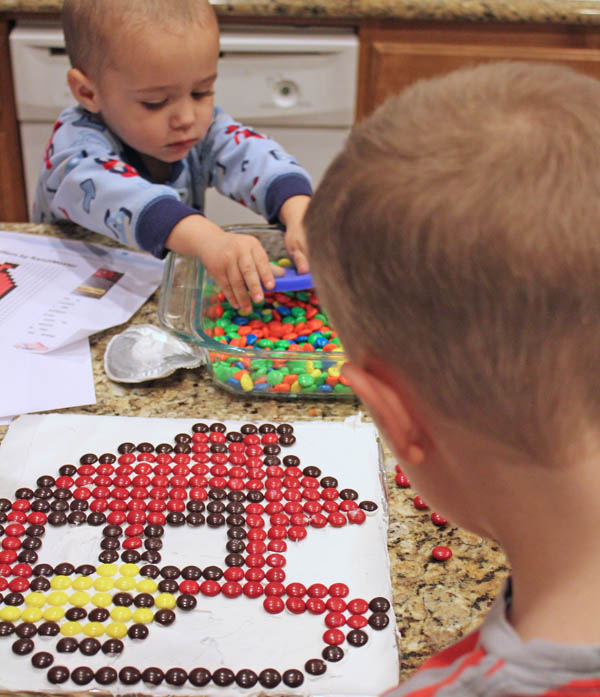 We made sprites based on our favorite games. Here is the finished Angry Bird: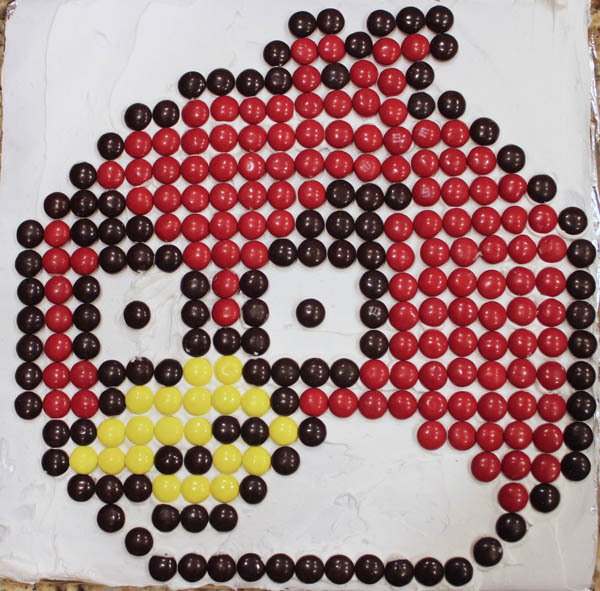 A racing helmet, perfect for a Forza 5 fan!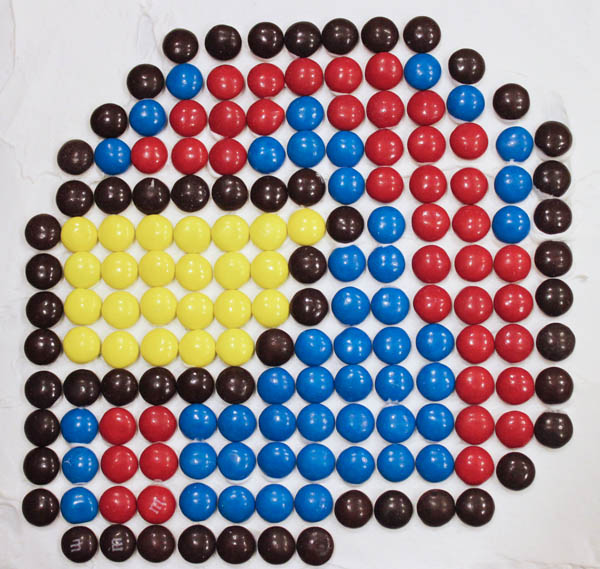 And also to honor the launch of the new Forza 5 game… a classic racing game… Mario Kart!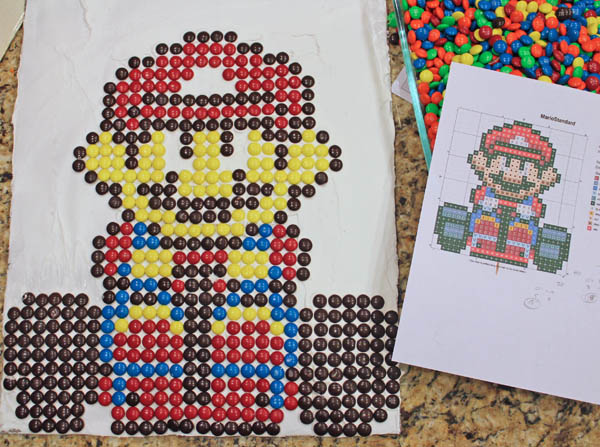 … he looks a little jaundiced.
L also made this creation, which he says is his "house" in Minecraft. We all really got into this project!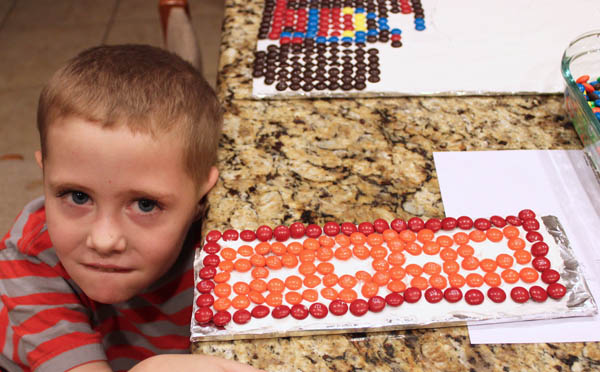 We had such a blast doing this as a family… and the best part is that we will be posting our pictures on Instagram and can WIN an Xbox One! Here are all the details:
Get creative with M&M's® and win an Xbox One gaming with M pack! (and everyone can get $10 back on their M&Ms and Forza 5 purchase with the Buy-Snap-Redeem promo – details below)
Create your own Pixel Art using M&M's (R) candies and snap an Instagram Photo. Tag your image with #FueledByM AND #Contest and post the image on Instagram and Twitter.
One lucky Pixel Artist will win a new Xbox One and Gaming is better with M pack including the Forza 5 Motorsport game and a 14 oz bag of M&Ms(R).  Contest runs Dec. 4th – Dec. 18th and winner will be chosen at random.
Find full legal rules here.
Buy, Snap, Redeem Details
Buy Forza 5 game
Buy participating M&M's products
(Participating products include: M&Ms Peanut 42oz Stand Up Pouch, M&Ms Milk 42oz Stand Up Pouch, M&Ms Peanut Butter 38oz Stand Up Pouch, M&Ms Pretzel 30oz Stand Up Pouch, M&Ms Peanut 19.2oz Large Laydown Bag, M&Ms Milk 19.2oz Large Laydown Bag, M&Ms Peanut Butter 18.4oz Large Laydown Bag, M&Ms Pretzel 15.4oz Large Laydown Bag.)
Snap a photo of qualifying items on the receipt on your phone and text it to 811811. Include the code M&M with the picture of your receipt. Game and M&M's must be purchased on the same receipt.
Redeem:  You will receive a text back with a reward code valid for a $10 eGift card to Walmart.