When Clever Girls and Shane Co. asked me a post about getting engaged over the holidays, I knew exactly the story I wanted to share. My own engagement story.  I've never told it here, but I promise it is worth settling in for.
After we got engaged, J and I shopped for wedding bands at Shane Co. We had a great experience ring shopping together – picking bands to celebrate our commitment to each other. I still remember walking between the showroom cases trying to figure out what we wanted, and trying on rings to determine what fit "us"… and while we were at it checking out all the other great sparkles… but I'm getting ahead of myself…
J and I met in college. After 5 years of dating, I was ready. I was 25 years old. We both had solid careers, we knew what we wanted out of life, it was time to make a decision.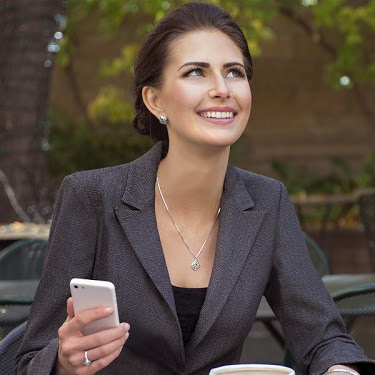 For Christmas, we were going to Alabama to visit J's aunt and uncle. It was a full house – aunts, uncles, cousins. The five of us "kids" slept on air mattresses in the living room. I was sure that this was going to be IT. I was getting a diamond for Christmas. I was so certain of it that before flying to Alabama I gave myself an ultimatum. If I wasn't engaged when I left Alabama, I was finding my own apartment, and moving out.
Christmas morning came. We all sat around the tree to open gifts. There was no ring.
That night I silently cried myself to sleep. J and his family were staying in Alabama for two more days. I was flying home in the morning. That would give me enough time to be moved out by the time he got home.
The next morning I lay on my air mattress. Getting up meant facing the day – and all the days to come. I wasn't ready.
As I lay there I heard J speaking with his grandmother in the kitchen. I eavesdropped as he told her that he was planning to propose on my birthday less than two months away.
My heart leapt, soared, and did every other cliche dance that a girl's heart does when she realizes that fairy tales can come true. He did love me.
About a month later, J asked me about my diamond preference.
Engagement rings that 'Wow'. Shane Co. offers designer looks not sold anywhere else with a lifetime guarantee that cannot be beat!
This was it. For real this time.
Two days before my birthday I came home to see J on the computer, playing video games. On the bed was a teddy bear with a small, wrapped box. Without pausing his game, J told me that I could unwrap the gift. I did.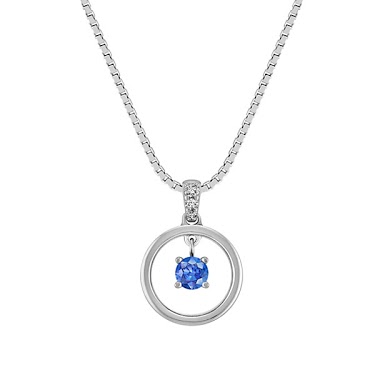 Mumbling thanks, I went upstairs to the guest room. Curled up in the furthest corner of the closet, I called my friend. Through my sobs I told her, "He (sob) gave (sob, sob) me the (sob, sniffle) diamond (sob sob sob)."
"Why aren't you happy?"
"(sob, sob) It was (sob, sob, sob) in a (gasp, sob) necklace."
He didn't really love me. I needed to find an apartment. For the next week I was completely depressed. I needed to figure out how to tell him.
I couldn't. I loved him.
February 20th, J came home from work, and suggested we grab a bite. In need of a giant margarita, I took a quick shower and got dressed.
Two margaritas (for me) and some fantastic enchiladas later, we were back in the car, on our way home. I needed to tell him. As I was trying to find the words, he missed our exit. We weren't going home.
J drove on and parked on a shady street. He told me that I was his best friend. That he wanted to spend the rest of his life with me. Would I marry him?
Six months and six days after telling him yes, I became Mrs. Moore as I told him "I do."
It was a perfect day. I wore my mother's pearls, and the veil from her wedding. My dad walked me down the aisle, and our parents sat in the front row as we promised to love and to cherish, 'til death do us part.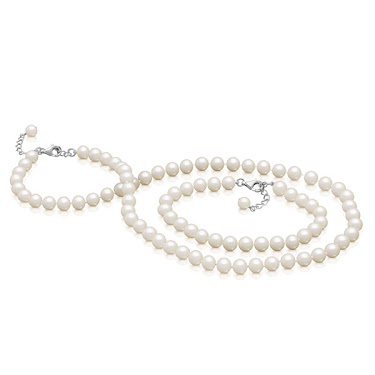 Eternal and timeless, pearls never go out of style! Shane Co. cultured pearls are matched by hand for exceptional luster.
We have been married for over 7 years, and I'm still not sure how I feel about him torturing me… though I did get an extra diamond out of the deal.
But I do have eerie confirmation that we really are meant to be together. That confirmation came on February 25th – just 5 days after our engagement. We were having a celebratory drink with friends as I told them how close I was to moving out, but overheard the conversation he had with his grandmother.
He interrupted to say that he didn't tell her his plans. He hadn't told anyone. I heard a conversation that never happened.
… and it gives me goosebumps every time I think of it.
I was selected for this opportunity as a member of Clever Girls Collective and the content and opinions expressed here are all my own.