This little baby quilt is long overdue, in a number of ways. The blocks for this quilt were made at the orange and monster truck baby shower. I finally stitched them together and quilted it up about 3 or 4 months ago to give to baby D… but then it didn't make it to their house. It was going to make it to D this weekend (for his first birthday), but he got sick… so it didn't happen!
The blocks are "signature blocks". All the kids at the shower were given fabric crayons and asked to draw on the blocks. Some of the kids drew a lot, and pressed hard with the crayons. Some didn't draw much at all, and drew very lightly. Most of the kiddos were under the age of 5, which makes for some really fun artwork!
I stitched the whole thing together with orange sashing. There were only 8 blocks, so I decided to leave the center plain, and wrap the blocks all the way around. Another option would be a fun focus fabric in the center.
I just used a plain solid orange fabric for the sashing and borders.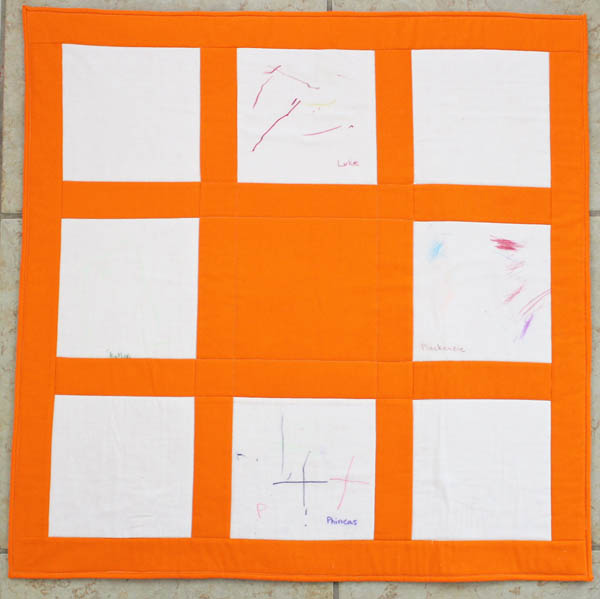 I quilted it with orange cuddle on the back (to make it extra snuggly). I folded it up and tied some tulle around it. Because a quilt doesn't really need any extra wrapping – does it?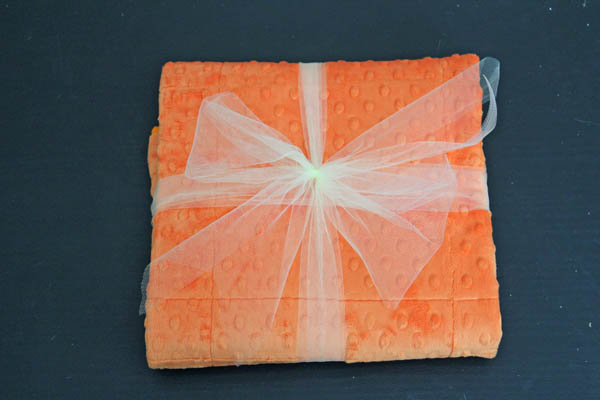 Baby D… one day your blankie will come! I promise!!