Turn your scraps into a useful placemat with this quilt-as-you-go scrappy placemat! You can whip up this placemat in about an hour using the quilt-as-you-go method, and your scraps. And, you can use your scraps of batting as well! Placemats are so handy to have, and scrappy, quilted placemats like these are super fun. Make a whole stack to have handy, and just throw them in the washing machine when they get dirty. You'll love seeing all your favorite quilting scraps in these scrappy placemats.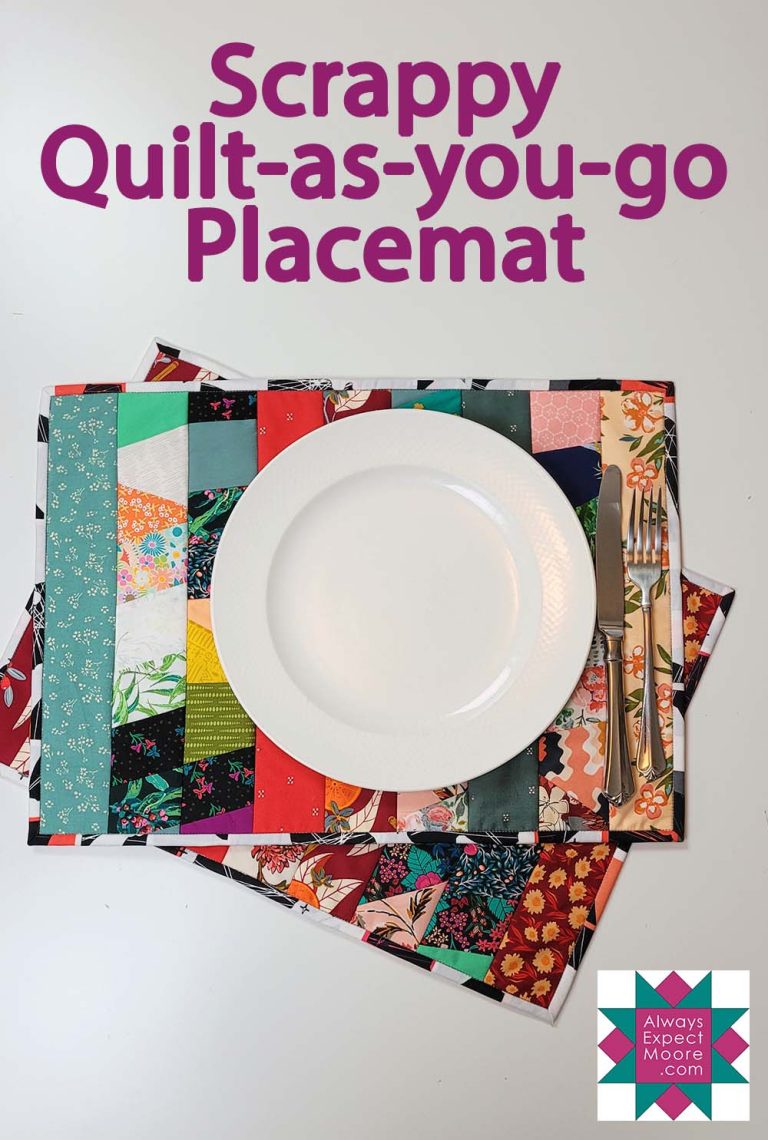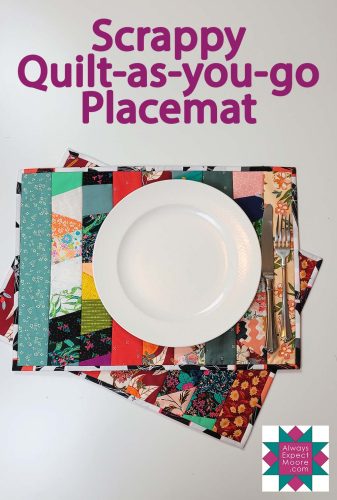 You can make this table runner using just strips, but if you want to use your smaller scraps, you can convert them to strips using Scrap Tape. Scrap Tape is a new product that makes it so easy to turn small scraps into usable 2 1/2″ strips! The Scrap Tape is a water soluble interfacing that you can stitch your scraps to. It is sturdy enough to help control the bias in wonky scraps, and light enough to stitch through. When you're done, you just wash it out with water! You can see how scrap tape works in this video here:
If you'd like to play with Scrap Tape, I sell it in my shop! You can get Scrap Tape here.
Once you've made your scrap tape and cut your strips, you can make your placemat. I have a free pattern download showing you how to make your scrappy placemat. Sign up for my newsletter below, and I'll send the pattern link directly to your inbox:
If you'd like to see what this Quilt-as-you-go technique looks like as you're doing it, I made a quilt-as-you-go table runner. You can see how it goes together in this video:
I made this project as part of the Scrap Busting Blog Hop being hosted by my fabulous quilting friend Mel! Thanks mel for inviting me to join you on this scrappy journey! You can learn more about the scrap busting blog hop over at The Quilting Room with Mel, and check out her scrappy post from this week here.
And you can go check out last week's scrappy projects, as well! I love this scrappy foundation paper pieced gnome that Marney made. I also love these scrappy numbers that Katie stitched up.