If you're making a barn quilt, farm quilt, or animal quilt, you'll absolutely want to include a chicken quilt block in your quilt. And, nowadays, you'd want to include a chicken quilt block in a quilt with all your favorite pets! I have several friends and family members who keep chickens as pets – and as egg-laying garden friends! You can change the colors of the quilt to match your favorite types of chickens. And by using different prints in these different colors, you can make a very interesting chicken quilt.
To make your chicken quilt more interesting, you can use different background fabrics. Or you can use the same background fabric throughout the chicken quilt to give it a more cohesive look.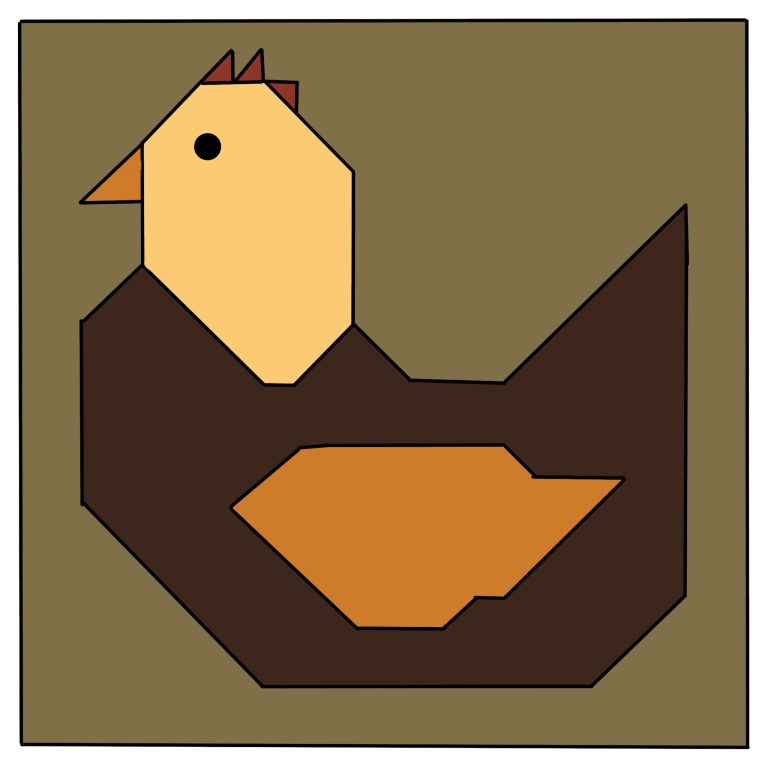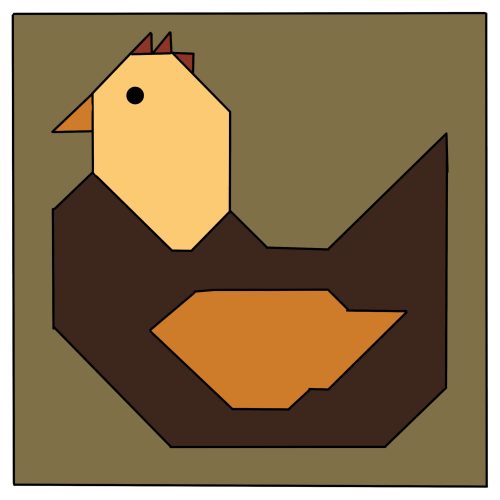 This chicken quilt block finishes at 12″ x 12″ square. After stitching the block together, you can square it up to 12 1/2″ x 12 1/2″ before stitching it into the quilt. There is negative space around all four sides of the chicken in this block, which can help when squaring up.
This block is for intermediate or confident beginner quilters. It does have some pieces that are as small as 1″ square, so you'll want to be comfortable with small piecing to stitch this block. Be precise when cutting your fabric, starch it well, and use an accurate 1/4″ seam allowance to have an accurate finished quilt block.
Free Chicken Quilt Block Pattern
This Chicken Quilt Block Patten is a free pattern available to anyone signed up for my newsletter list. If you're not already on the list, you can use the form below to sign up. You'll be added to the list and immediately get the download link for the Free Chicken Quilt Block Pattern. Head to your inbox to find the email (check our spam folder just in case) and you'll have the link to the free chicken quilt block pattern that you can download today, and start sewing!
If the form below doesn't work right away, be patient. If you haven't seen an email within 6 hours (and you've checked your SPAM folder), you can email carolina@carolinamoore.com and I'll manually send you the free chicken quilt block pattern.
More Pet and Animal Quilt Block Patterns
If you're interested in more pet and animal quilt block patterns, there are other designers offering fun 12″ block patterns. You can click the links below. Some of these patterns are only free for a limited time, so be sure to go download the block patterns soon!
Chicken Quilt Block by Carolina Moore
First Snow by Inquiring Quilter
Clown Fish by Powered By Quilting
Bunny Buddies at Patti's Patchwork
Cute Turtle by Appliques Quilts and More
Doghouse Quilt Block by Kaye Collins
Scottie Dog
Dog Bone by QuiltFabrication
Bird Feeder by Duck Creek Mountain Quilting
Birdie Block by Blue Bear Quilts
Fishies at Perkins Dry Goods
Parlor Panther Queen at Orange Blossom Quilt Design Studio
Perky Pig by Masterpiece Quilting