I am a member of the Collective Bias®  Social Fabric® Community.  This shop has been compensated as part of a social shopper insights study for Collective Bias and their client.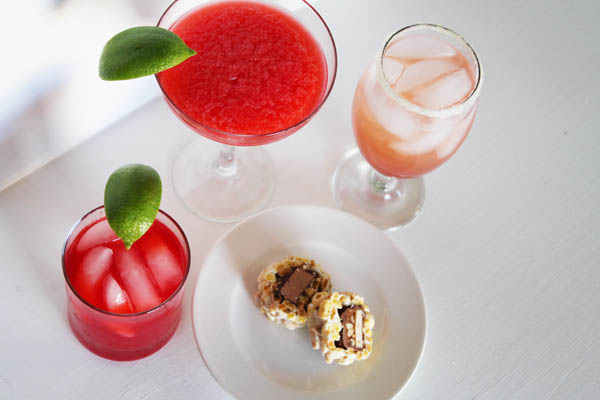 This Holiday season, we're staying at home. I have let my family and in-laws know that they are all welcome at our house… but we don't plan to do any holiday traveling. We traveled last December, and we've done a lot of traveling this year for family parties and events. Now, we get to enjoy some time at home. Which is perfect for me, because I love Holiday entertaining. I love dressing up our home, and welcoming guests. I love cooking and preparing delicious treats. This holiday, with the help of Smart & Final, I thought I'd come up with a sweet twist on drinks and appetizers.
Instead of traditional drinks and savory appetizers, I came up with some sweet candy sushi and drinks that use Country Time Lemonade and Kool Aid as the base. But don't let the Kool Aid and Lemonade fool you… these drinks have kick!
I started by making the Candy Bar Rolls and Starburst Nigiri.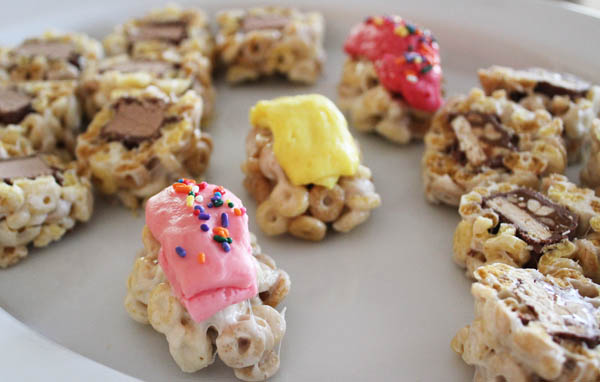 For my "sushi", instead of rice I used Cheerio treats.
To make your own Candy Bar Sushi Rolls you need:
2 tbsp butter
2 c  mini marshmallows
3 c Cheerios
2 Snickers bars
2 3Musketeers bars
Melt the butter in a nonstick saucepan on med heat. Add marshmallows. Stir until melted together. Add Cheerios, and stir until fully combined.
Tip: to keep everything from sticking to your spoon, spray your spoon with non-stick spray.
To turn the Cheerio treats into candy sushi, pour half of the still hot Cheerio treat mixture on a piece of aluminum foil, sprayed with non-stick spray. Use your spoon to spread it out into a large rectangle. Place two candy bars (with wrappers removed, of course) down on the middle of the rectangle of cheerio treats. Fold in the sides of the foil so that the Cheerio treats encircle the candy bars. Roll the treats in the foil to even them out around the candy bars. You'll feel them melting into the chocolate coating on the candy bars a little. That's fine.
Remove from the foil and set aside to cool. Repeat with the second half of Cheerio treats and two more candy bars. You can use the same piece of foil, and no need to re-spray with no-stick spray. There will be enough left on the foil.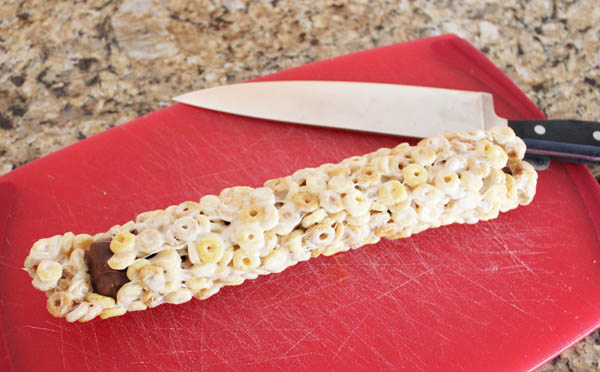 Once the Cheerio treats cool, cut into pieces about 1″ wide with a SHARP knife.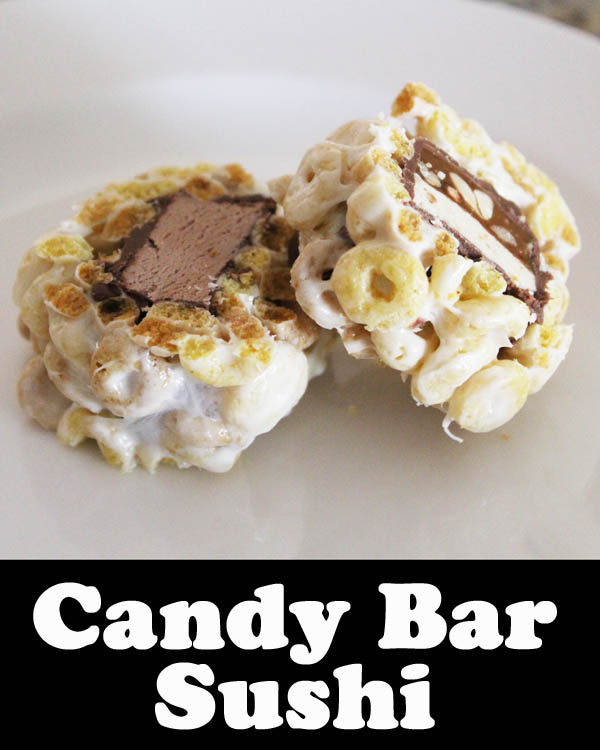 To make the Starburst Nigiri, you need:
2 tbsp butter
2 c mini marshmallows
3 c Cheerios
Starburst Candies (unwrapped)
Sprinkles (optional)
Make a batch of Cheerio treats, just like before. Make tablespoon-sized balls of treats on foil. Make sure to spray both your spoons and foil with non-stick spray.
Put 3 starburst in the microwave. Times will vary based on your microwave, but mine took about 10 seconds. You want them slightly softened, NOT melted.
Pull the warm Starburst into the shape of a slice of raw fish, and set on top of your cereal treat "rice ball". Dip in sprinkles if you like.
As long as I was giving Cheerios and candy bars a more "mature" look in the form of candy sushi, I thought I'd give CountryTime lemonade and Kool Aid a makeover. Because what is more welcoming after a long drive than a refreshing drink?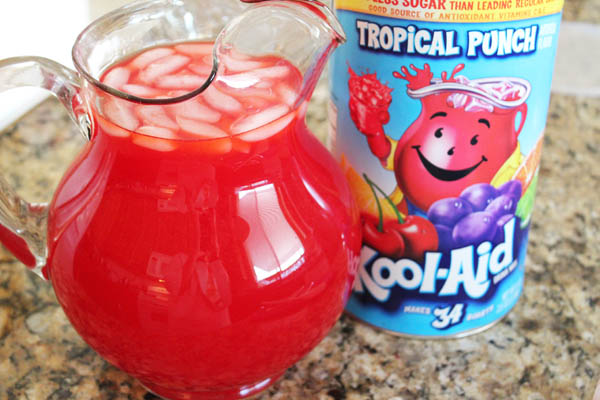 I made a Kool-Aid a-rita. Which is the delicious love-child of a Margarita and Kool-Aid. You can make it on the rocks or blended, the recipe changes a little based on how you want to serve it.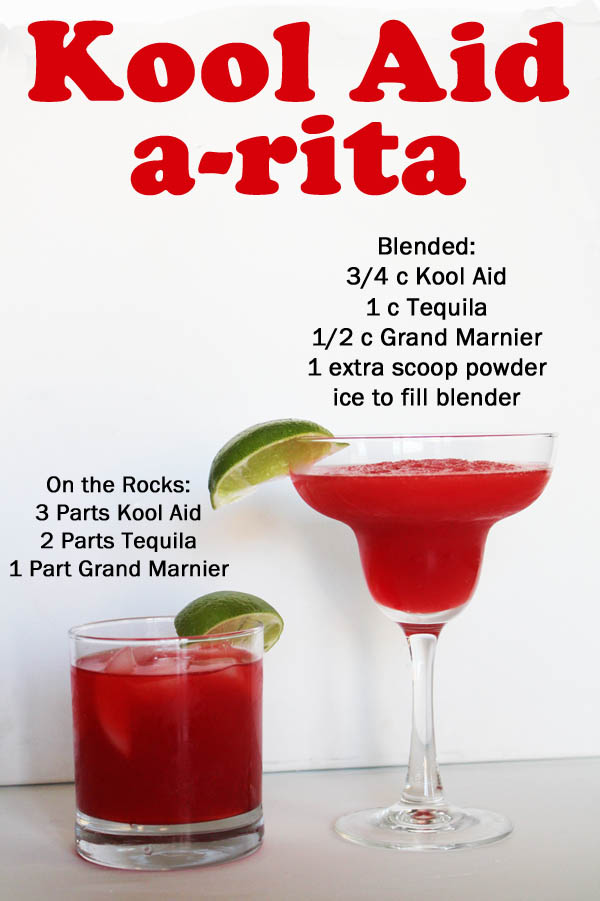 Kool-Aid a-rita on the Rocks:
3 parts Kool-Aid
2 parts Tequila
1 part Grand Marnier
Shake and serve over ice. Garnish with a slice of lime.
Blended Kool-Aid a-rita
3/4 c Kool-Aid
1 c Tequila
1/2 c Grand Marnier
Add a scoop of Kool-Aid powder
Fill blender with ice, blend until smooth. Garnish with a slice of lime.
I like giving my guests two different drink options when entertaining. That way, if they're not a fan of a particular drink (or the booze in that drink), they have options. I made the second drink with Country Time lemonade: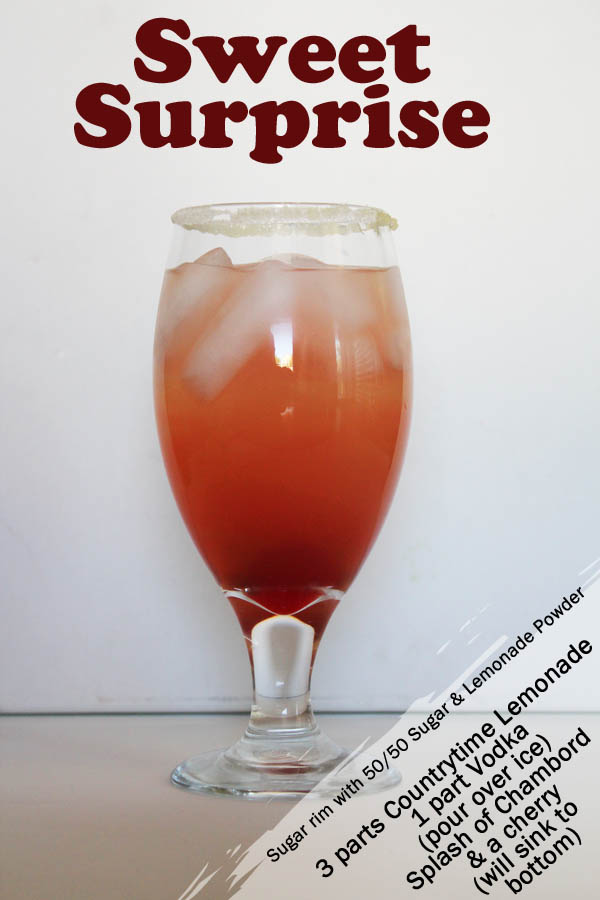 Sweet Surprise
Sugar rim with 50/50 mix of CountryTime Lemonade and Sugar
3 parts CountryTime Lemonade
1 part Vodka
Pour in glass over ice
Top with a splash of Chambord (about 1 tbsp)
Add a Maraschino Cherry
(the Chambord and Cherry will sink to the bottom)
The surprise is the cherry at the bottom of the drink.
If you've never sugared the rim of a glass before, it is easy to do: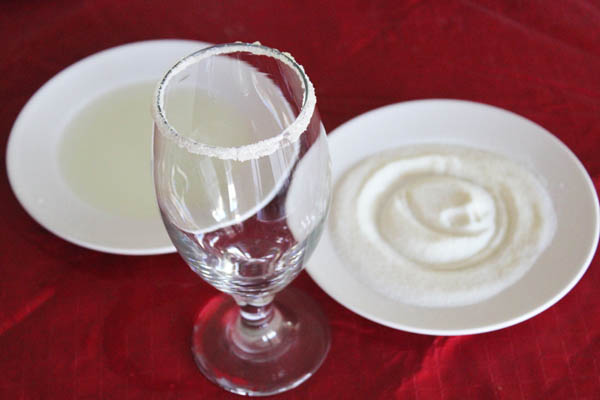 Mix a tablespoon of sugar and a tablespoon of the lemonade mix together on a small plate. On a second plate, pour a little of the prepared lemonade.
Dip the rim of the glass into the lemonade. Let the excess drip off. Then dip into the sugar mixture. It is that easy!
Holiday entertaining has never been as sweet!
Oh – and keep a pitcher of un-spiked Kool-Aid and Lemonade around for your under-21 houseguests!
Smart and Final is a great store for all your entertaining needs – from meat to dairy, produce to paper goods, they've got you covered! Check them out on Twitter https://www.twitter.com/SmartFinal and on Facebook  https://www.facebook.com/SmartFinal
And right now there is a great promotion going on! Save $5 when you buy 5 select General Mills, Mars, and other products (like the cereal, drink powders, and candy bars used in my recipes), AND get free Adult-Child movie passes!