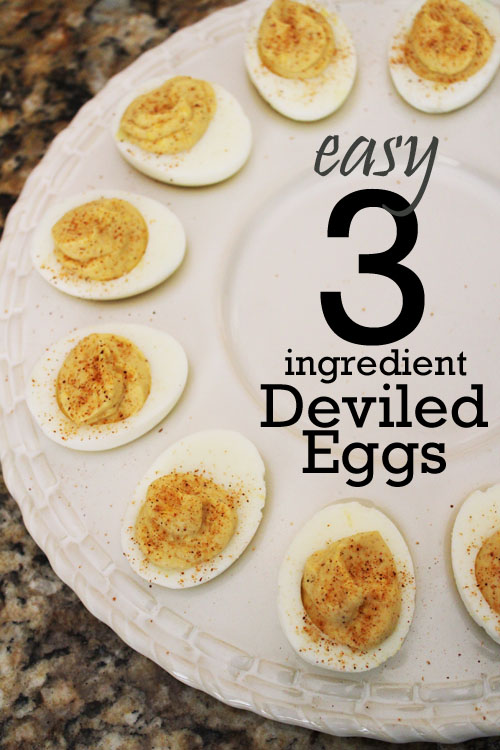 These are the easiest ever deviled eggs to make, and I always get compliments on them! There are tons of complicated deviled egg recipes out there, and I'm sure they are delicious. This 3 ingredient deviled egg recipe is my go-to. My favorite. And super, super simple.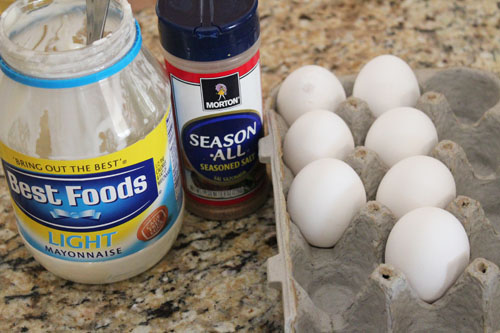 You need mayonnaise – I've used different brands and they are all fine. You can even use Miracle Whip if you're a Miracle Whip fan. And of course you need hard-boiled eggs. But the most important ingredient is Season All. I've used different kinds of seasoning salt, but Morton's (the one with the blue cap) is hands-down the best for this recipe.
Peel your hard boiled eggs. Make sure to get all that skin off – the membrane between the shell and the egg has a terrible texture and slightly bitter taste that completely ruins deviled eggs for me, so I always make sure to dunk the eggs in water after peeling and look carefully to make sure all the skin is gone.
Slice the eggs in half, lengthwise. Remove the yolks, put in a bowl. For 6 eggs, add two heaping tablespoons of mayo, and 1 teaspoon of seasoning salt. Mix thoroughly.
Plop a scoop of the filling back into each cavity left by removing the yolk. You can use fancy methods like a piping bag or cutting the corner off a ziplock bag… but when I'm making these just for my family, I use two teaspoons to transfer the filling onto the eggs.
Once the eggs are filled, sprinkle with a little more seasoning salt, and enjoy!
You can adjust the recipe to suit your taste – add more or less mayo, and more or less seasoning salt, depending on how you like your eggs. I've made these so often that I don't even measure out the ingredients anymore… I just toss it all in a bowl until it tastes right!
… and these easy deviled eggs always taste right!!