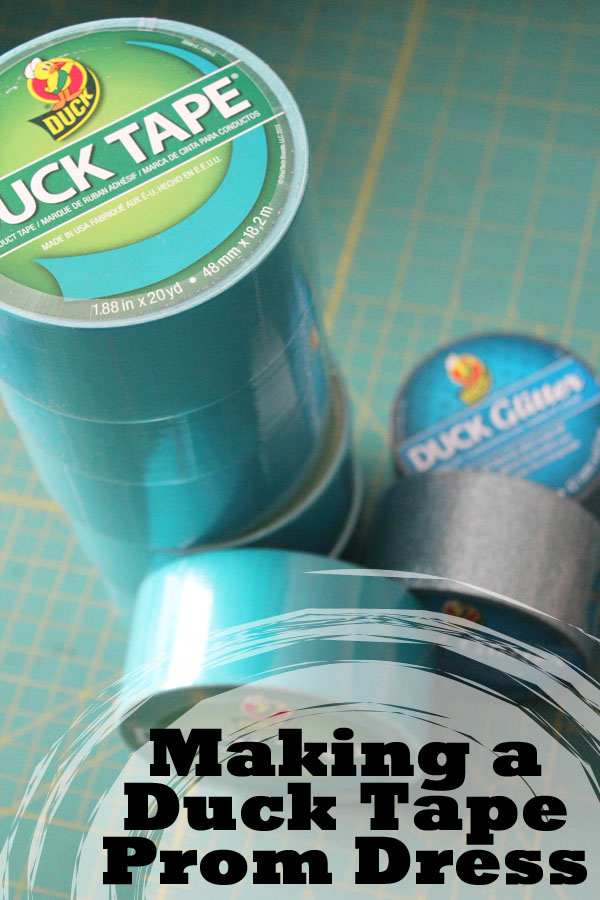 Yes. You read that right. How to make a Duck Tape Dress. Why? Well, besides the obvious "totally unique" aspect, and the fact that you really can make anything out of Duck Tape, if you're in High School, making a Duck Tape Prom Dress could win you a fat scholarship with Duck Tape's "Stuck at Prom" promotion.
My mom and I sewed my dress for my Senior Prom, so making a dress out of Duck Tape for a potential scholarship would have been right up my alley. But I've already gone to my 10 year reunion, and am well on my way to my 20 year reunion, so I missed the boat.
But, Duck Tape sponsored an "80's Prom" at a conference I went to, and I thought it was the perfect opportunity to try my hand at making a Duck Tape dress. I looked up the official rules to make sure that my dress would be Stuck at Prom "legal" (besides the obvious fact that I'm not in High School), so that I could share any Duck Tape Prom Dress-making secrets.
Before you decide that you want to make a Duck Tape Dress, here are some things that you might want to consider:
Duck Tape is not Breathable
Wearing a Duck Tape dress is very hot and sweaty. It keeps in all of your heat. I had a sleeveless, short dress, and my cheeks were red the entire night. Consider this as you design your dress.
Duck Tape is not very Flexible
There is a little bit of "give" to Duck Tape, but once you've made an entire dress out of it, it isn't very flexible. If your skirt is going to be snug, you might want a slit up the back. And you can forget about bending over if you've dropped something.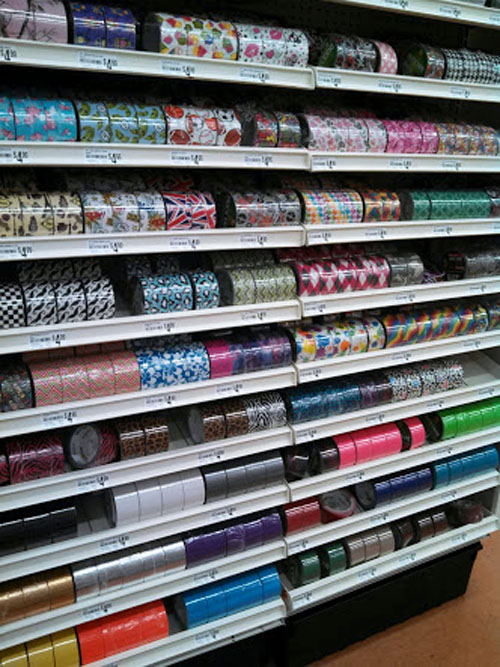 Duck Tape can be Expensive
Your Duck Tape dress will be more work than buying a dress off the rack, and may be expensive. I used about 9 rolls of tape for my dress. Some rolls (like the glitter rolls) have a lot less Duck Tape on them. When you decide what colors and patterns to use for your dress, look at the label to see how many yards are on the roll. The glitter and prism tapes are awesome, and will add great sparkle to your dress, but they will also increase the cost.
Duck Tape isn't always Flattering
You want to look good at your prom, and if you don't have any experience making clothes, or you already feel self-conscious, a Duck Tape dress might not be for you. I'm over 30, and while other gals at the event said that I looked good in the dress (one specifically told me that Duck Tape made my butt look great!), I felt very exposed. The dress didn't really hide any flaws, and I didn't feel like it played up any assets, either! But, a 17 or 18 year old going to a high school prom probably has a better body than me, right?
If you've read all of that and you still want to move forward (yay!), I'll tell you how I made my dress.
How to make a Duck Tape Dress
The Stuck at Prom rules don't say that your outfit has to be entirely made out of Duck Tape. You can see in this clip from Season 11 of Project Runway that some of the designers did use a sewing machine to make their dresses. What you don't see is that some also used a muslin underneath the Duck Tape to help it keep its form.
Duck tape is sticky on one side, and you absolutely don't want to stick it directly to your skin for your dress. So your options are to either make a sheet out of the Duck Tape by making a double-sided sheet, with the adhesive in the middle, or to stick the Duck Tape to fabric.
To make my Duck Tape dress, I went to a discount clothing store and bought a plain dress. I double-checked the 2014 rules (don't just take my word for it, make sure you read the rules carefully for yourself), and you can use other materials in your dress. However, you cannot use someone else's design. I read this to mean that I couldn't just Duck Tape over an existing dress and call it "original", I had to truly make it an original piece. And I couldn't look online to see a dress I liked and re-create it in Duck Tape. The finished product had to be one-of-a-kind. That was my interpretation, but don't take my word for it – read the rules to make sure you understand them. Really, the biggest benefit was having a base to stick the tape to – and that the base had a zipper so that I could get in and out of the dress easier.
The dress I picked to be my base was not a style or color I would wear. But it had the basic shape I was looking for – and everything else was going to be covered in Duck Tape, so what I saw in the mirror wasn't the deciding factor.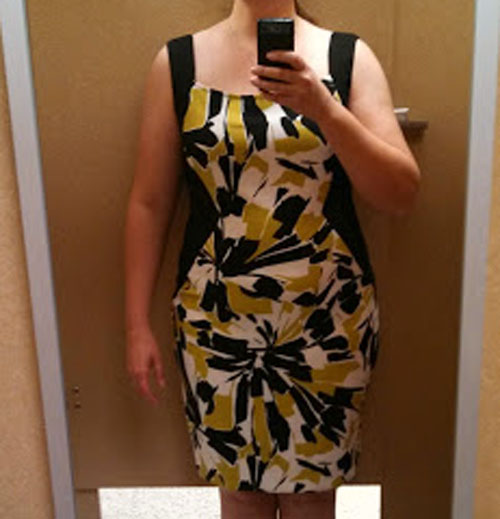 Once I bought my dress, I started adding the tape. The dress I bought was a knit fabric, which stretches. I would have preferred a woven fabric (which doesn't stretch as much). Because it was a knit fabric, I had to have the dress on while adding the tape. Because once the tape was applied, the dress didn't stretch. However, any areas where the dress stretched while I was in it (think: stomach, hips, thighs, chest, etc), as soon as I got out of the dress, the fabric would start to un-stretch, which made the Duck Tape less smooth. If you plan on using a fabric base for your Duck Tape dress, a woven fabric, rather than a knit, is your best choice. If you have access to a dress form, that would be a big help as well.
Note: I did overlap the strips of Duck Tape to make sure there were no gaps.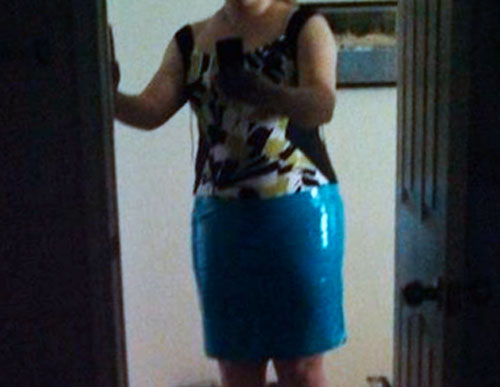 I mentioned before that Duck Tape has almost no stretch, right? While taping the dress on my body, I filled my lungs with air to expand them as much as possible. This sounds like the opposite of what you might want to do – because this will make the dress bigger. However, getting in and out of a tight dress with almost no stretch is very hard. Expanding the top of the dress by filling my lungs with air made it much easier to get the dress on and off.
My goal was to make an 80's dress, so I wanted to have an off-the-shoulder top. I cut off one strap, then used some Duck Tape to hold it all in place while I taped up the top.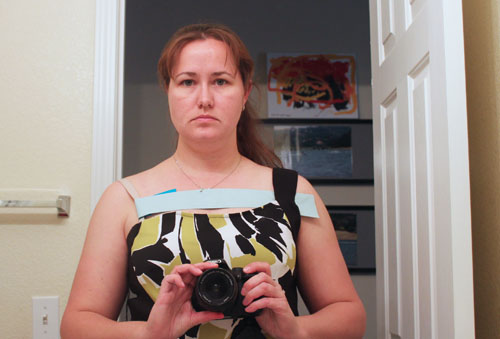 While doing this, I managed to get some Duck Tape stuck to my armpit. OH MY! Getting that off was painful!
The final step was taping the back. I couldn't reach the back myself, so I had my friend Gina from Mom's Lifeboat tape the back for me. She taped on either side of the zipper, so that I could still use the zipper to get in and out. On the night of the event, my friend Angie from The Country Chic Cottage added a vertical strip of tape over the zipper to cover it.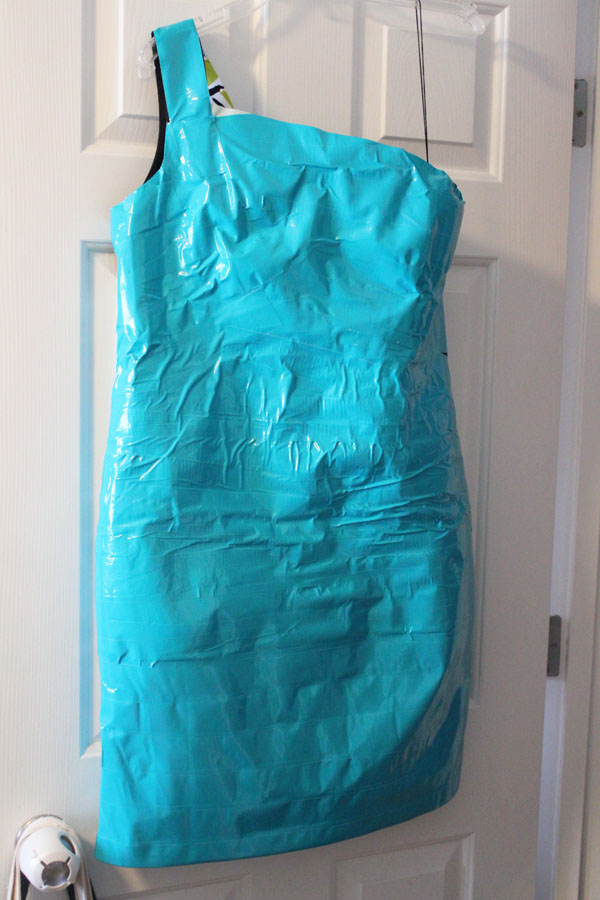 The plain dress was fine, but I wanted to give it a more 80s look with ruffles. I would have loved to add lots of ruffles, but they take some time (and quite a bit of Duck Tape) to make.
If you want to add ruffles to your dress, here is my secret: use your bed. I used the bed at the hotel to make the ruffles. I lifted the sheets off the bed to expose the fitted sheet. I taped long strips of Duck Tape to the fitted sheet, overlapping them a little. Once my ruffle was wide enough, I peeled it off, and lay it on the bed tape-side-up. Then I covered the tape with fresh strips of Duck Tape, overlapping the seams.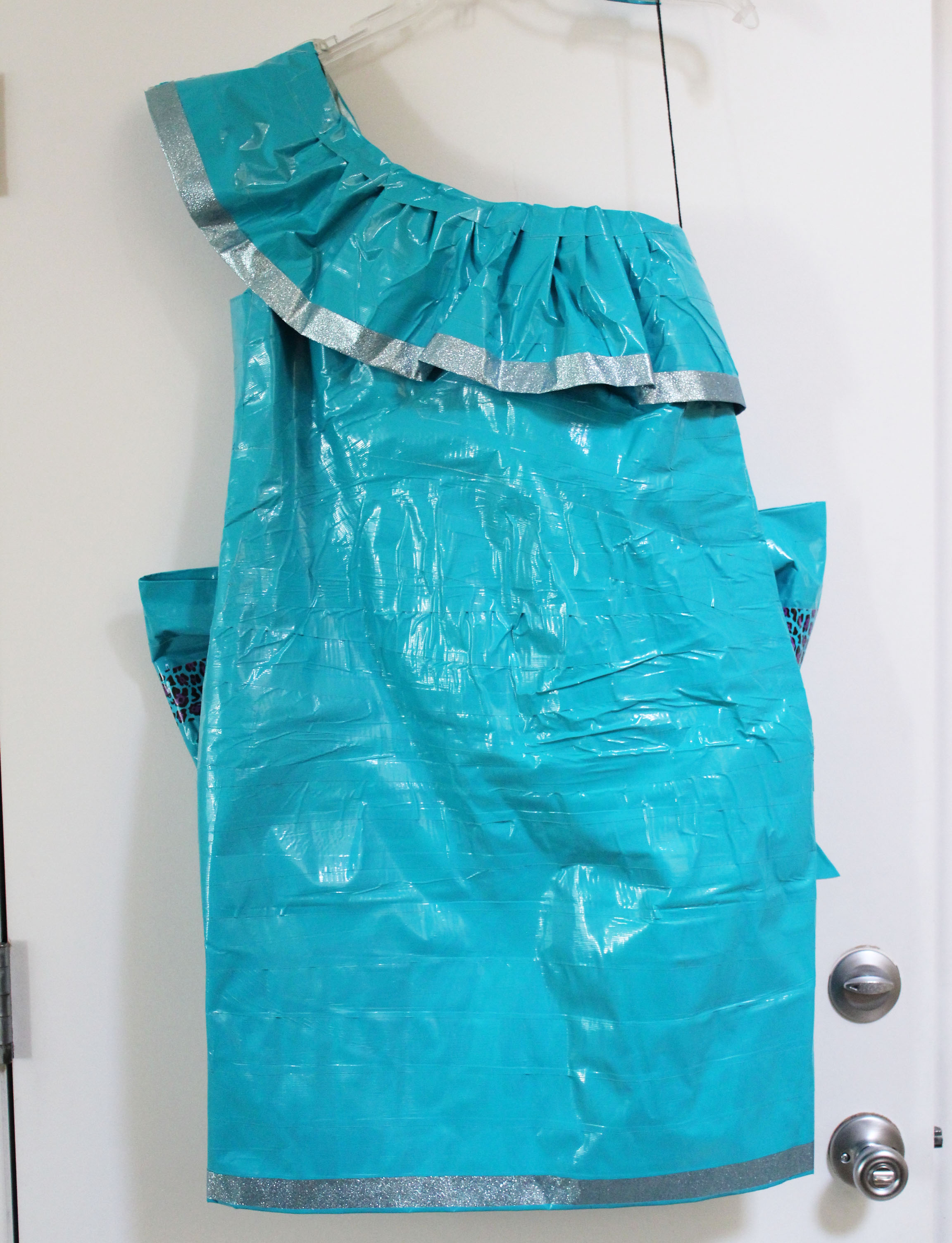 I added some sparkle with glitter Duck Tape on the ruffle and the bottom of the dress.
I used a similar strip to add a bow to the back. Very 80s.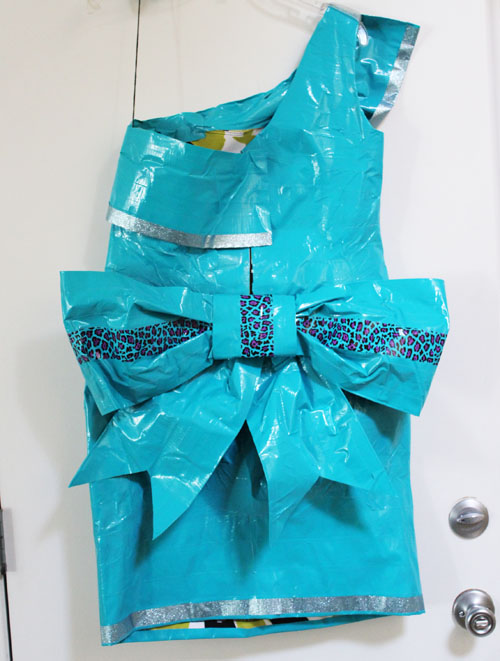 Here are a couple photos of me at the event in the dress. In this top photo I'm hanging out with Angie, who is wearing a vest made out of Duck Tape.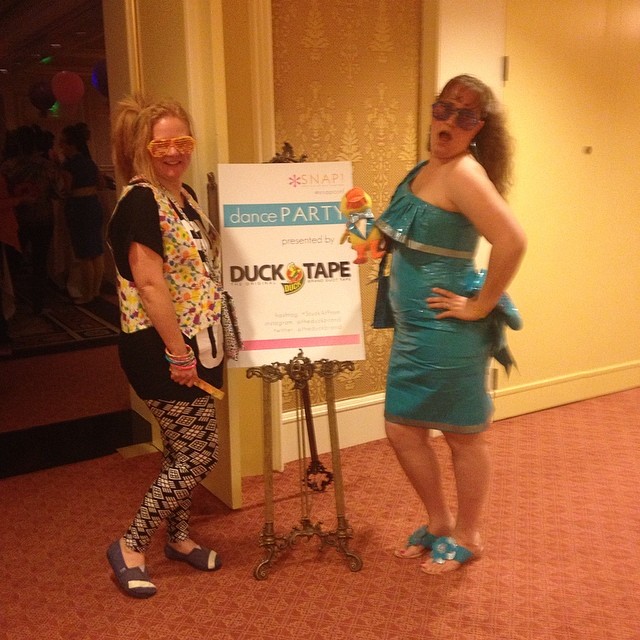 In this bottom photo, I'm posing with Kimberly from Stuffed Suitcase, who also made a Duck Tape dress for the event.
My Duck Tape look was finished off with some fun accessories. I dressed Trusty the Duck (the Duck Tape Mascot) in matching lapels and tie, added Duck Tape to my shoes, and added some Duck Tape jewelry.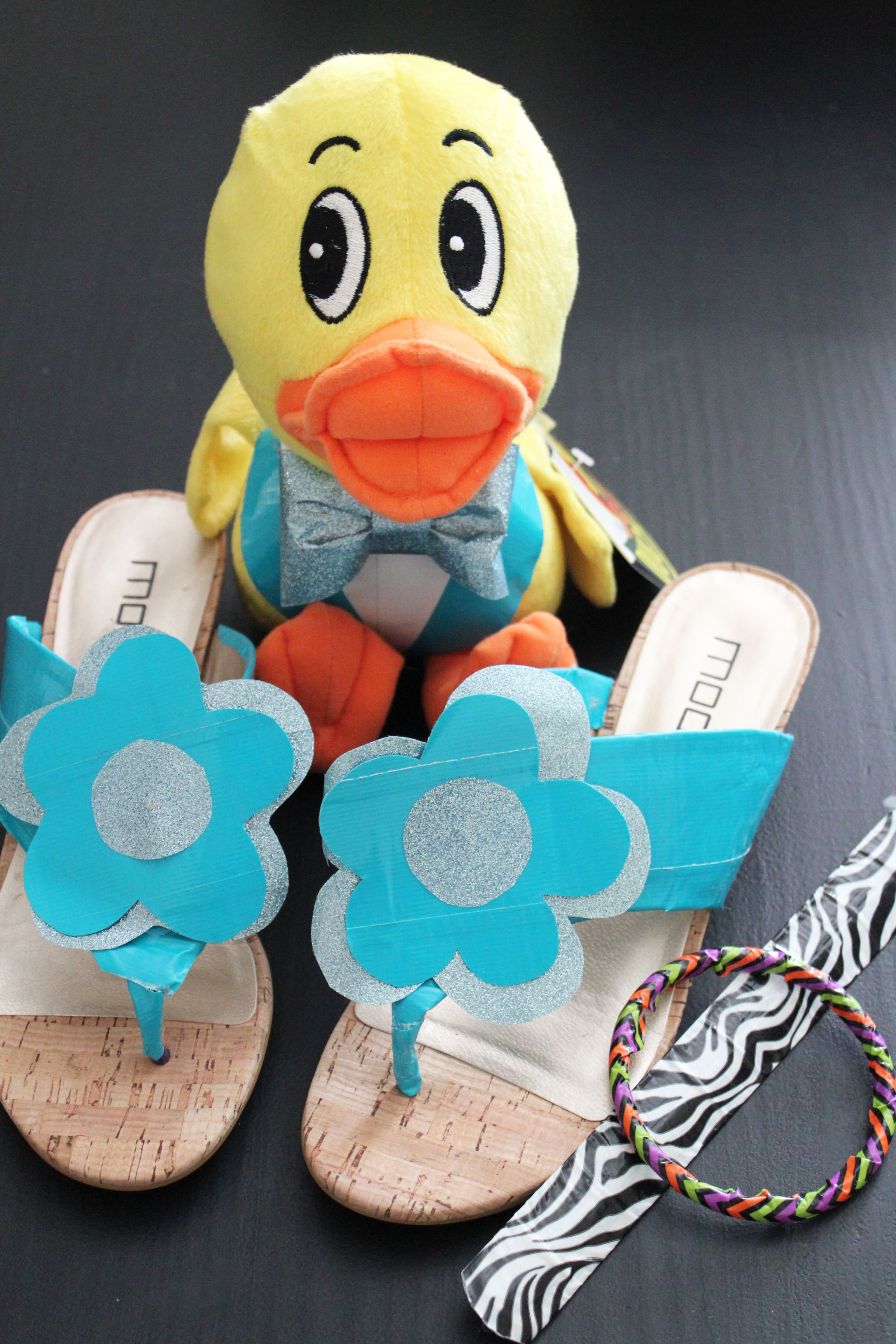 If you want some detailed instructions on making accessories, here are some tutorials:
Duck Tape Bracelet
Duck Tape Bangles
Duck Tape Earrings
Duck Tape Necklace
Duck Tape Flowers (if you want to make a Duck Tape Corsage)
Duck Tape Cat in the Hat's Hat (you can modify these instructions to make a top hat)
I hope these details help you make your own Duck Tape outfit for Prom! Look around online for inspiration and ideas, and save your pennies for all those rolls of Duck Tape!