If you've got a quilter in your life, and you're looking for a gift to give them for a holiday, birthday, or just because … I've got you covered! I've sorted these gifts into different categories to help you out, and if I've been able to find the gift in multiple places, I'm giving you multiple links so that you can compare price and shipping options.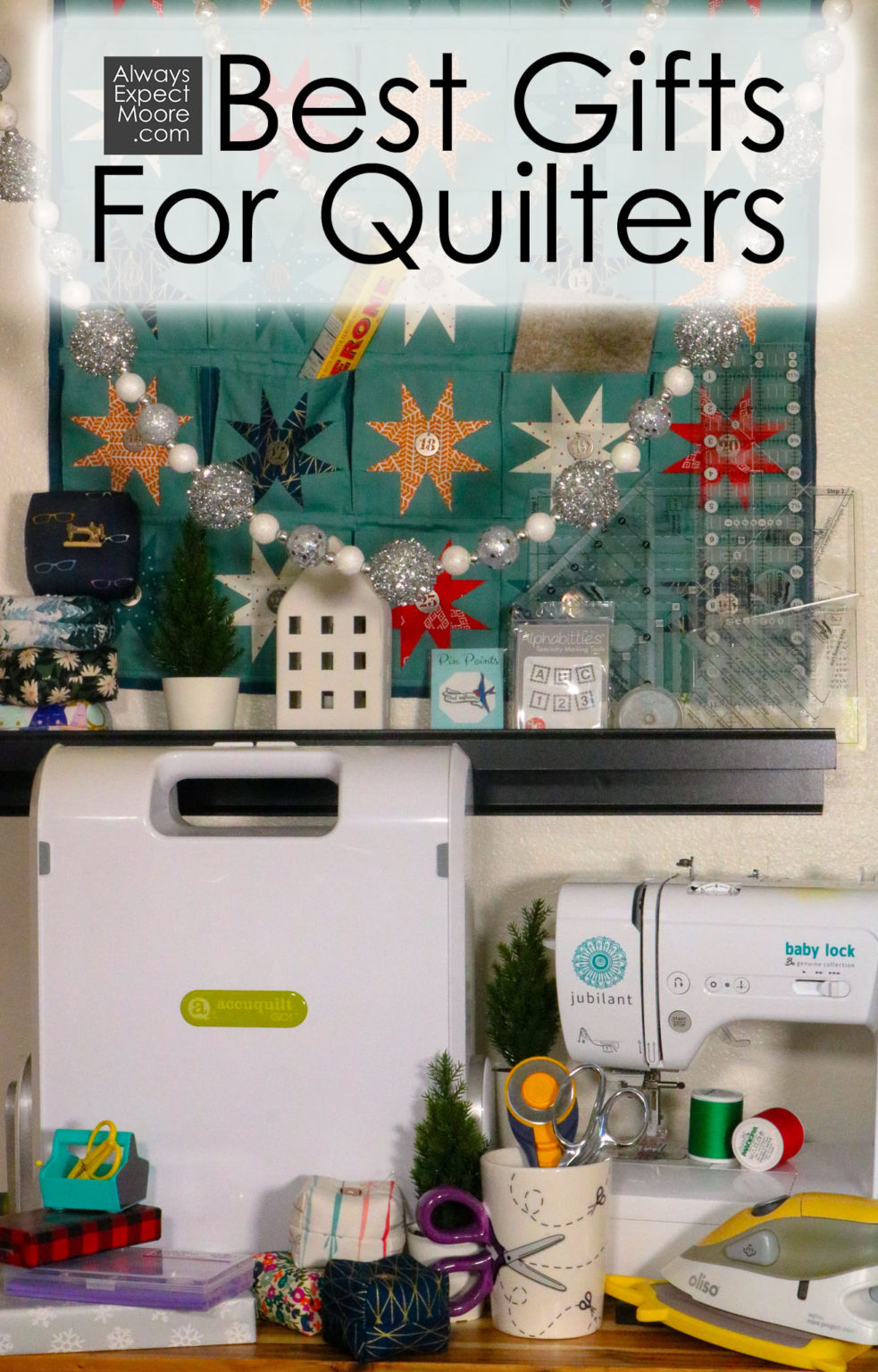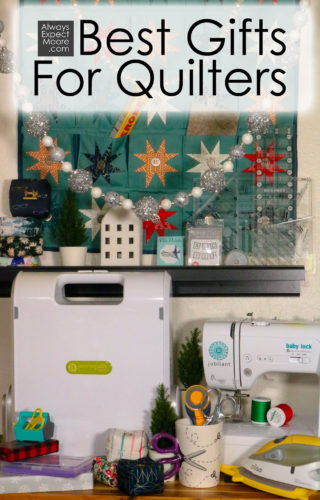 This post contains affiliate links which provide a small commission to this site when you purchase through these links.
If you're more of a home-shopping-network type shopper, I've shared many of these gift ideas in this video, in which I give you a more detailed look at many of these items.
Let's get started on all the links!
Best Splurge Gifts for Quilters
If you have an extra special quilter in your life, or you're feeling super generous this year, these spurge gifts are always appreciated! Quilters are known for our generosity in giving away quilts, and we often feel guilty for spending big dollars on ourselves. Treat your quilter with something from this list!
Sewing Machine – I love Baby Lock machines. They are easy to care for, and high quality. For a beginner, or a quilter who wants a machine for travel, the Baby Lock Jubilant is a great choice. You may want to check out Baby Lock's Embroidery Machines for a quilter who wants to step up their game. I've added the Baby Lock Sashiko machine to my wishlist this year – it is a specialty machine just for quilting, but gives a hand-quilted look for a lot less work!
Accuquilt Go! Cutter. Accuquilt is a cutting machine designed specifically for quilters. They have so many different specialty quilting dies designed to make cutting fabric easier and more accurate. So that quilters can get to their favorite part – the sewing! The Accuquilt Go! Me is great for someone starting out. However, if you have a serious quilter on your hands, the Ready Set Go! Cutting System is an awesome splurge. Accuquilt does an amazing job of offering free patterns that compliment their dies, so this is really an investment that pays off in the long run.
Oliso Iron. Oliso is a well known brand in the quilting world. While the price point of an Oliso iron makes it a splurge, it is a high-quality iron that will last your quilter for years and years! It gets beautifully hot and makes great steam – though it can be used without steam for a steam-less quilter. Pair it with a wool pressing mat and a hot iron rest for a very thoughtful gift.
Creative Grids Stripology XL Ruler. Splurge on the big one! This ruler cuts strips, squares, squares up blocks, and more. It is a huge time saver and such a fun ruler! And yes – I absolutely own one of these!
Gifts Every Quilter will Love
These gifts won't be as big of a splurge as the items on the list above, but any of these would absolutely be appreciated by a quilter.
Gift Card to their local Quilt shop
Oliso Mini Iron – available in four colors!
Wool Pressing Mat (also available here) (and available here)
Spot on Dot (also available here)
Creative Grids Specialty Rulers – Creative Grids has tons of specialty rulers! My favorites are the Strippy Star, Curvy Log Cabin, and Kitty Cornered rulers.
Plan to Quilt – this great book will help a quilter track their projects – use code MOORE for 10% off!
Best Gifts for a New Quilter
For someone just starting out, these gifts will be appreciated!
Gift Card to their local Quilt shop
Cutting Mat
Rotary Cutter – the Olfa Splash is my favorite (also available here) (find it here in pink)
Replacement 45mm Rotary Blades (also available here) (also available here)
Good Scissors (also available for left-handed quilters)
Replacement Sewing Machine Needles (these are also a good option)
Good Thread – Madiera is what I've been using.
Good Quality fabric – if you don't know their favorite fabric designer, you can't go wrong with AGF Elements in their favorite colors.
Good Rulers – this Creative Grids Quilting Ruler and Creative Grids Square are great for beginners.
Machine cleaning set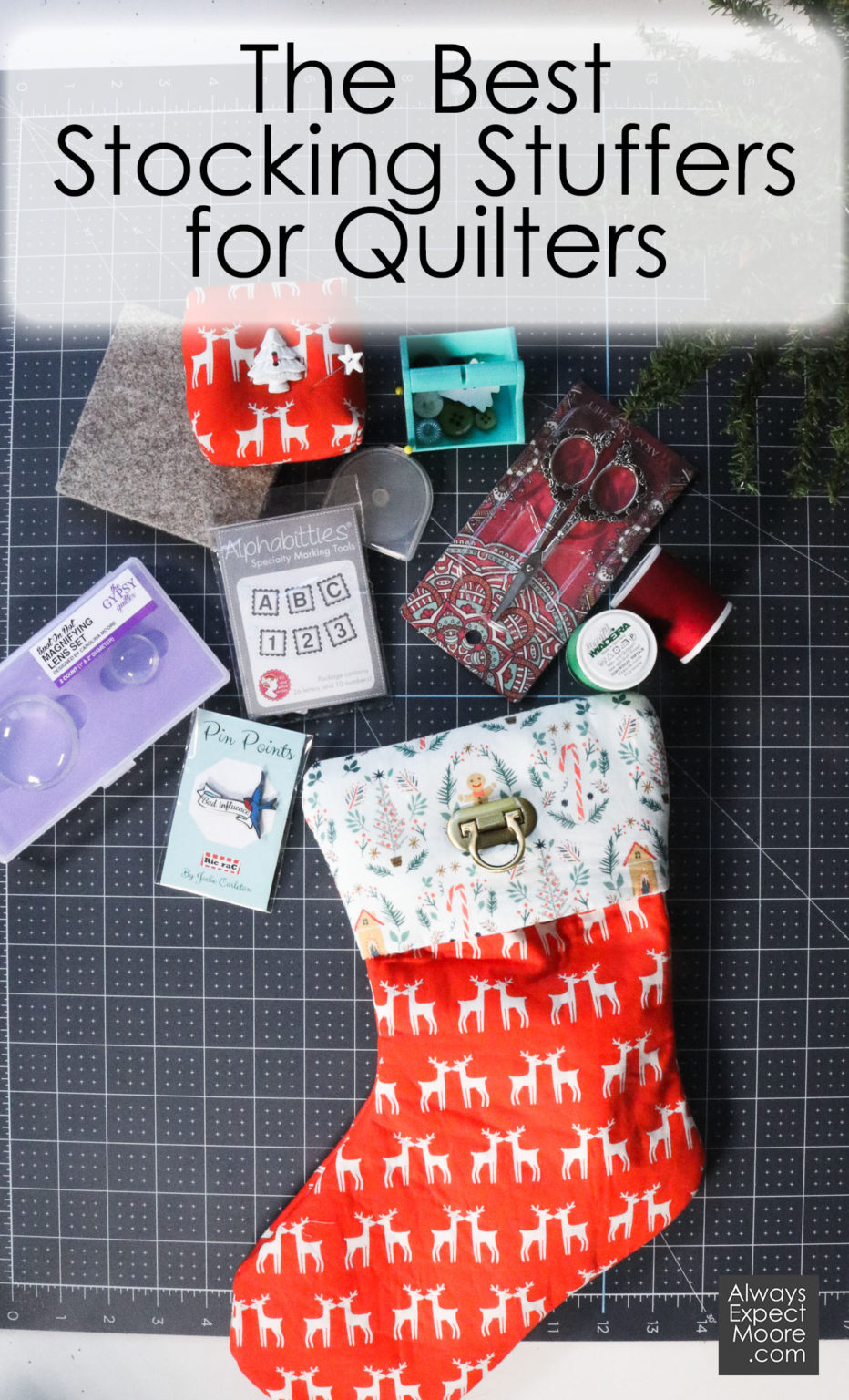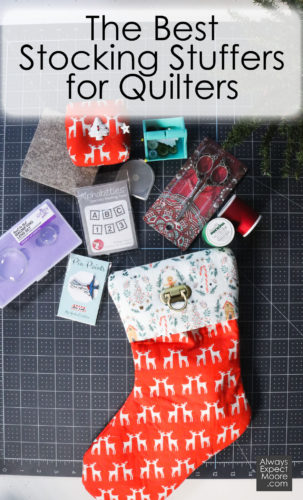 Best Stocking Stuffers for Quilters
If you're looking to fill a quilter's stocking, or you're looking for a great gift to give a friend, these small gifts go a long way! And, if you're a quilter yourself, make sure to add one to your cart for you as well! For a fun surprise, you can tuck the gift into a locked stocking made with my locked stocking pattern!
Mini Wool Pressing Mat
Spot on Dot (also available here)
(or the Spot on Dot Single Dot)
Mini Creative Grids Ruler
Creative Grids Seam Guide
Alphabitties
Seam Roller
Pin Points enamel pins for Quilters and Fiber Artists
"Handmade" hardware
Thread cutter caddy (also available here)
Hot Iron Rest (also available here)
Dritz Number pins (also available here)
Clover Wonder Clips
Scissors Mug
Perfect Pincushion
Purple Thang (also available here) (and here too)
Madiera Thread
Stash and Store (also available here)
Olfa Splash rotary cutter (also available here) (find it here in pink)
Machine cleaning set
Mini Scissors – there are so many awesome mini scissors, and one can never have enough! I have a small collection going, and always want more! Here are some fun options:
* Covered Scissors
* Wood Handled Mini Scissors
* Mini Heirloom Scissors
* Gold Unicorn Scissors
* Rainbow Unicorn Scissors
* Cat Embroidery Scissors
* Bronze Warm Crochet Scissors
* Pink Flamingo Scissors
* Christmas Themed Scissors
Gifts that are Sewing Themed
Bee in my Bonnet Puzzle
Thimble Blossoms Puzzle
Festival of Quilts Puzzle
Pin Points enamel pins for Quilters and Fiber Artists
Password Keeper (also available here)
Smartphone Lounger
Scissors Mug
"Quilt" Popsockets
Quilt Calendar