Hey quilting friends! I'm so excited about the California Poppy Quilt Block that I'll be sharing with you today! This is part of a project I'm doing with a whole bunch of other Quilt Pattern Designers. Every week someone is sharing another block representing another state in the US, and all the blocks are free! If you follow along, you'll be able to make a whole quilt representing all 50 states! Super fun, right?
I moved to California at age 4, and lived in the desert for most of my school-aged years. I've since moved around to different parts of California – and boy are they different! California has just about every kind of terrain you could want! Of course people know all about California beaches. We also have fabulous mountains for hiking and winter sports, rocky hillsides perfect for growing grapes (and making wine), beautiful agricultural lands, and the lovely desert where I grew up.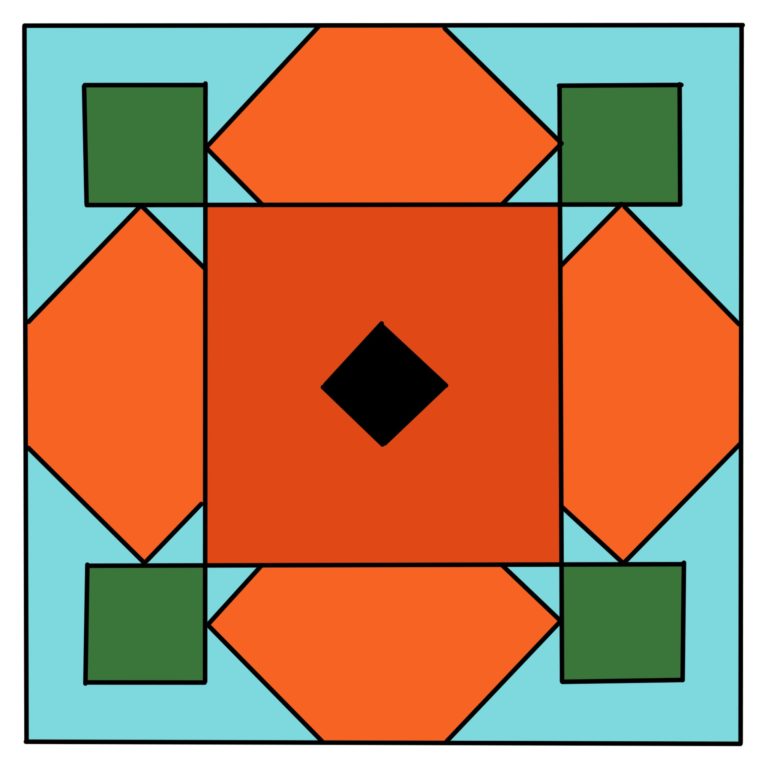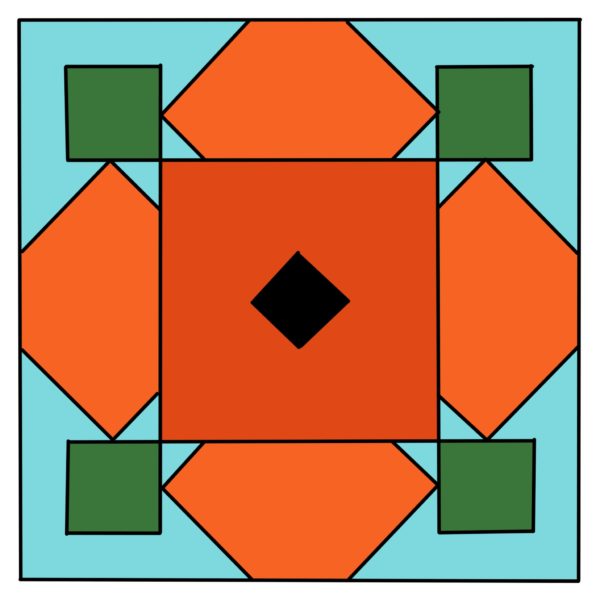 So, when I was tasked with coming up with a single 6″ quilt block that would represent the whole state, I was stumped! What is one symbol that can represent the whole state? And then I remembered our state flower – the California Poppy. When I was a child going on road trips with my family, there would be fields full of these beautiful flowers. People would plan trips to come out and see the poppies. It is very much part of California – and very much part of my childhood growing up here.
The California Poppy Quilt Block is a 6″ block, and is traditionally pieced. I used fabulous Art Gallery Solids to piece my version. You can get your free pattern below, and also get added to our mailing list of fabulous quilters.
The poppy isn't just the state flower for California. It has become a symbol of memorial. Originally, it was used to commemorate those who lost their lives in World War One, but has come to memorialize those lost in all conflicts since. It is specifically connected to the Royal British Legion, who say that the Red Poppy is a symbol of remembrance and hope.
Poppies in different colors have different meanings as well, Purple is to remember animal victims of war (in earlier wars, horses and dogs were common parts of the war effort), the Black Poppy is for Africa, Black, and Carribians lost in wars, and the white poppy is both a symbol of remembrance and a symbol of peace.
To honor all of these uses of the poppy as a symbol, I created the Memorial Poppy pattern. You can make your poppy in whatever colors you like, and surround them with a heart.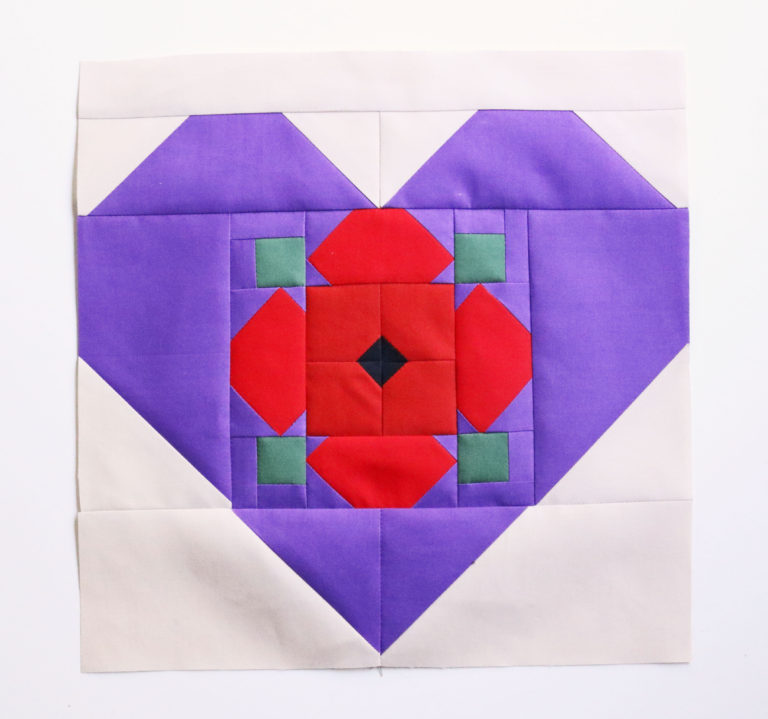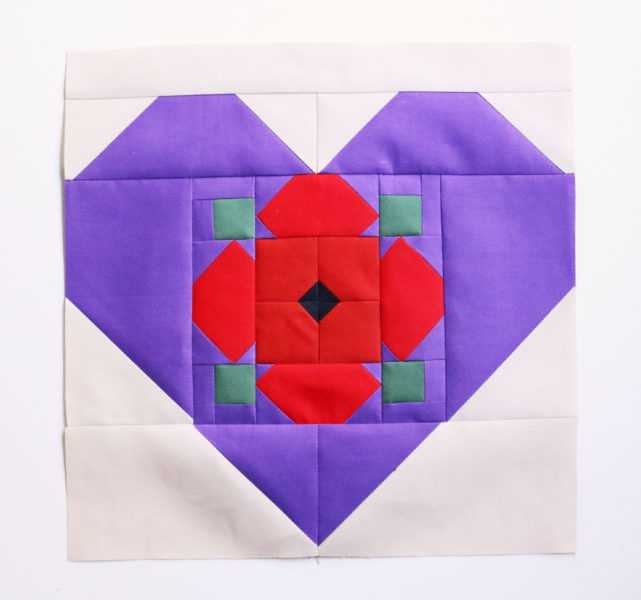 You can also use this pattern to take any of the 6″ state blocks from this series, and add a heart around it. When finished, the block measures 12″ x 12″. You can purchase the Memorial Poppy Pattern in my shop here.
One of the questions I get asked often is how to piece with such small pieces of fabric! This block finishes at 6″, and that means that some of these pieces are pretty small! My biggest tip when working with small pieces (and bias pieces, though this pattern doesn't have any pieces sewn on the bias) is to starch my fabrics well. I made a video on starching fabrics that will show you my starching techniques.
If you're just joining in the Around the Block – US tour, you can find all the details over at the Around the Block Headquarters.
If you'd like to find last week's pattern you can go to Kissed Quilts, the week before can be found at Appliques Quilts and More. If you want to know where you'll find next week's pattern, it will be at Off the Wall Quilts, and the following week will be at Sarah Ruiz Quilts.