I was sent a fat quarter bundle of Robert Kaufman's Holiday Flourish fabric for a fun challenge with the other Fairfield designers. When it came in the mail, I was excited, and full of ideas. But then deadlines came, and the bundle was pushed aside, and so were the ideas.
But, projects have a magical way of becoming important again when their deadline is due… and that's what happened with this project! I went to Quiltmarket, and when I came back, I had to get started making something with these fat quarters. I picked up a fun half-square triangle ruler at market, and was excited to use it… so I thought I'd make a fun wall hanging that looked fun and scrappy with half-square triangles.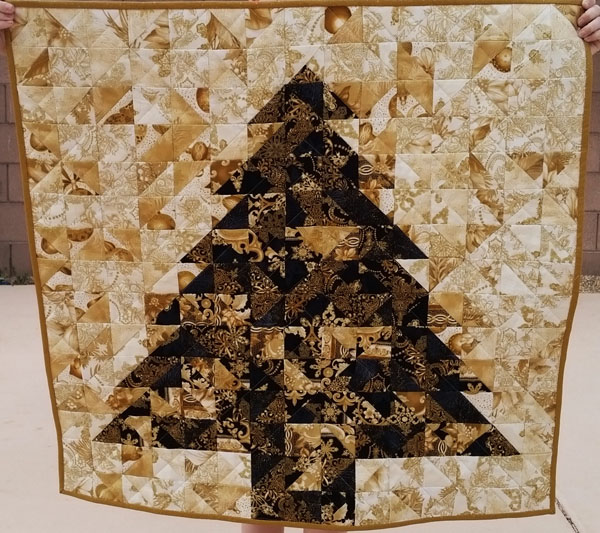 finished size: 30.5 x 30.5″
This bundle was perfect for making the wall hanging! And at 2.5′ square, this wall hanging is the perfect size for anywhere in the house.
To make the wall hanging, you'll need:
4 black fat quarters
7 gold fat quarters
1 yard backing fabric
1/4 yard for binding
From the Fat quarters, make your half-square triangles. They're all 2″ finished triangles. Use whatever method you like to make them. I used a ruler that makes 24 at a time – you can use triangle paper, or the old method of cutting squares, drawing a line diagonally down the center, then stitching on each side. If you do this method, your cut squares will be 2 7/8″ to make the 2″ finished HSTs.
For the quarter square triangle, cut 3 4″ squares – two gold ones and one black one.
67 black-on-black HSTs
22 black-on-gold HSTs
135 gold-on-gold HSTs
1 quarter-square triangle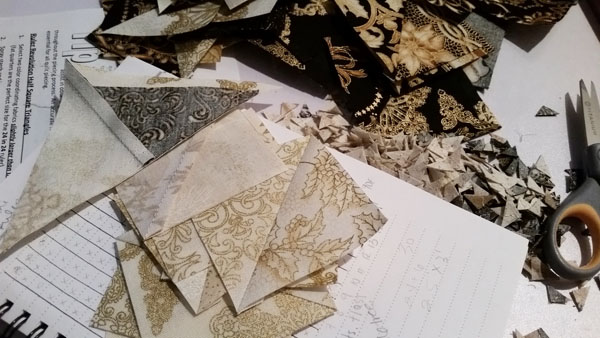 Once you have all the HSTs made, it is time to stitch them together to make the tree shape. You can lay them out on a design wall, or the floor, and stitch them one set at a time to make your rows. Or, you can cheat like I did!
Fairfield has a new line of interfacings that will be available in stores starting January. I pulled out the lightweight fusible interfacing, and drew a 2.5″ grid on the back. Then I fused the squares onto the grid to keep them in place. Once all the squares are fused in place, I was able to stitch down a whole row at once!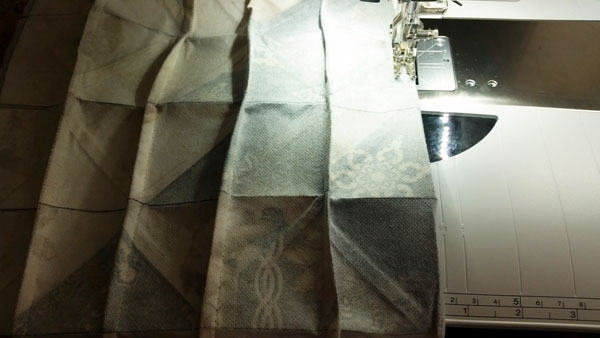 Once the top was pieced, I quilted the top using Fairfield Superior 80/20 Blend batting. I used a walking foot for some simple straight-line quilting. The fabric was already so busy, I decided it didn't need busy free-motion quilting.
Then I bound it, and the quilt was done!