Today I'm sharing with you the very last step in the Cricut Maker Block of the Week – adding binding to a Cricut Quilt. While I do machine-stitch on my bindings on occasion, I was taught the "right" way to bind a quilt is to hand bind it.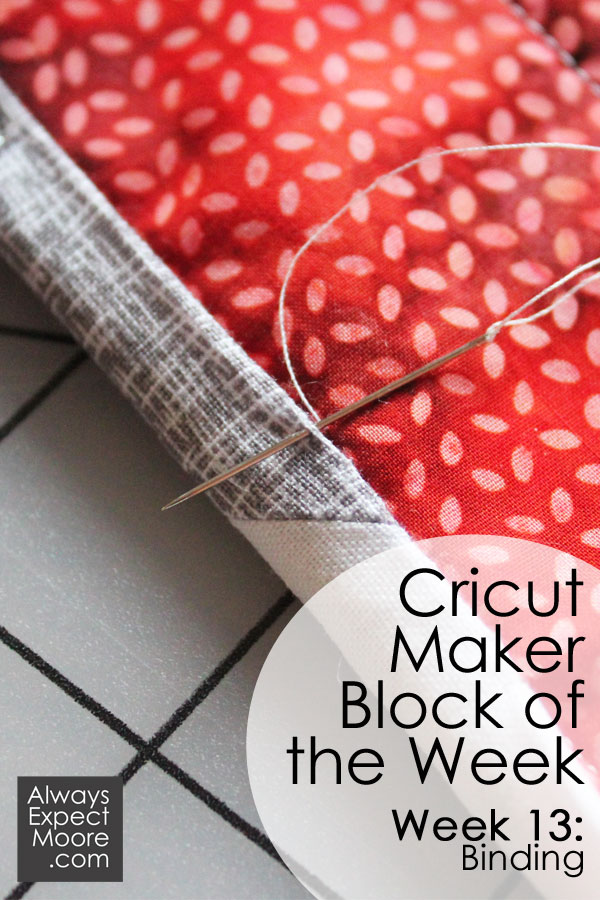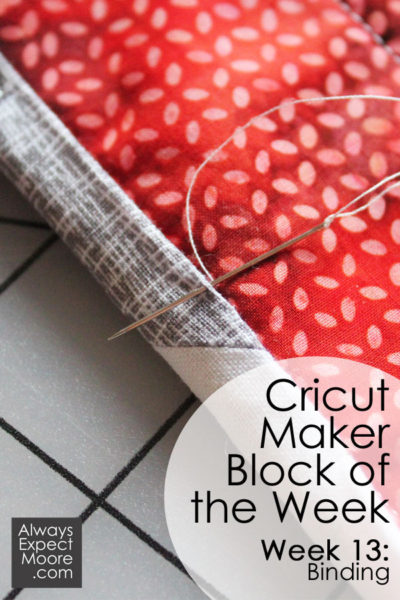 If you've followed along on this whole series, you know that I temper convention with practicality in my quilting. I have deep respect for our quilting traditions… but at the same time I believe that modern technology exists to make things easier. But there are times when I bow to tradition just because it is tradition. Binding is one of those instances.
If a quilt's destiny is to hang out around the house, lay on floors, go through the wash many times, and generally be a utility quilt, then I absolutely machine bind it. Machine binding is more secure. It holds the binding in place very well. It is slightly less attractive because the stitching is visible on both sides of the quilt – but I give up that minor bit of beauty for the practicality of being finished quickly, and having a very strong binding.
For a "show quilt," (a quilt that is going to hang at a quilt show), I always hand bind. A show quilt is my best work. It is me showing off my skills. I don't want the stitching that secures the binding in place to be visible at all. Show quilts are meant to honor quilting traditions (even when pushing boundaries with color or composition). To show my deference for all the quilters who came before me, I like to have a well-bound quilt.
So today I'm showing you how to hand-bind your quilt. The binding is put on by machine, but the final stitching is done by hand. While it isn't always my favorite part of the quilting process, I absolutely love the look.
Adding binding to a Cricut Quilt
Here is the step-by-step of getting the binding on your quilt!

This post contains affiliate links which help support this site at no extra cost to you.
Again, I have for you the Design Space files you'll need to finish your quilt. You can use the scrappy binding cut file. Or the large binding strips cut file. Use the first link if you are using the scraps left over from cutting out the blocks, sashing, and borders. If you don't have enough fabric left to get 110" of binding from your scraps, buy ⅓ yard of a coordinating fabric to use for your binding, and then use the large binding strips cut file. You'll see that adding binding to a Cricut Quilt is actually quite easy!
If you want to learn even more about binding, there is a great Binding series on Craftsy. You can check it out here.
Here are links to supplies mentioned in the video.
Cricut Maker Machine
Bundled Fabric
Cricut Fabric mat
Fabric pen