I'm so excited to share with you the newest Accuquilt Qube, which was designed specifically for English Paper Piecing. I got early access to these dies as I worked with Accuquilt to create patterns for the launch, and can't wait to share all that I have been up to! If you've been around a while, you know that I love English Paper Piecing … so this project was an absolute joy for me to work on!
Throughout this post I'll share links to products and projects. Most of these are affiliate links, so if you make a purchase after clicking one of these links I will get a small commission from the sale.
This EPP Qube is a set of dies designed for English Paper Piecing that are incredibly well thought out. The set includes 8 dies – four for cutting the papers, and four for cutting the the fabric. The four shapes are a triangle, diamond, half-hexagon, and (of course) a hexagon. All the pieces have 1″ finished sides (except for the half-hexagon which has a long side that is 2″), and all the fabric is cut with a 1/4″ seam allowance. Because all of the units have a 1″ finished size, they all fit together perfectly!
I did a full unboxing video to show you all about the Accuquilt GO! EPP Qube:
How the Accuquilt Works
If you're not familiar with the Accuquilt system, it is designed for quilters to help us with cutting fabric quickly and accurately. Accuquilt has lots of different quilting shapes – from traditional shapes like squares and half square triangles, to applique shapes like hearts and umbrellas, to specialty shapes like the double wedding ring.
To use the dies, you need an Accuquilt GO! cutting machine. There are different sizes of the machine, to accommodate the different sizes of dies. You can use the smaller dies in the larger machines, but you can't fit the larger dies in the smaller machines. The EPP Qubes are just 6 inches, so you can use any of the Accuquilt GO! machines with the EPP dies.
I have the Accuquilt GO! fabric cutter, but the Accuquilt GO! me is great for a beginner, and can be used with all of the 6″ dies that Accuquilt makes. In fact, Accuquilt put together a GO! me EPP Starter Set that includes everything you need!
To cut your pieces, layer your fabric on the die, place a cutting pad on top. This makes your "sandwich." All you have to do then is run the die through the machine. The machine compresses the sandwich so that the blades in the die are exposed, and cut through the fabric. In the video below, I show you how easy it is to use. I also show you how to cut the English Paper Piecing papers, which you can cut out of cardstock, or using postcard promotional mailers that come in your mailbox.
Now you'll want to save all of those promotional mailers that come in your inbox so you can use them for English Paper Piecing!
How to Sew English Paper Piecing
Once you've cut your pieces, you'll need to baste your papers to your fabric, and then you sew them together. This video shows you how to baste and sew your English Paper Piecing shapes. I also go over how to baste the different shapes – not just the hexagons.
One of my favorite projects I made for this launch was the Butterfly Tote Bag. The butterfly uses all 4 shapes in the EPP Qube, and the tote is made using the 2 1/2″ strip die. The butterfly tote pattern is free on the Accuquilt website and is also included in the booklet that comes with the EPP Qube. All the fabrics used in this tote are Art Gallery Fabrics Pure Solids.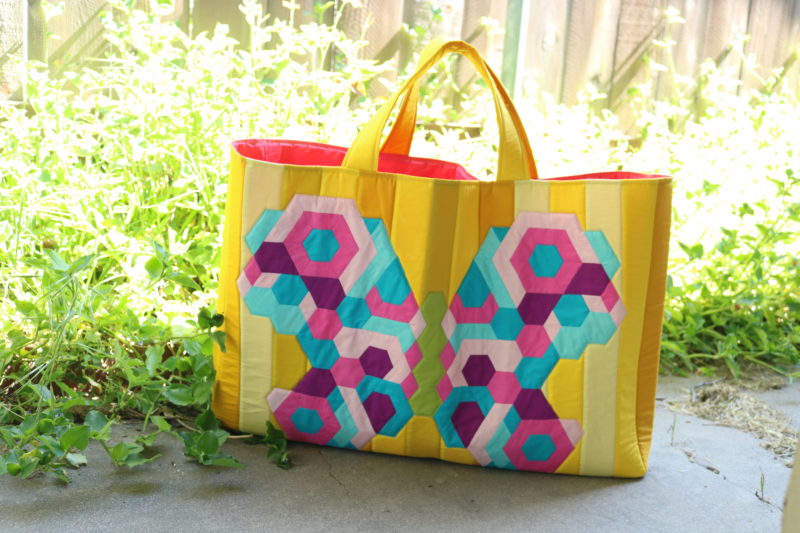 Another project I created for the launch was this zippered pouch pattern. Great for storing all of your little pieces, these pouches are fun to make. And all the dies used to make them will fit through your 6″ EPP Qube!
One of my favorite things about this set is how easy it is to cut up my scraps to use for English Paper Piecing! I wanted to create a design that was simple to piece into units that I can turn into a scrap quilt. That is how I came up with the Radiant Block. I wrote up a full pattern for this block that you can use to start making a planned scrappy quilt, which is available in my pattern shop. And if you just want to try your hand at EPP without investing in the Accuquilt GO! dies yet, I do include printable paper template pieces in the pattern.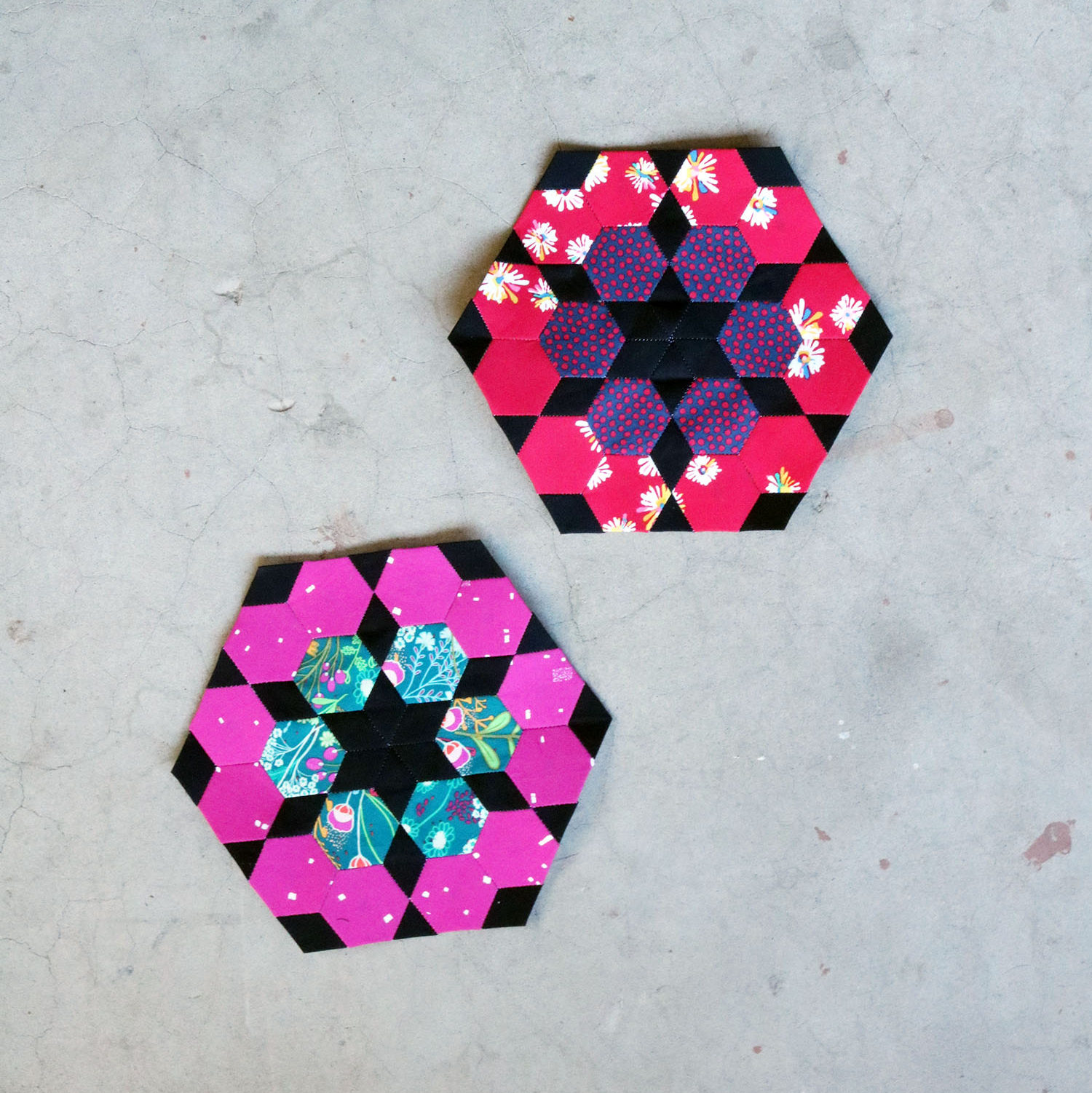 I also stitched up a fun Halloween pillow. This Jack O' Lantern has a great grin, and is perfect out of scrappy fabrics or your favorite orange print. The Hexie Halloween Pillow pattern was designed to use the Accuquilt GO! Qube, but includes printable templates as well. You can get the Halloween Hexie Pillow Pattern in my pattern shop.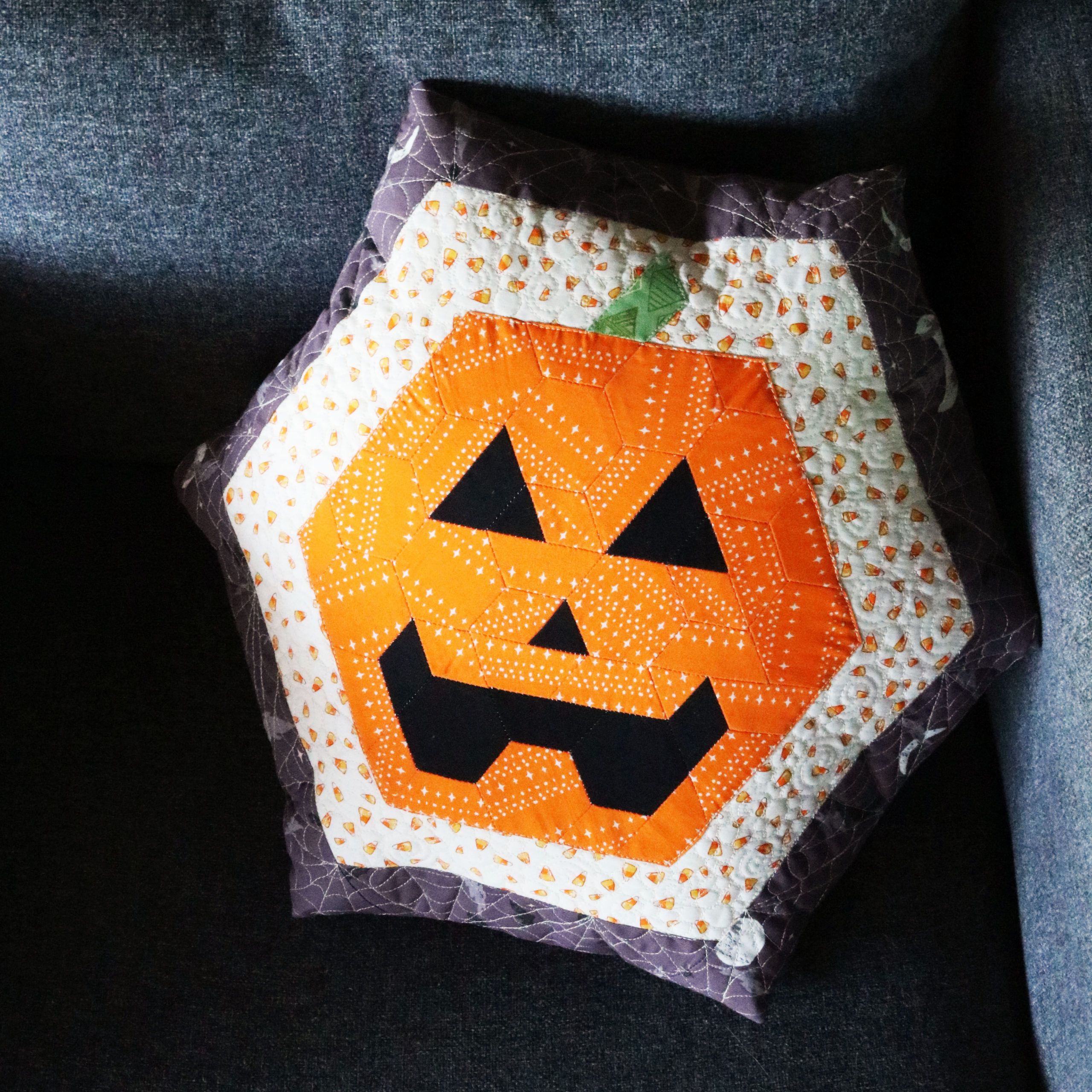 English Paper Piecing Books
To go along with the launch of the new EPP Qube, Accuquilt launched a new EPP book! I share a peek into that book as well as my own English Paper Piecing book, and some of my other favorite books for EPP inspiration in this video.
Here are the affiliate links to the books in the video:
English Paper Piecing Made Easy
Learn How to English Paper Piece
All Points Patchwork Book
The New Hexagon
The New Hexagon 2 Book
The New Hexagon Calendar
Hexa Go Go
You can purchase your Accuquilt GO! EPP Qube on Accuquilt's website.