Usually, we have birthday parties for our kids at our house. We have a kid-friendly home, and enjoy having people over. Our new house isn't quite as spacious as our old home, so I thought I'd host my son's birthday party this year at a party place. Overall, it was a success, so I thought I'd share with you my tips on how to host a party at a Party Place.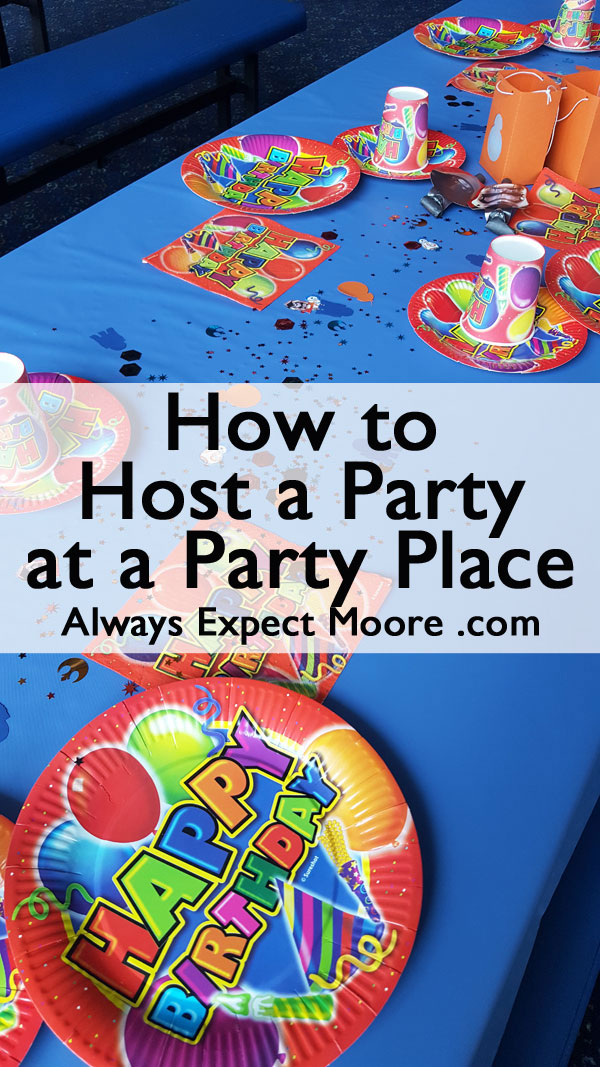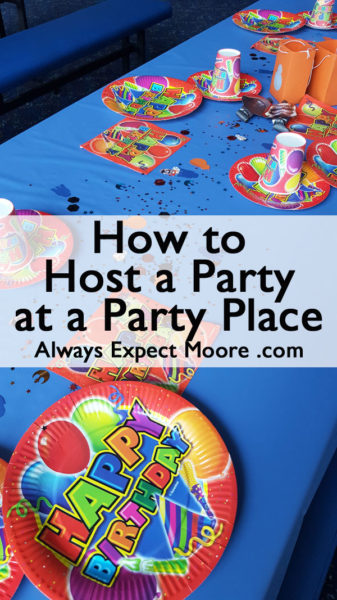 Party Place Research
Start by researching locations. On my phone, I went into Google Maps, and typed in terms "Play Place", "Kids Party Place", "Play Area". Since we're new to the area, this gave me a good idea of the options that were not too far from our house. I chose three to check out – an indoor playground, a trampoline park, and an arcade/fun center.
What to consider when choosing a Party Location
I took an afternoon to check out the locations. I brought my son with me so that he could weigh-in as well. It is good to check hours of operation before heading out, two of the locations I was considering were not open in the mornings. There were certain criteria that I was looking at for our party, so I kept these in mind as I looked at the locations.
Price – Price will always be a factor when choosing where to host a party. But different party locations break down their pricing differently. Some only factor in children, and food for adults needs to be added on for an additional cost. Some offer a limited amount of time in the party room or playing on the attractions. The final price tag can vary greatly when you consider items that you would think are standard, but the location considers "add ons".
Location – How far will my guests have to drive? I was looking for a location no more than 15 minutes away from our home. This distance will vary depending on if you are in a more urban or rural setting.
Activities – For my 4-year-old and his friends, I wanted activities that they'd enjoy doing. Slides are awesome at their age, Laser tag is frustrating and hard.
Variety of food – Most party places don't allow you to bring in your own food, and they have a limited menu. I have two picky eaters, so I wanted food that my boys would enjoy.
Space – How much space do we have for the party? How far is the party space away from the activities?
Other considerations – Other things I considered were how much time they allowed for the party, how far the parking was from the location, and how friendly the staff was. You might also want to consider looking at upgrade packages (some offer party favor bags, or bonus gifts for the birthday boy/girl), if those interest you.
Questions to ask when choosing a Party Place
When you host a party in your own home, you have an idea of what to expect, but when you're hosting it offsite, you'll want details on how they structure your party.
Food – how much, and when is it served? Can you bring your own cupcakes/cake? If there are children with allergies attending, are there other options?
Party Host – are you offered a host? What are their responsibilities? Do you share the host with other parties that are happening?
Decor – do they offer decor? What does it look like? Can you bring in your own decor? Is there anything that they do not allow (glitter, helium or mylar balloons, etc)? Are you able to come in advance to decorate? How far in advance? If your family loves pinatas, will they allow a pinata? A traditional one, or a pull-pinata?
Invitations – do they offer invitations? Is there a parent consent form that needs to be included in the invitations?
Deposit – do they require a deposit, and how much?
Final head count – when do they need the final head count for the party?
Rain contingency – if any part of the facility is outdoors, is there a rain contingency?
Where is the party hosted? – is there a special room? Upstairs/downstairs/outside? You'll want any special instructions for the invitation.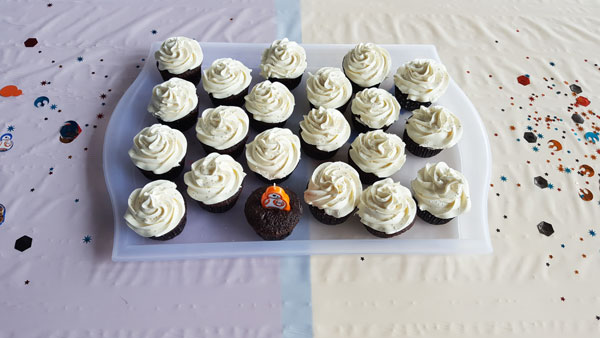 Booking your party
Call or show up to book your party, and make any deposit needed. Confirm any special details at that time, and confirm the time and date to send out invitations. Depending on the popularity of the party location you'll want to book a month or more in advance of the date.
Send out invitations, either those that were supplied by the location, or your own. Make sure to include your contact details for RSVP.
Party Prep – the week of
The week of the party, you'll want to square away the final details.
Cake – if you're ordering a cake or cupcakes, you'll want it ordered already, or order it now. If you're making your own, you'll want to decide on your recipe or boxed mix and frosting.
Favors – will you be offering a traditional favor bag? What items do you want to include? Purchase those items, and put together the favor bags based on the number of RSVPs (plus your child and any siblings), adding a few extras for any extra guests.
Decorations – will you be using the standard decor, or adding your own touches? Themed confetti, plates/cups/napkins, balloons, streamers, or special table cloths will add to the theme, but can also add to the expense.
Final Head count – get a final head count including family, guests and family of guests.
Confirm with the party place – mix-ups happen! Call a few days before to confirm the day and time of your party, as well as any special details. Clearing up any misunderstandings before you show up will make the special day much less stressful!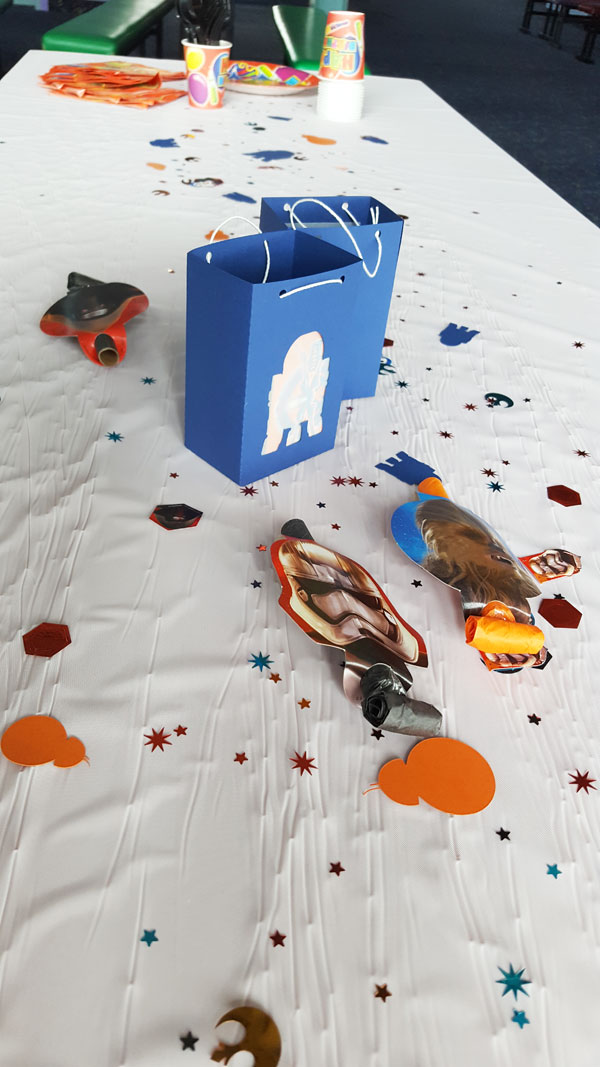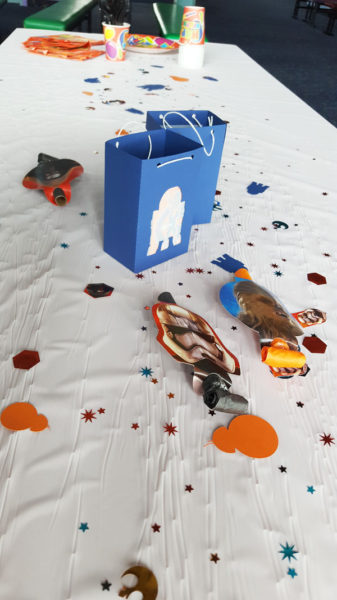 Extras to put in your Party Bag
In addition to the cake, favors, and specialty decor, there are a few things you'll want to have in your bag. These are things you might be used to having at home, but you might forget to bring to an offsite location.
Scissors – these will come in handy for cutting tablecloths, opening a stubborn gift, or cutting ribbon on balloons.
Candles – your candles might already be on your cake – if not, be sure to grab them and have them with you.
Matches or a lighter – so easy to forget! Remember to pack something to light those birthday candles.
Cash – you'll probably want to tip the party hostess, and servers always appreciate cash – consider having cash on hand to tip at the end of the party.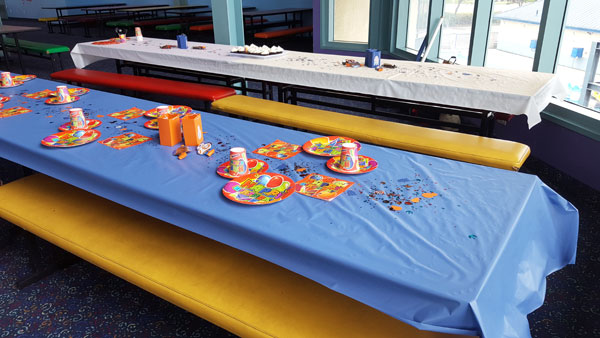 The day of the party
Here are a few tips to have a great time on the day of the party:
Show up early – if you're adding to the decor, show up at least 30-45 minutes early to help set up.
Check in with the party host or hostess – be sure to remember their name!
Take photos of your party set-up before the kids come.
Take lots and lots of photos during the party.
Enjoy yourself!