If you've heard of Foundation Paper Piecing and want to know what the fuss is all about, or if you've never heard of Foundation Paper Piecing and now you're curious, I can't wait to tell you all about this really cool quilting technique! And, I created a free quilt block – the North Star Quilt Block – that you can download to practice your Foundation Paper Piecing skills. You can watch the video below where I show you how it all works.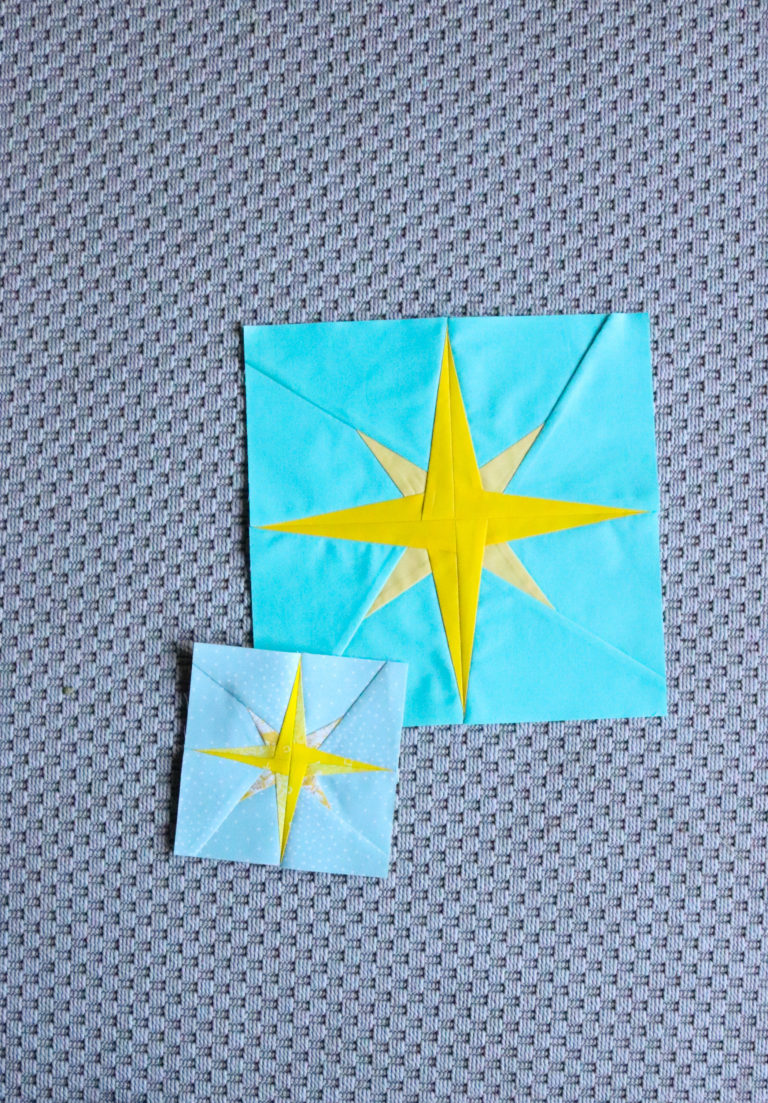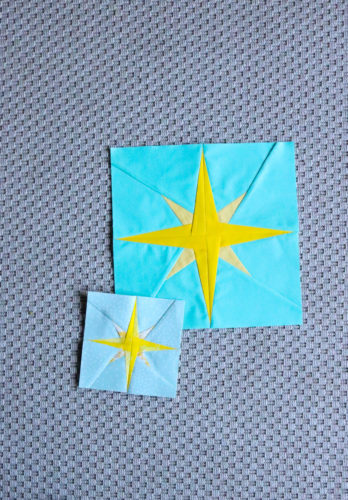 This post contains affiliate links. Making a purchase after clicking these links may provide a small commission to this site, at no extra cost to you.
What is Foundation Paper Piecing?
Foundation Paper Piecing is a quilting technique. You print or draw a pattern onto paper, which becomes the foundation for your block. You then add fabric, using the lines on your paper as the guide. When you're done, you remove the paper, and leave just the fabric and stitching.
When do you use Foundation Paper Piecing?
Foundation paper piecing can be used for many different kinds of blocks. Almost any pattern can be converted to foundation paper piecing – though some are better suited for it than others. Blocks that have points on them (such as an American Beauty Quilt Block) are often done with Foundation Paper Piecing. Also, quilt blocks with odd-shaped pieces are great for Foundation Paper piecing.
What is the difference between Foundation Piecing and English Paper Piecing?
Foundation Paper Piecing (also known as "paper piecing" or "foundation piecing") is a much different technique than English Paper Piecing (also known as EPP). Foundation Piecing uses a pattern printed onto the back of lightweight papers, which are then stitched using a sewing machine. And it is great for irregular patchwork. EPP is hand sewing that is basted to heavy cardstock paper. Pieces are often very regular (hexagons and diamonds are the most common), although irregular shapes can be used with EPP.
What paper is best for Foundation Paper Piecing?
Foundation paper piecing can be done with regular copy paper, though it is not recommended. When foundation paper piecing, you reduce your stitch length to help perforate the paper more, and to provide more stability when you rip out the papers after finishing your piecing. Regular copy paper is more robust than what is preferred for paper piecing. There are several different types of papers specifically designed for foundation piecing. I like the Thermoweb Stitch n Sew papers. The June Tailor Perfect Piecing papers are very similar. The Carol Doak foundation papers are also very popular – they are a little harder to see through, but are the easiest to tear away when finished.
What supplies do I need for Foundation Paper Piecing?
For foundation piecing, the most important supply is the paper that you print the pattern on. You can see my recommendations above. All of these papers will print on your home printer. You'll also need regular quilting supplies such as your sewing machine, rotary cutter and mat. I also recommend the add-a-quarter ruler, and a good quality iron.
How does Foundation Paper Piecing Work?
I filmed a video where I show you step-by-step how to foundation paper piece. Below you'll find instructions to download the free North Star Quilt Block pattern. This is the pattern I show in the video.
To get your North Star Quilt Block pattern (both the 6″ and 12″ versions of the block), fill out the form below. I'll send you a link to download the pattern. If you don't see the email in your inbox within 5 minutes, please check your spam and junk folders. If you're still having issues, you can email me at carolina@carolinamoore.com. I'm not on my email constantly, but when I see your message, I'll make sure the pattern gets sent to you.
I hope you enjoy learning how to foundation paper piece. This is a fabulous technique to have in your quilty toolbox. While foundation piecing isn't the best approach for every quilt block, it is an essential skill for some of the more advanced quilt blocks.