Are you ready for Summer? Summer means the beach, and cook-outs, and for many of my friends, that means Lobster! If you want to make a summer quilt with ocean themes, summer food themes, or travel themes, this free lobster quilt block will fit right in! Because of the tiny piecing, this is an intermediate or confident beginner pattern. The smallest units are flip-and-stitch triangles which are cut at 1″, and finish at 1/2″.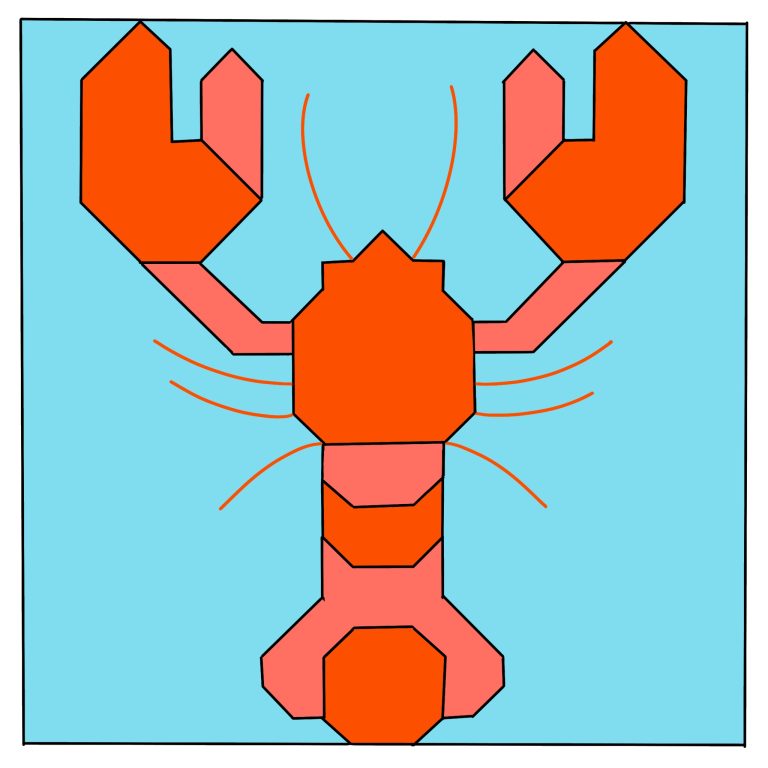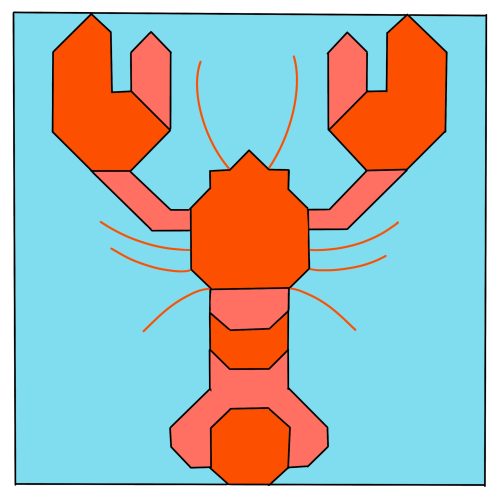 All the piecing is straight-forward – no curves, y-seams, or foundation piecing, but there are small pieces. Pieces as small as 1″ are not beginner friendly, but advanced beginners and intermediate quilters should feel confident if they have properly prepared their fabrics. I highly recommend starching your fabric before you begin. If you've never starched your fabric before, watch this video on starching fabric:
To get your free download of the Lobster Quilt Block, sign up for the email newsletter below. You'll immediately be sent an email with the download link. If you're already on the email list, you should have the link to this block in a recent email.
This lobster quilt block is traditionally pieced. It finishes at 12″ in the quilt, so once it is pieced, trim it up to 12.5″ to preserve your seam allowances. The lobster quilt block is a great quilt block for a food quilt, ocean quilt, "Friends" television show themed quilt (Friends fans will know the "you're my lobster" quote), and so much more! This free lobster quilt block is such a versatile block!
Check out these other ocean-themed quilt blocks:
Lobster Quilt Block by Carolina Moore
Poseidon by Appliques Quilts and More
Fish by Mom and Me Quilting Co
Be a Mermaid by Inquiring Quilter
Looking Through the Waves by Inflorescence
Clownfish at Duck Creek Mountain Quilting
Follow Me Fish at Scrapdash
Whale of a Tale by Faith and Fabric
Seashell by Penny Spool Quilts
Flying Fish by Perkins Dry Goods
The Great Escape by Heidi Pridemore
Seashell by QuiltFabrication
Sand Dollar by Sugar Sand Quilt Company
School of Fish Block by BoBerry Design Co.
Deco Oyster by Jessica of Blue Sky Modern Craft
Octopus by Patchwork Breeze
Wave Quilt Block
Whirlpool by Blue Bear Quilts