A couple months ago, Nancy Zieman asked if I'd take a peek at her new book, Quick Column Quilts. I jumped at the chance to get a peek at this book before it hit shelves! I love fast quilts, I love quilts that are strip-pieced, and I love new patterns!
As I flipped through the book, I was enchanted by all the different ways that basic strips of fabric can be pieced together to make quilts! I've been strip quilting since the beginning – the very first quilt I pieced was a strip-pieced Log Cabin quilt. While many strip quilts use the traditional 2.5″ strip size, the quilts in Nancy's book take advantage of different sized strips to add variety. You don't need to buy precuts- you can use the yardage from your stash that you love, but haven't found the perfect project for yet.
There are several quilts from the book I'd like to make, but after much deliberation, I finally settled on one… for now. This quilt is appropriately called "Heartbeat", was easy and quick to piece together – as promised! I have been collecting black and white, and black, white, and red text fabrics for a while, and I loved using them for this quilt.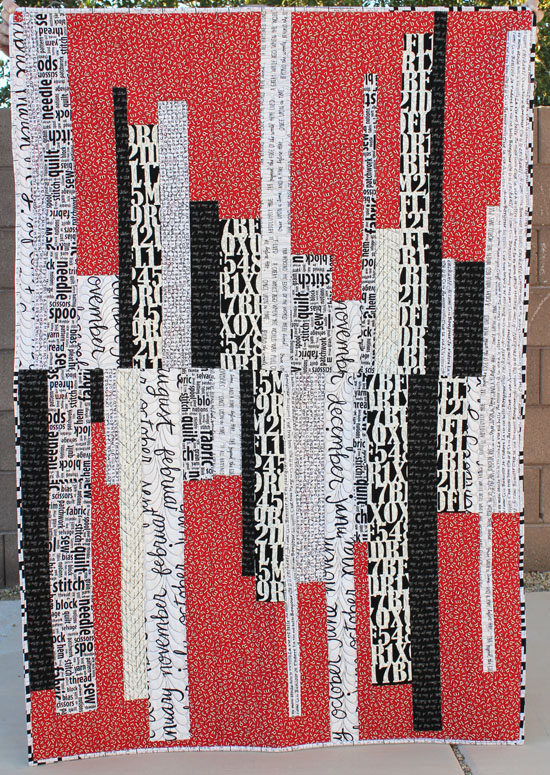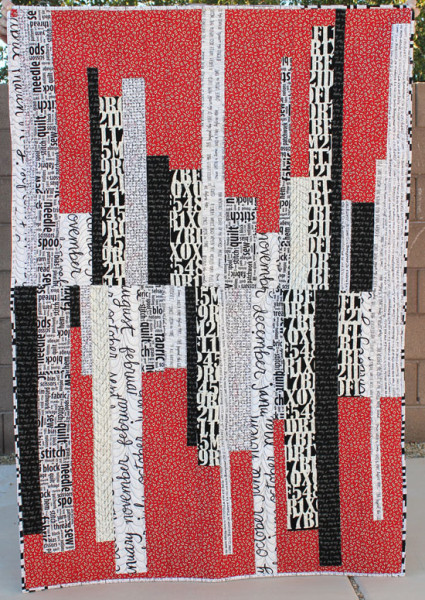 Like most of the quilts in the book, Heartbeat has a fun, modern vibe.
I also pieced the back of the quilt using leftover fabric.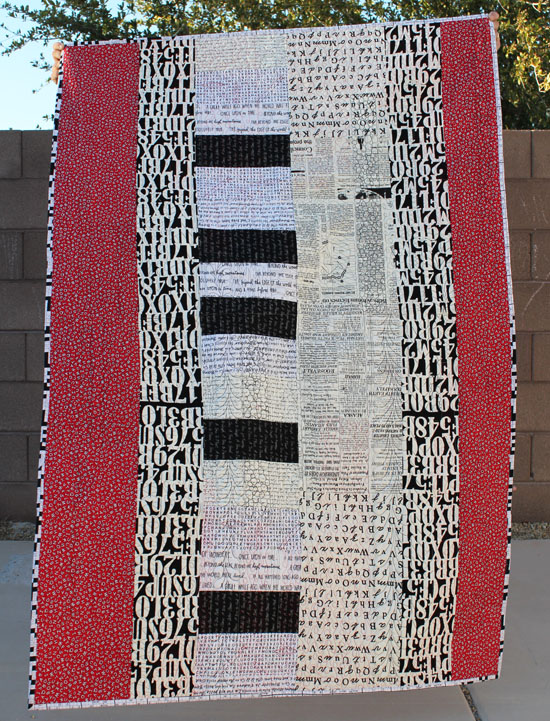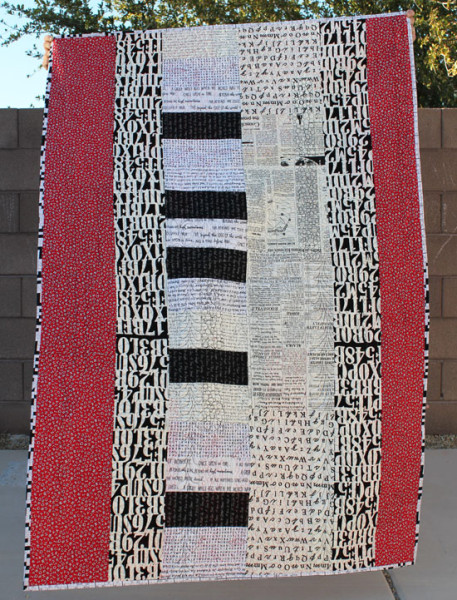 Though I followed the general pattern, I did cut my strips a little narrower. After piecing my top, I felt the quilt was a little disproportionate – too tall for the width.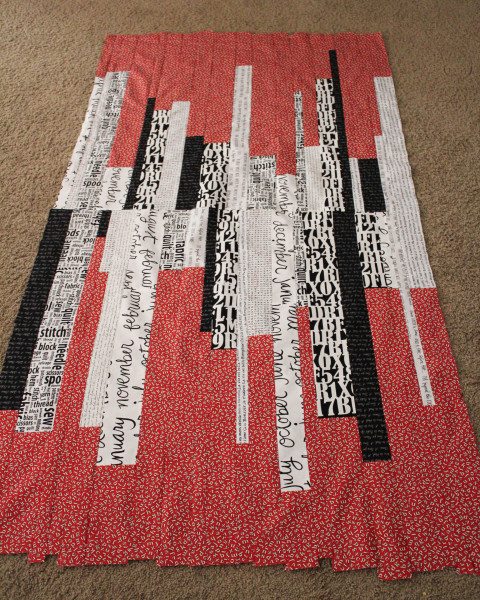 I cut off the excess from the top and bottom, which was an easy fix. However, cutting wider strips would have fixed this.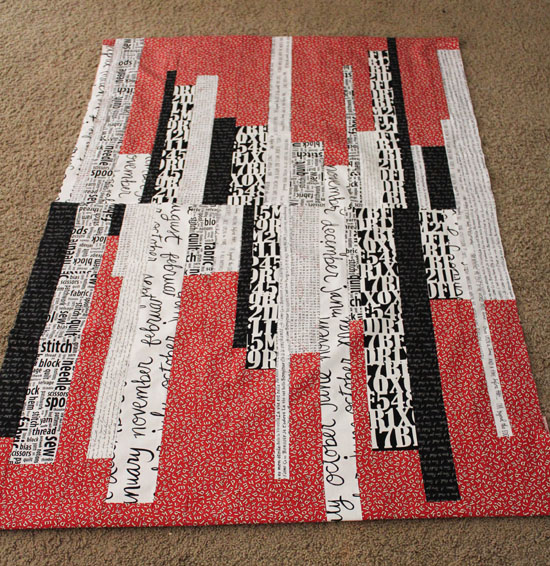 I didn't have yardage for each of these fabrics – a couple were cut from fat quarters. This took a little extra piecing, but was simple to do. So while this quilt wasn't designed to be fat-quarter friendly, you could use fat quarters for your focus fabrics… though I wouldn't use fat quarters for the background.
After finishing the top, I had fun with the quilting. You might have seen some sneak peeks of me quilting this top if you follow me on Instagram.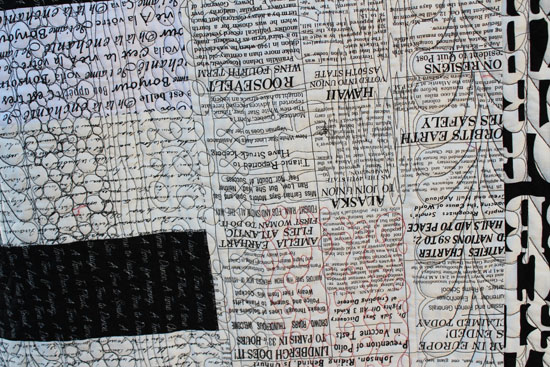 Each fabric got a different quilting design – from stripes to swirls, pebbles to feathers.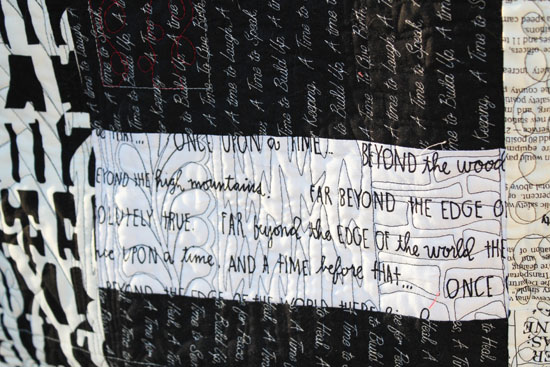 Quilting took a whole lot longer than piecing. The piecing was done in a day. The quilting was done over several weeks. I could have quilted it in a day, making the entire quilt in a weekend… if I hadn't decided to be so ADD about my quilting designs. But I love it this way!
There are plenty of other fun patterns in Nancy's book, several of which I can't wait to try! Whether you're new to quilting, and want to try some simple patterns, or if you just love whipping out fast quilts… you'll love Nancy Zieman's Quick Column Quilts book!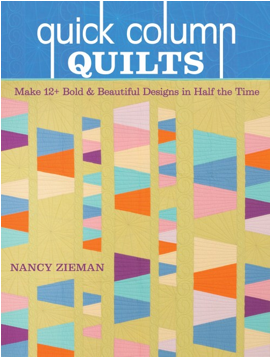 I'm not the only one who had a chance to check out this great book… see what others have shared over the last few weeks:
Quilt Taffy and Simple Simon & Co.
Diary of a Quilter  and Stitchin Jenny
A Woman a Day  and Craizee Corner               
Jina Barney Designz, Lilac Lane Patterns, and Totally Stitchin' 
Esch House Quilts and The Cottage Mama
Designs in Machine Embroidery and Pat Sloan
Happy Valley Primitives, Doohikey Designs, and Quilt in a Day
Quilt Dad and Just Arting Around
Lazy Girl Designs and  Marie-Madeline Studio
And a few others will be sharing later this week:
09/16/14         Amy Lou Who Sews and Riley Blake Designs
09/17/14         Indygo Junction and Amy's Creative Side