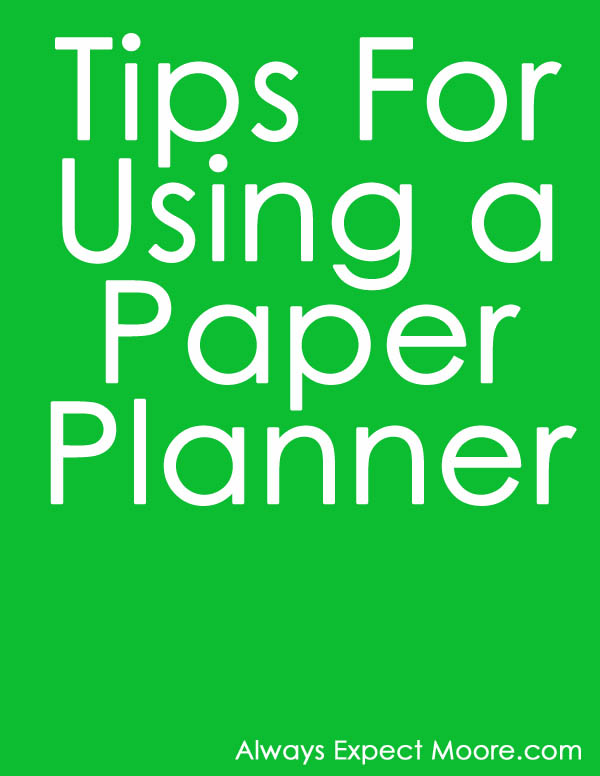 This is the last day of this week's cleaning and organizing series that Angie from The Country Chic Cottage, Gina from The Shabby Creek Cottage, and I put together. I hope you've enjoyed it! In case you missed any of the posts, I shared my New Year's Resolution Printable, Thoughtful Kit, Simple Expense Sheet, and Christmas Card Book.
As a blogger, I spend a lot of my time online. Either on the computer or on my phone, I have a lot of screen time in the average day. So you might think that I use a digital calendar as well. But I don't. I'm a big fan of my paper planner for staying organized. A paper planner will never run out of batteries, you don't have to wait for it to load, I can check it even when my phone has no signal, and can be customized however I like. Based on years of paper planner use, here are my tips… feel free to add your own in the comments!
1. Put it all in one place
The kids' school schedules, your work schedule, hubby's work hours, sports, clubs, appointments, guests, holidays – keep it all in one place. You want to know at a glance what is going on, and where.
2. Use a pencil
I always have a mechanical pencil tucked into the spiral spine of my paper planner, and another in my purse as back-up. Plans change, things come up, and using a pencil helps my planner to stay as flexible as I am.
3. Use the monthly view for events
Most paper planners have a 2-page spread that shows a whole month. I use this to write in events. This includes everything listed in #1.
4. Use the weekly view for tasks, lists, and notes
Most paper planners also have a 2-page spread that shows each week. If you're very busy or are juggling multiple schedules, you might use these pages for more detailed planning. When I have a busy day or week, I will plan it out on these pages. However, most of the time they're great for other uses. I jot down grocery lists, errands that need to be run, to-do lists, and notes from phone calls or brainstorming sessions. This keeps all my lists handy and archived for later reference.
5. Mark your page
Nothing is more frustrating than having to flip through the calendar to find the right page. Use a big binder clip or large rubber band to secure all the pages on the left. This makes it easy to flip to the current month's calendar view, but still keeps past months handy for reference.
6. Tuck in important pages
Coupons or newsletters from your favorite stores, your envelope for this month's receipts, and other important papers can be tucked into the secured left side of your planner. That way you always have your JoAnns or Michaels coupon handy if you make an impromptu stop at the craft store.
7. Use the back pages for future planning
When dates come up that are further in the future than your planner goes, use the pages in the back to start a list of these dates – weddings, parties, school holidays and other events can be listed on a single page. When you buy your planner for the next year, you'll already have a list of the important dates that need to be transferred over.
8. Keep a master calendar
I carry my planner with me, but I'm not the only one in my family who needs to know what is going on. Each month, I copy my planner onto a large dry-erase board in our kitchen. This is a great reminder for me, letting me know what we have planned for the month, and is a great at-a-glance reference for my husband and kids.
These are my tricks for keeping my calendar organized… keeping me from missing appointments, double-booking or over-scheduling my life. If you have tricks that work for you, please add them in the comments!
I buy a spiral-bound paper planner from the store each year, but there are lots of great printable calendars available online that you can print out and pop into a 3-ring binder if that works better for you. Check out these great printable planners:
Monthly and Weekly 2014 Planner Pages from The Handmade Home
Monthly Calendar Pages from I Heart Naptime (she also has matching Family Planner pages)
Monthly Calendar Pages from TomKat Studio (these are B&W so no need for colored ink!)
Monthly Calendar Pages from Oh So Lovely (5 different color/pattern options to choose from)
What's in Season Monthly Calendar Pages (also shows you the fruits and veggies that are in season each month)
Monthly Pages from Kate & Trudy (also available: Daily, weekly, and Monthly for a fee)
2014 Monthly Calendar Pages from Elli
Monthly Calendar Pages from The Shabby Creek Cottage
Editable Monthly Pages from A Typical English Home (you can type in your birthdays/holidays before printing)
Monthly Calendar Pages from 30 Handmade Days (she also has a family planner and kid accountability binders)
Monthly Calendar with Family Events Printable Labels
Perpetual Monthly Calendar from SITS Girls
Monthly Perpetual Calendar from Nina's Design Studio
Monthly Calendar pages from Landeelu (designed to not use a ton of ink)
Other planners you might like:
Printable Blog Planner from My Joy Filled Life (costs $4.99)
Life Planning Binder from DIY Home Sweet Home (just about any page you'd ever want)
Monthly Blog Planner from Infarrantly Creative (she also has a lesson planner and stay-at-home mom planner)