The Dutch Puzzle block is what inspired this quilt. The center of this quilt is a recolored version of a Dutch Puzzle, and then I added a ring of additional flying geese around the outside… since this is a wall-hanging size quilt, I named it the Puzzletje quilt. Obviously the "puzzle" comes from the Dutch Puzzle block, and the "tje" is the suffix that means "small" in Dutch! And while the Dutchies reading this will say that I've spelled it wrong (Puzzeltje is how this would be spelled in Dutch), I'm going to be just fine with that. But feel free to tell me in the comments anyway … I totally get it.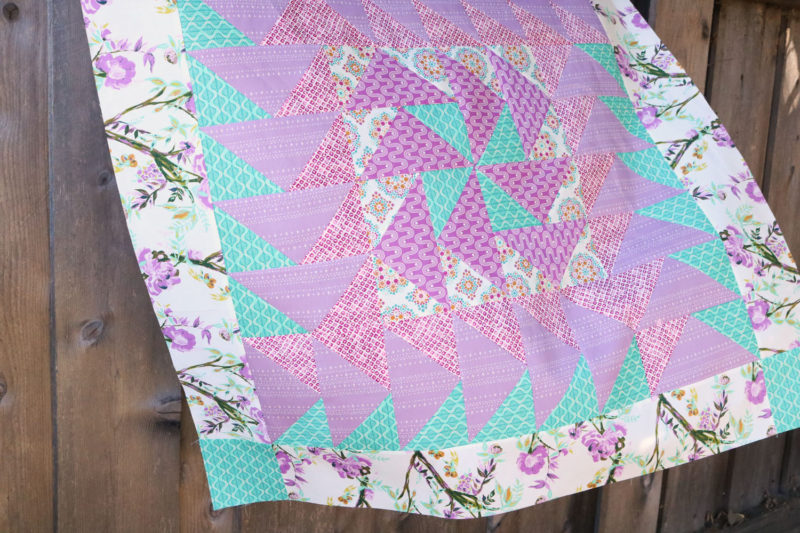 The Puzzletje quilt uses the Creative Grids Flying Geese Trim Tool. This is such a simple tool to use when making flying geese. I love that the measurements and quantities needed are right there on the ruler. And, regardless of your favorite method for making Flying Geese, this ruler is perfect for trimming them up! You can see two different methods for making Flying Geese blocks in the video below.
I always recommend you purchase your quilting supplies from your local quilt shop. However, if you don't have access to a local quilt shop, purchasing your ruler through my affiliate link helps support this site. You can buy the Creative Grids Flying Geese Trim Tool at The Fat Quarter Shop or you can purchase the Creative Grids Flying Geese Trim Tool on Amazon.
You can purchase the Puzzletje Quilt Pattern by heading to my pattern shop, or by clicking the link below!
Check out all my past Ruler of the Month quilts here, and go check out all the fun patterns in my Carolina Moore Patterns shop.