I'm so excited to share Summer Tent Quilt Block with you! A couple weeks ago, I got together with some quilting friends and decided we'd put together some FREE Summer-themed quilt blocks to share with all of you! All of these blocks finish at 12″ x 12″. You can download them all, or just your favorites. If you scroll all the way down you'll find links to all the fabulous quilt blocks in this series!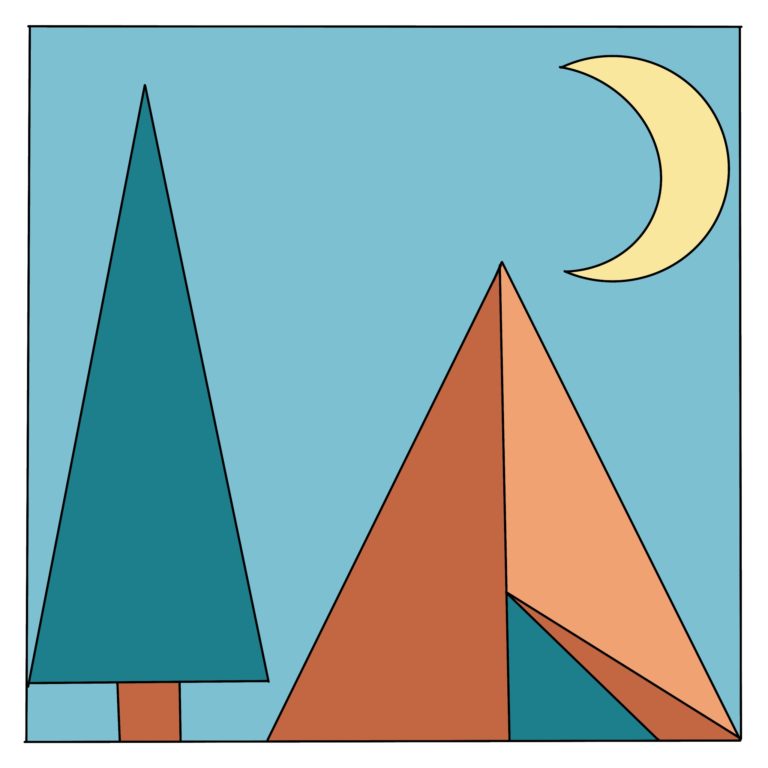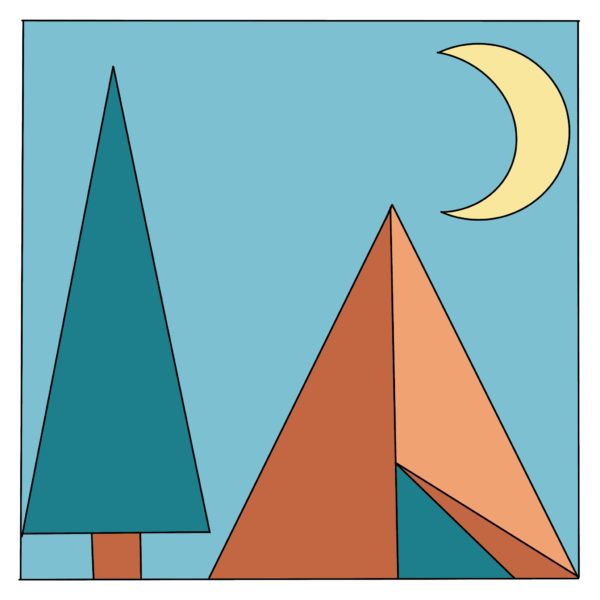 This Moonlit Tent block was inspired by one of my favorite summer activities – camping! We had to put our camping plans on hold this summer, but we're hoping to get back to putting up tents, making s'mores, and sleeping out under the trees very soon! In the meantime, this camping-themed quilt block will have to do, I suppose?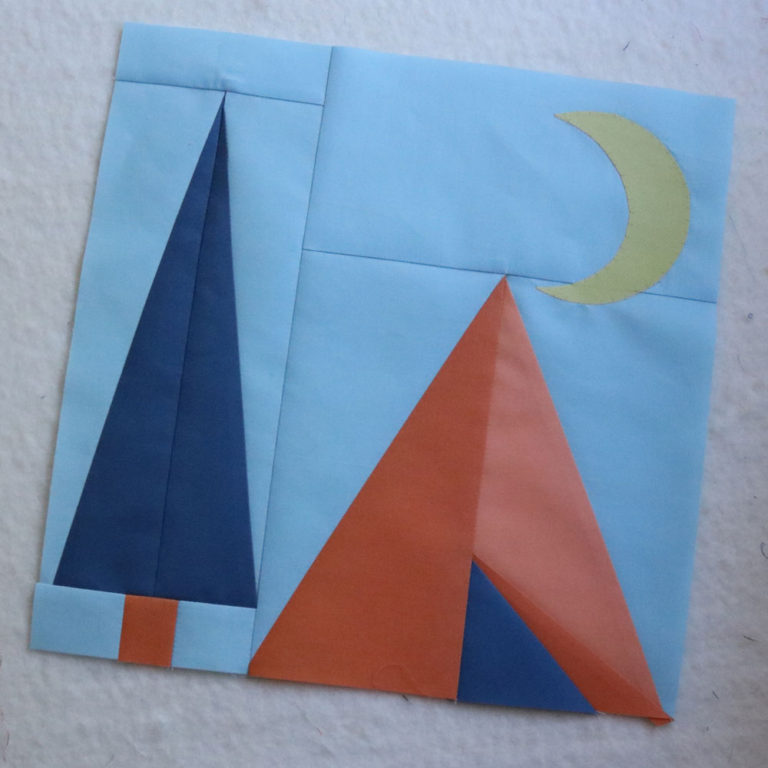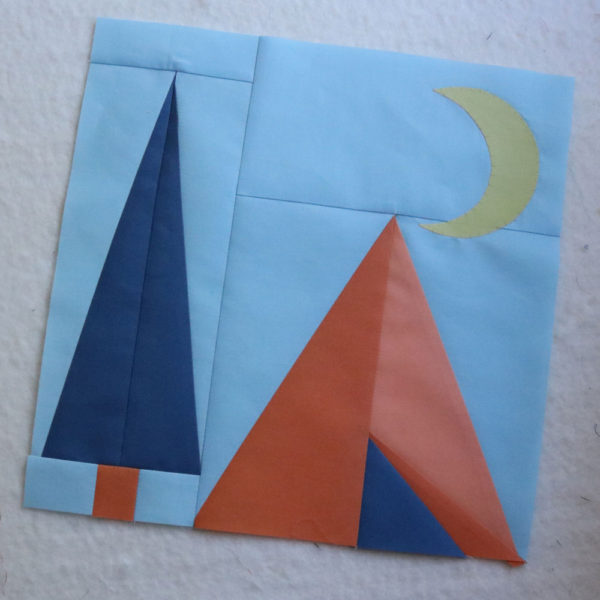 You can combine this quilt block with others in the series to make your own summer-themed quilt. Or, you can use a single quilt block to make a mini quilt, a tote bag, or a pillow!
To make this camping inspired tent block, you'll be making half-rectangle-triangles. You've probably made half-square-triangles before. Half-rectangle-triangles are a whole different thing. For many reasons. One, is that when you make them you have to be very careful about making your right-facing triangles and your left-facing triangles. You can't just turn your unit 90 degrees like you can with a HST. Another is that if you want perfect points (and we all want to at least try for perfect points, right?), you have to be very careful when squaring up your blocks. You need to be aware of the seam allowance as you square, because the seam isn't at that perfect 45 degree angle like it is with an HST. I have some tips in the pattern that will help you as you make your block.
I've also put together a video that shows you how to find success with these tricky HRT blocks! You can watch it here… and if you're not already a subscriber to my YouTube channel, click over to YouTube to subscribe! I have lots of fun stuff coming up you won't want to miss!
Sign up for my newsletter to get your free Moonlit Tent Quilt Block!
And check out all the other fabulous blocks in the series!


Here are links to all the blocks in the Quilt Block Mania Summer Series:
Camping Tent by Carolina Moore
Beach Umbrella by Jennifer Fulton
Flip Flops by Becca Fenstermaker
Summer Cocktail by Marian Pena
Beach Ball by Laura Piland
Popsicle by Sherry Shish
Curvy fish by Velda Roy
Angelfish by Lisa Amundson
Bucket and Shovel by Heidi Pridemore
Wonky Beach Umbrella by Jamie Siel
Starfish by Leanne Parsons
Sailboat at Sunset by Glenda Wilder
Yacht by Sue Griffiths
Food/Ice Cream Truck by Laura Strickland
Crab by Afton Warrick
Sleeping bag and star by Sarah Vanderburgh
Funky Flower by Kathryn LeBlanc
IceCream Cond by Sarah Marcina
Sunglasses by Celine Perkins
Sun by Charisma Horton
Hello Summer by Amarar Creacions
Tall Ships by Kris Driessen
Life Saver Preserver by Sandy Fitzpatrick
Dragon Fly by Julie Luoma
Up in The Air by Judit Hajdu
Surfboard by Susan Arnold
Beach Treasures by Linda Bratten
Two Scoops by Shari Butler
Free to Fly by Marcea Owen