When the wonderful folks at Art Gallery Fabrics asked me if I'd like to play with some fat quarters of one of their new lines, I got giddy. Seriously, playing with fabric always makes me a little giddy, but playing with brand new fabric that magically arrives in my mailbox is cause for extra excitement.
AGF has several new lines coming out, but I love the new "Legacy" line by Angela Walters. First, because I love Angela Walters's work. She is an amazing long arm quilter, and I'm always in awe of her incredible work with the negative space that modern quilters love to leave in quilts. But also I loved the colors and designs in this fabric. Many modern fabrics have very bright colors. I love bright colors. I really do. But sometimes fabric that feels a little more neutral fits the bill. This fabric reminds me of blue jeans and work shirts. There isn't a single plaid or rivet, but it has that homey, comfortable look to it. Like Saturdays. If you don't understand what I mean, check out the fabric in person, I think it'll start to make sense.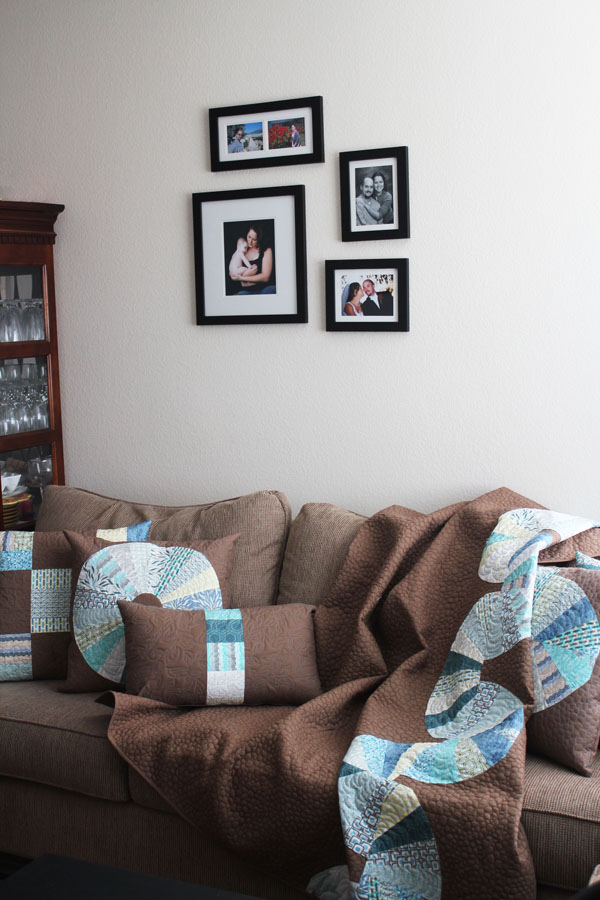 I took my AGF fat quarters to my local quilt shop to find a good solid to go with them. I ended up with this great burlap-brown color. Brown isn't a very modern color, but burlap is very "in" with crafters, and since I'm kind-of a crossover crafter/quilter, this seemed like a fun choice.
Getting to play with fabrics also meant pulling out techniques that I have been wanting to play with. I have had my EZ Dresden ruler for some time, and haven't had an excuse to play with it. I used it to make a modern, slightly wonky twist on Dresden blocks to use in this quilt, which I call "Roots and Wings."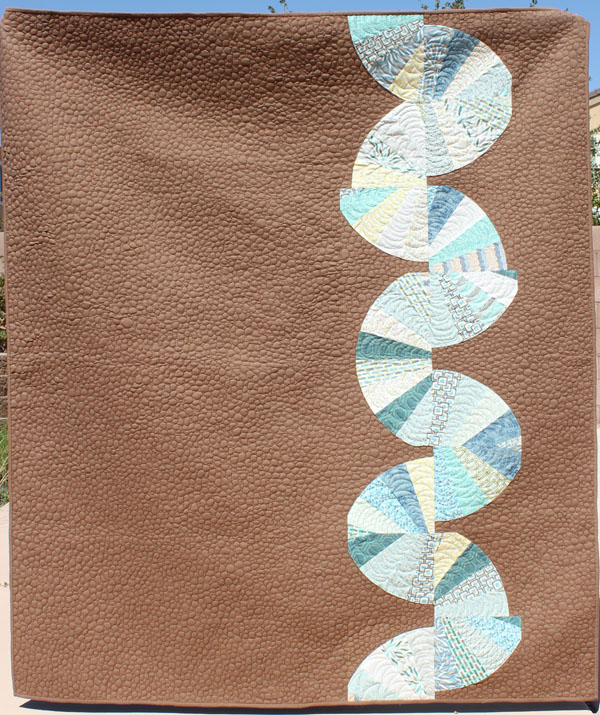 I love the name of this line, "Legacy", which Angela so named because of her Grandfather. As I was working on this quilt, I thought a lot about my boys. My oldest just started Kindergarten, and on a recent Facebook post about my son growing up, a friend reminded me that as a mom, it is my job to give my son roots and wings. I hope you can see the roots and wings in this quilt.
This quilt is fully double-sided, I pieced Legacy into the back as well. I was careful with the placement of the piecing, and let my long-armer know my intent… so the quilting on the curves of the front shows up in these giant stacked-coin pieces on the back.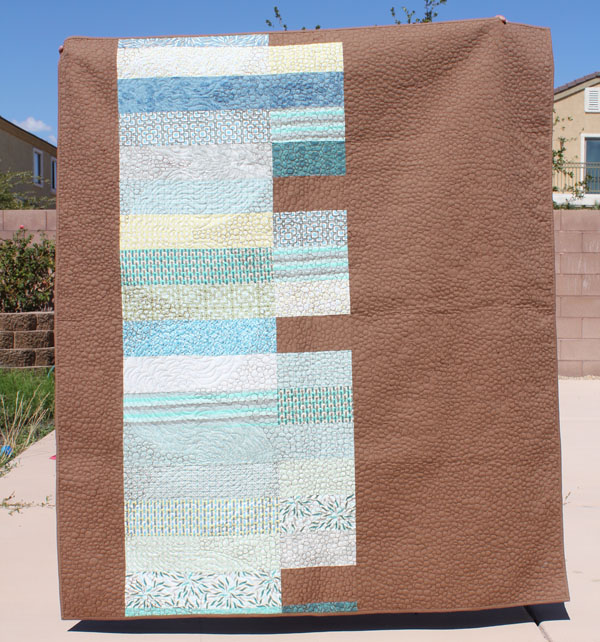 I did the piecing on this quilt, but I handed it over to my friend and long-arm quilter Nichol of A Desert Quilter to do the quilting for me. We decided on the pebbles for the negative space, and I think she did an amazing job. Here is a closer look at some of her quilting.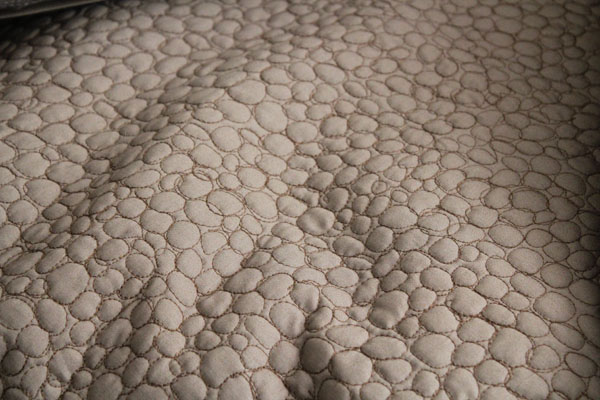 It should have taken her practically forever to do all this quilting – the finished size of the quilt is nearly 60″ x 70″. But, she got it all done for me in less than a week!
I have been wanting to re-cover the throw pillows in my front room almost since the first day we got them. They came with the couch and although they were fine, they weren't my style. I would have loved to re-cover them with wild quilting patterns, but my husband is more a fan of builder's beige. Since I had so much brown in the quilt, I knew I'd be able to get away with making pillow covers that went along with this quilt. Nichol did the quilting on these pillow covers as well!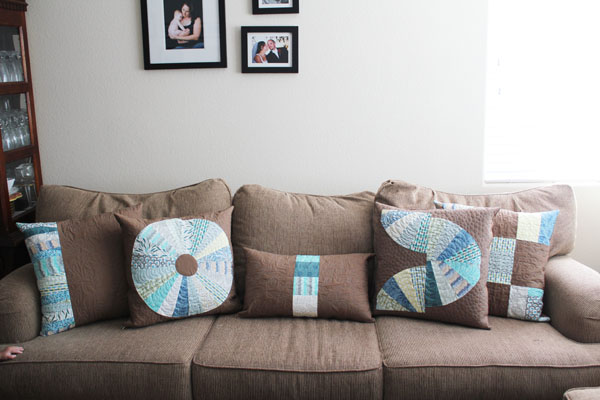 I'm loving the style it brings to my front room! This is the first room that guests see when they walk into my home, and it has always bugged me that I don't have much handmade in there. That problem has been more than solved with this new quilt and pillows! There is now plenty of handmade… but not at all in a kitschy way. I love me some kitsch… but probably not for my formal living room.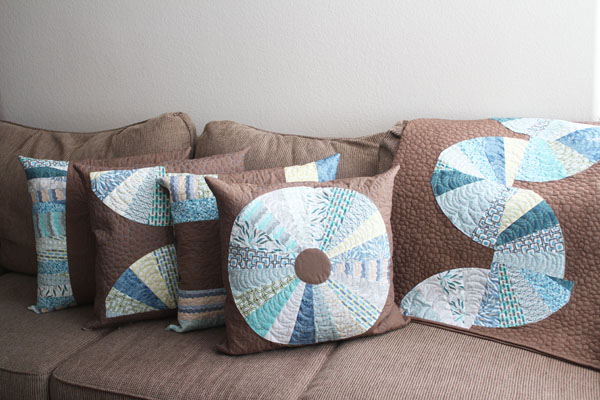 If you want to know how to make this quilt (which, by the way does NOT require any curved piecing), here is how you can make your own Roots and Wings quilt:
Selection of Fat Quarters from Legacy by Angela Walters for Art Gallery Fabrics
3 yards background fabric (also used for binding)
Additional fabric for backing
Start by making quarter dresdens. I used the Easy Dresden Ruler
to cut wedges out of 8″ wide strips of fabric, then shuffled up the wedges and stitched them into 16 sets of 5.
I then squared up the edges of each, making one side even, and when evening up the second side I cut away at the hole traditionally left for the center circle of the Dresden plate. On half, I cut the right side off, and on the other half I cut the left side.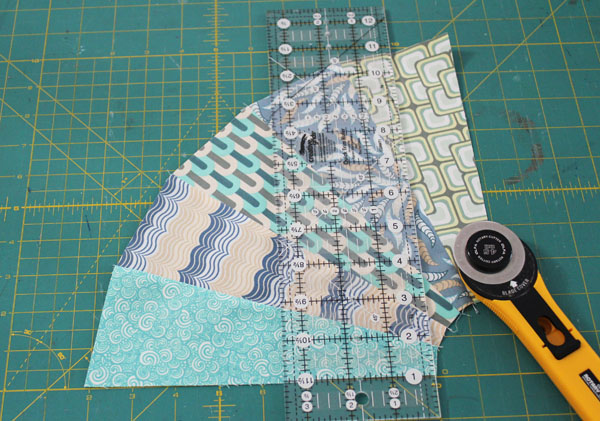 Using the basting stitch on my machine (making the stitch length as long as possible), I stitched about 1/8″ from the curved edge, leaving long thread tails.
I then pulled one thread a little, making the edge start to gather so that it curved up. I spread the slight gather evenly across the whole curve.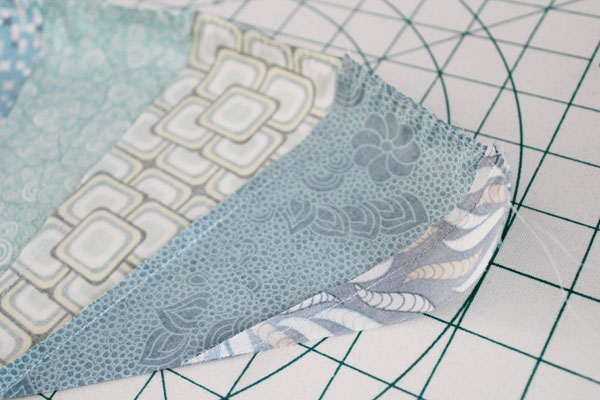 I then gently folded in the curved edge about 1/4″. Try to be accurate, but if it isn't perfect don't sweat it.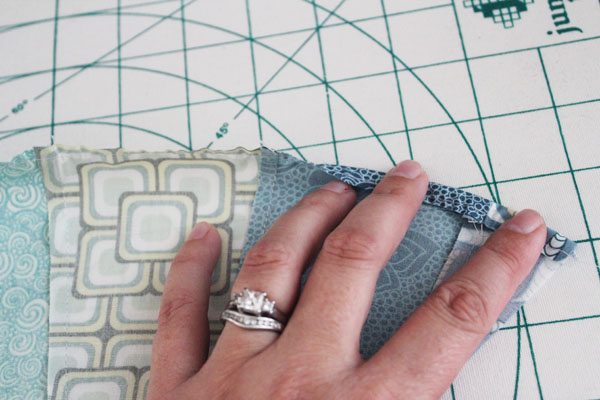 I pressed this edge down, and had the perfect edge to top stitch down onto my block.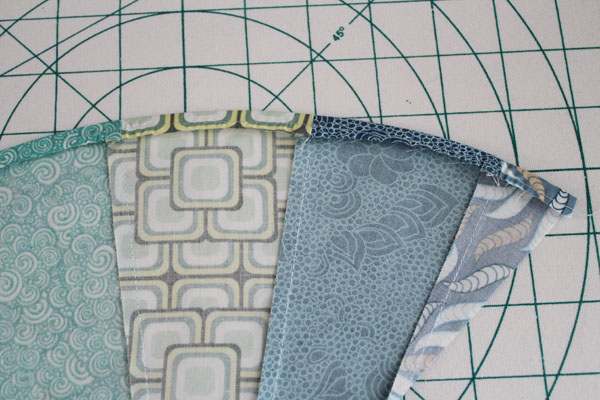 I cut 16 squares from my background fabric, each 9″ square. I pinned a chopped quarter dresden onto each. One side is longer than the other. That gives the final quilt blocks a little more of a wonky look.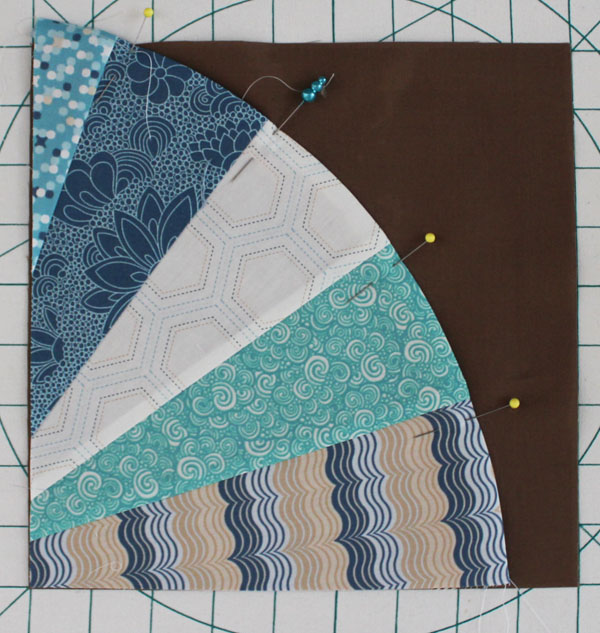 I top stitched the edge of the dresden down, right on the edge of the curve. At this point you can cut away the excess background fabric behind the dresden, but I left mine on.
Put the squares together into sets of 4.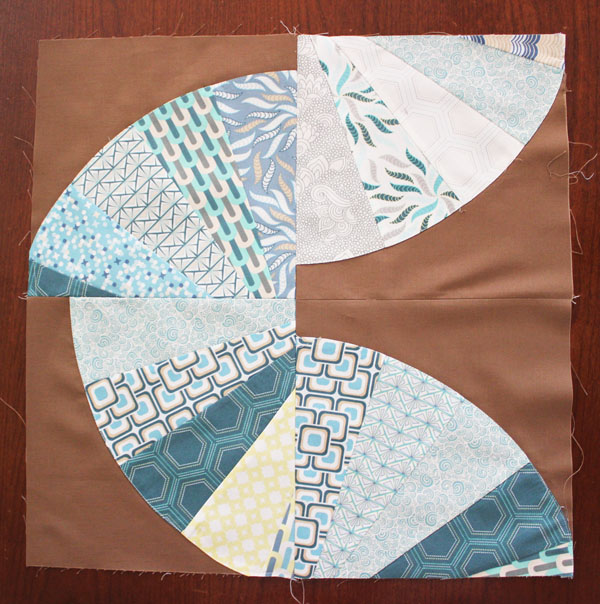 Then sew these blocks into a row to make the roots and wings design.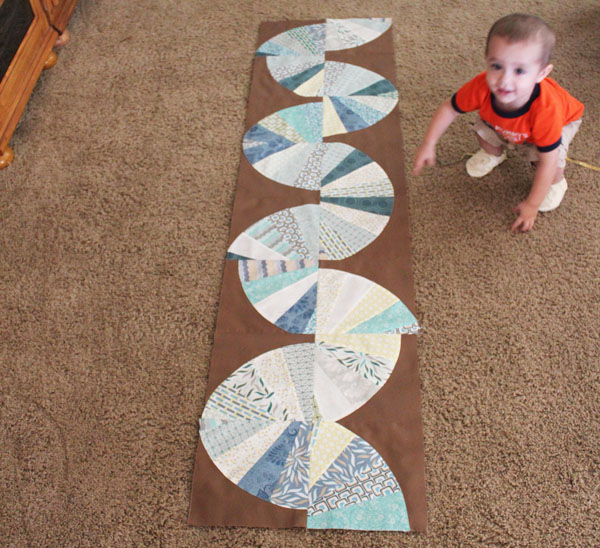 I then added yardage to each side to finish the top. I cut the backing fabric into the length I needed, then cut off the selvedge. I cut 9″ of the fabric off, down the length of the fabric, to divide it into two unequal pieces. The 9″ piece went on one side, the larger piece on the other.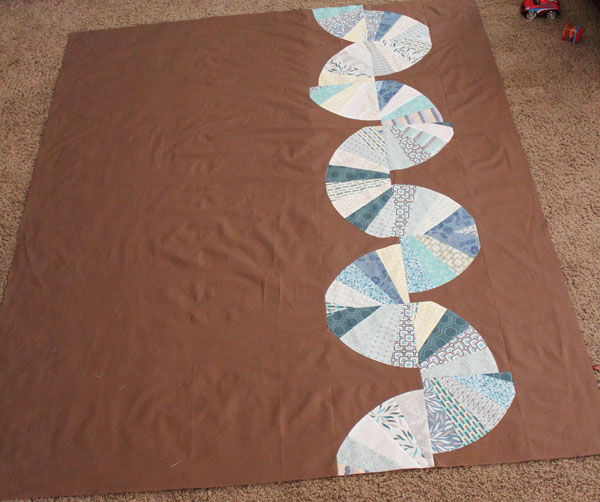 I then pieced together my backing and gave everything to Nichol to quilt. After she got it back to me I bound it with the same fabric I used for the background. I think this gives it a nice, clean edge.
The pillows were made from the leftover fabric. I made several different scrappy pillows, keeping them fun. I even made one with the scraps from cutting the dresdens down! I took all of those pieces and pieced them into a long row…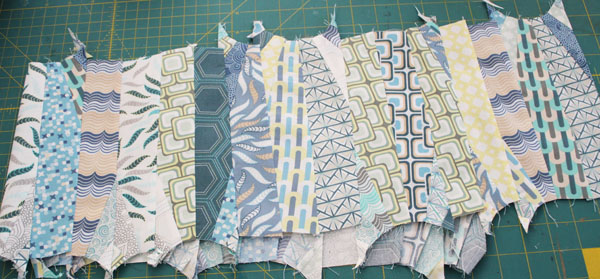 I trimmed up the sides and pieced these little pieces into a pillow!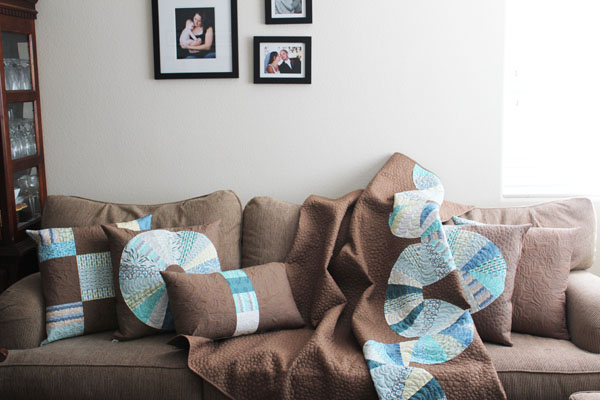 Here's one more shot with my little helper. With his big brother in school, he's not quite sure what to do with himself, so he "helps" me with my projects. You might have noticed him in one of the other photos… and if you scroll up, you'll see his hand on the left side of the couch in the 5th photo from the top. So cute!