I had a total blast at Fabric Fest this past week, and wanted to share with you more of the fun goings-on. I really can't express what an amazing job the folks from Riley Blake did on this event. Seriously. Putting on a conference is no joke, and these gals (and guys) knocked it out of the park on their very first try. I'm hoping they'll do it again next year, and if they do I have no clue how they're going to top this event!
Earlier I shared with you some pictures from my first night… there was some meet-and-greet with the other attendees, lots of ogling over quilts, and a little buying of fabric, too! (ok… maybe a LOT of buying of fabric! HA!)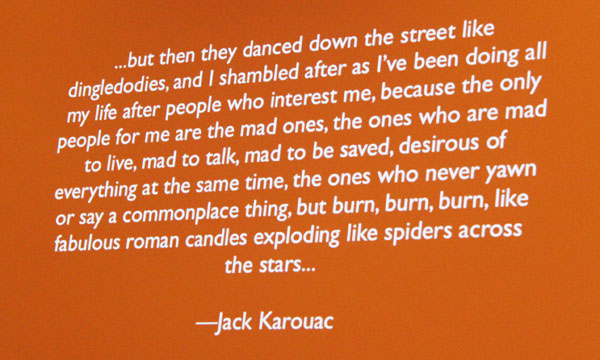 This quote is one from the Thursday keynote, and I loved it. I loved that I spent the week surrounded by dingledodies.
My first class, Tuesday morning, was with Amy Smart from Diary of a Quilter. Her class was part lecture, part hands-on about modern quilting. I'm a fan, and love absorbing the modern vibe whenever and wherever I can.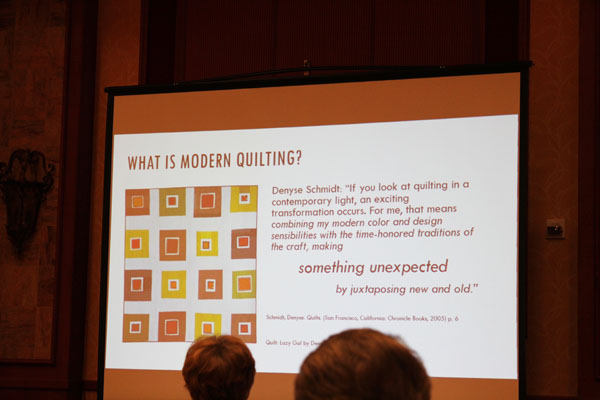 I took this picture so that I could put most of these books on my Christmas List! HA!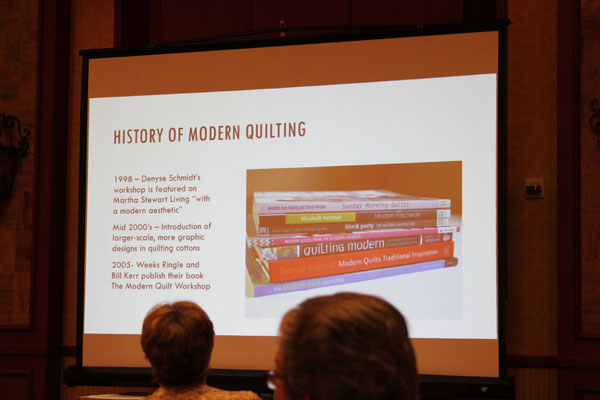 In the hands-on portion of the class I whipped up a scrappy, quilt-as-you-go, free-pieced mini quilt.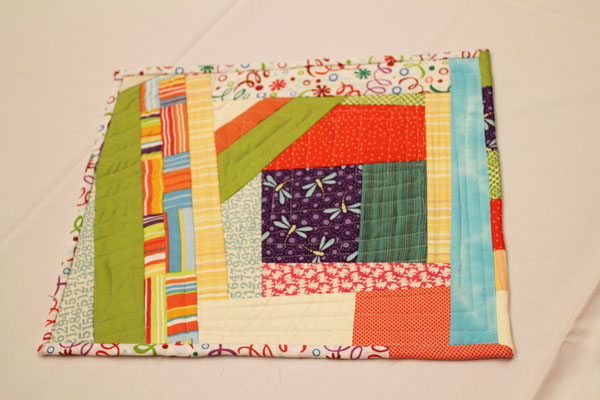 I kinda love how it turned out. I won't even share with you all the ways it isn't perfect, or all the things that look awesomely intentional, but are total happy accidents.
The Tuesday keynote was with Eleanor Burns. This lady is tons of fun.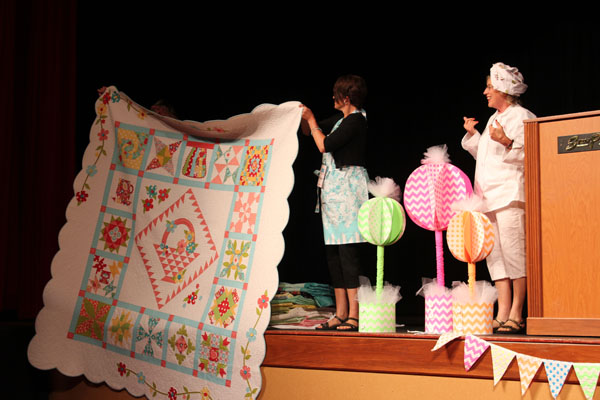 Seriously, this picture of her is like the definition of all my favorite people: creative, and just a little crazy. But totally the good kind of crazy.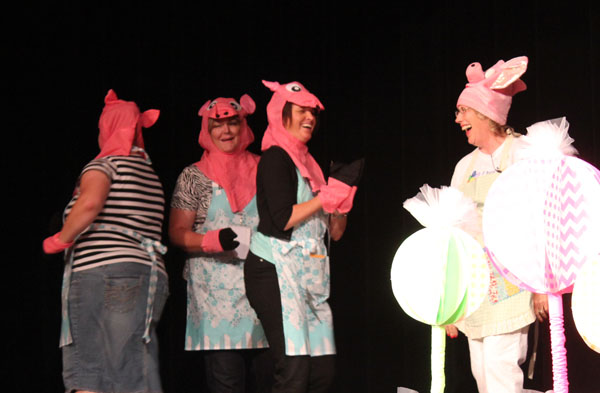 My Tuesday afternoon class was with Eleanor as well. If you haven't read about my connection with Eleanor, you have to go read the whole story in the post where I talk about teaching at fabric fest.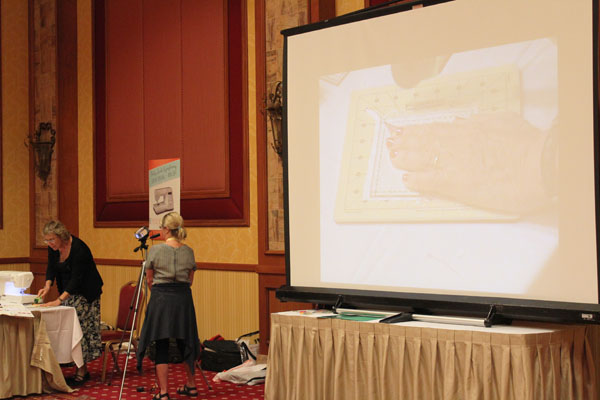 I didn't finish my quilt, but got very, very far in putting it all together…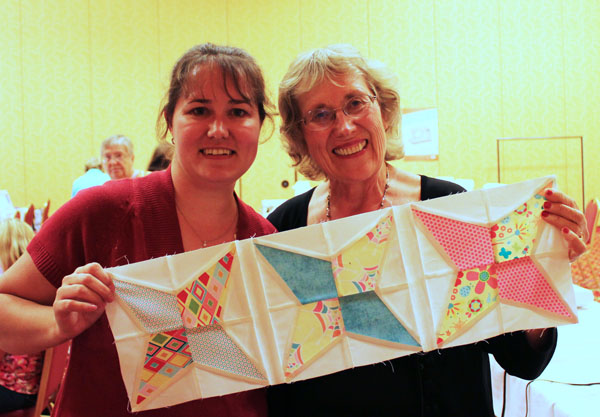 On Thursday, I had lectures. The morning lecture was with Nancy Zieman who came to us via live satellite feed. Isn't technology awesome?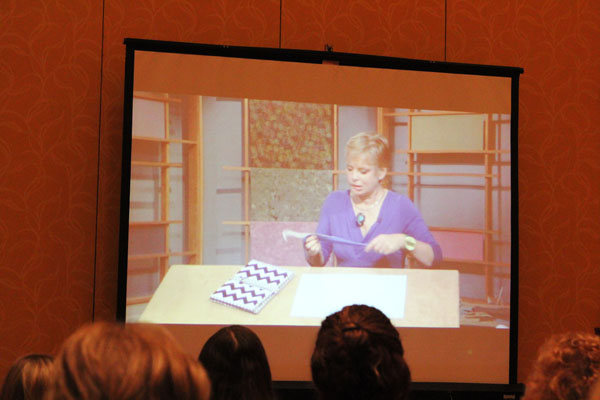 My afternoon class was with the twin quilting phenoms from Logan, UT. Kim from Kimberbell Designs and Kris from My Girlfriend's Quilt Shoppe. Unfortunately, I don't have any pictures of that class, where they talked about all kinds of fun ways to transform precuts into quilts!
I do have a couple pictures of what meals looked like. In case you have ever wondered, this is what 300 hungry quilters look like: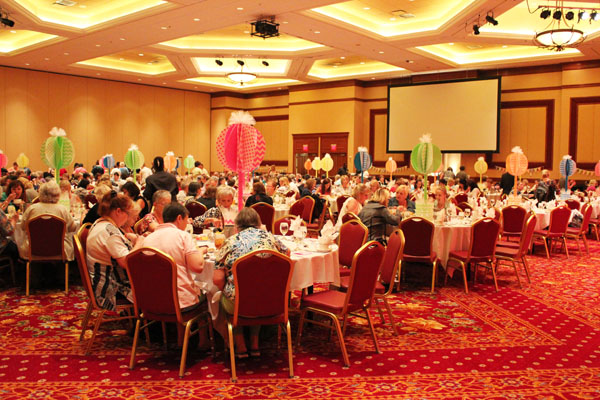 And this is what all their bags look like… machines and rulers and more!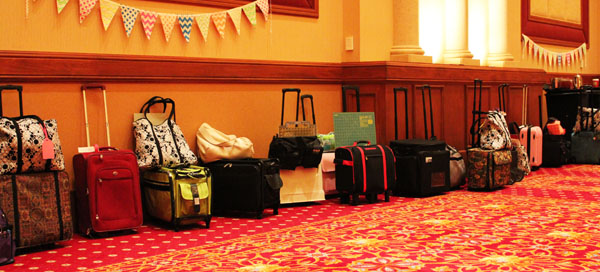 Thursday there was a dual keynote, Jenni from Missouri Quilt Co gave an awesome impromptu talk about how her choices as a quilter have changed her life. I really love hearing quilters who really get it. She understands quilting, other quilters, and what it is really all about.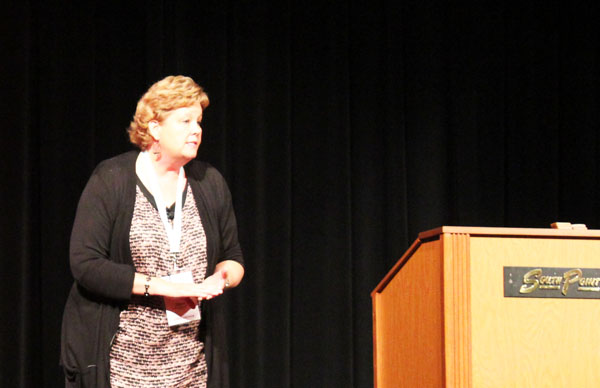 I was able to snag a quick photo with her after the conference.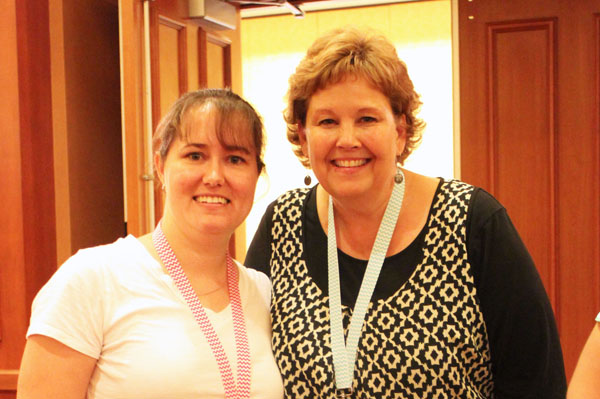 And since I started this post with a quote, I'll end it with another great one that helps describe this whole experience: