This safety pin quilt block pattern was designed for this month's Quilt Block Mania theme of "Baby." If you scroll down, you'll find links to lots of other baby themed quilt blocks. Make them all, and put them together for a fun baby quilt. Or, just pick your favorites! However, this safety pin quilt block is perfect for all kinds of quilts! Add a safety pin to a quilting-themed quilt (because of the safety pins we use when basting), or a notions quilt, junk drawer quilt… you'll find lots of excuses to make this safety pin quilt block. And the good news is, it is a lot easier to put together than it looks!
This is a traditionally pieced quilt block. That means that you'll cut all your pieces as squares and rectangles to start, and the instructions will take you through how to piece the block. You don't need any special rulers or quilting notions to be able to complete the block. However, it is an intermediate block because it uses some half-rectangle triangle techniques. An advanced beginner should be able to make the block as well.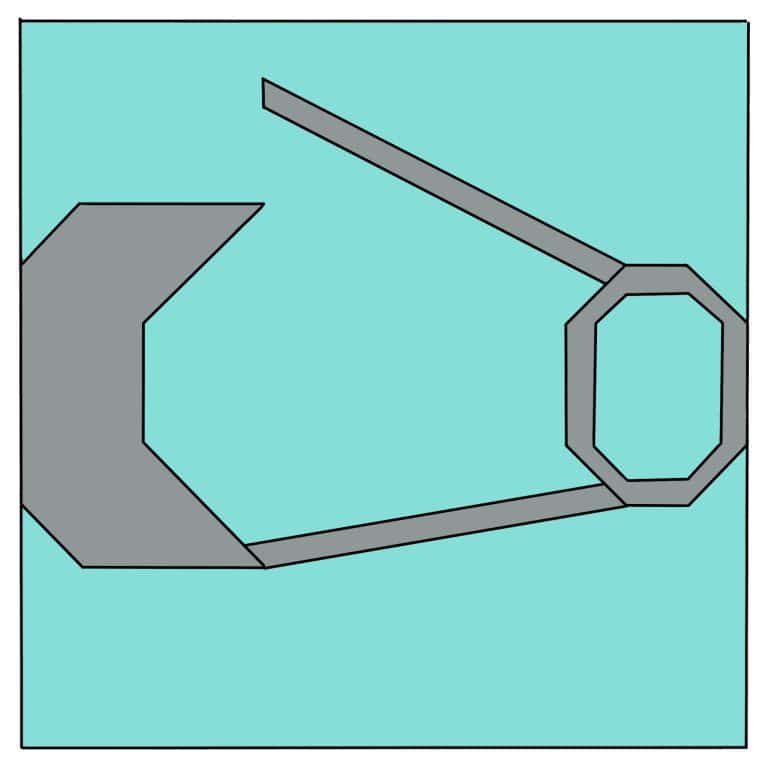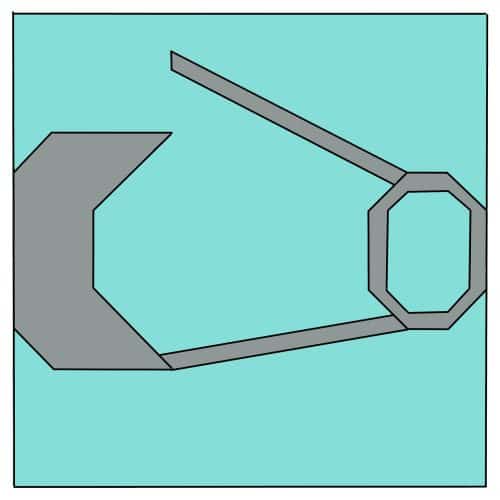 Half Rectangle Triangles
Stitching this block does require knowledge of sewing half-rectangle-triangles. On the surface, these are similar to half-square-triangles, but not really. They look like an elongated HST, but the construction of a HRT is very different than making a traditional HST. If you're new to half-rectangle-triangles, you may want to watch this video that takes you through the basics:
Get the Free Safety Pin Quilt Block Pattern
If you'd like to get the free safety pin quilt block pattern, sign up for the newsletter below. You'll get access to this block, and all of my free monthly quilt block patterns!
Once you fill out the form, the link should arrive in your email. If you don't see it, check your spam. Repeatedly filling out the form will not result in multiple emails being sent to you – the system sends you an email once, and then ignores future requests. Only fill out the form again if you think you had a typo in your email address.
If you're looking for more baby themed quilt blocks, check out all the links below:
Safety Pin Quilt Block by Carolina Moore
Elephant Rattle by Inquiring Quilter
Cloth Diaper by Inflorescence
Bookworm Block by Scrapdash
20+ Black and White HST Quilt Blocks for Babies!
Crib Mobile by Patchwork Breeze
Baby Feet by QuiltFabrication
Feeding Time by Patti's Patchwork
Soother by Penny Spool Quilts
Baby Bodysuit by Crafty Staci
Baby Nine patch at Epida Studio
Baby Botique
Teddy Bear
Baby Buggy by Robin Kinley Designs, Etc.
Hugs & Kisses Quilt Block