When summer turns to fall, all the candles and pumpkins come out. If you're ready to put out all the fall decor, add this Scrappy Pumpkin Table Runner to your fall decor this year! Fun to make using all of your harvest-toned scraps, this Scrappy Pumpkin Table Runner can be stitched up in a day. It is simple enough to quilt on your domestic machine, bind, and get on your table the same day you start!How to use the Curvy Log Cabin Trim Tool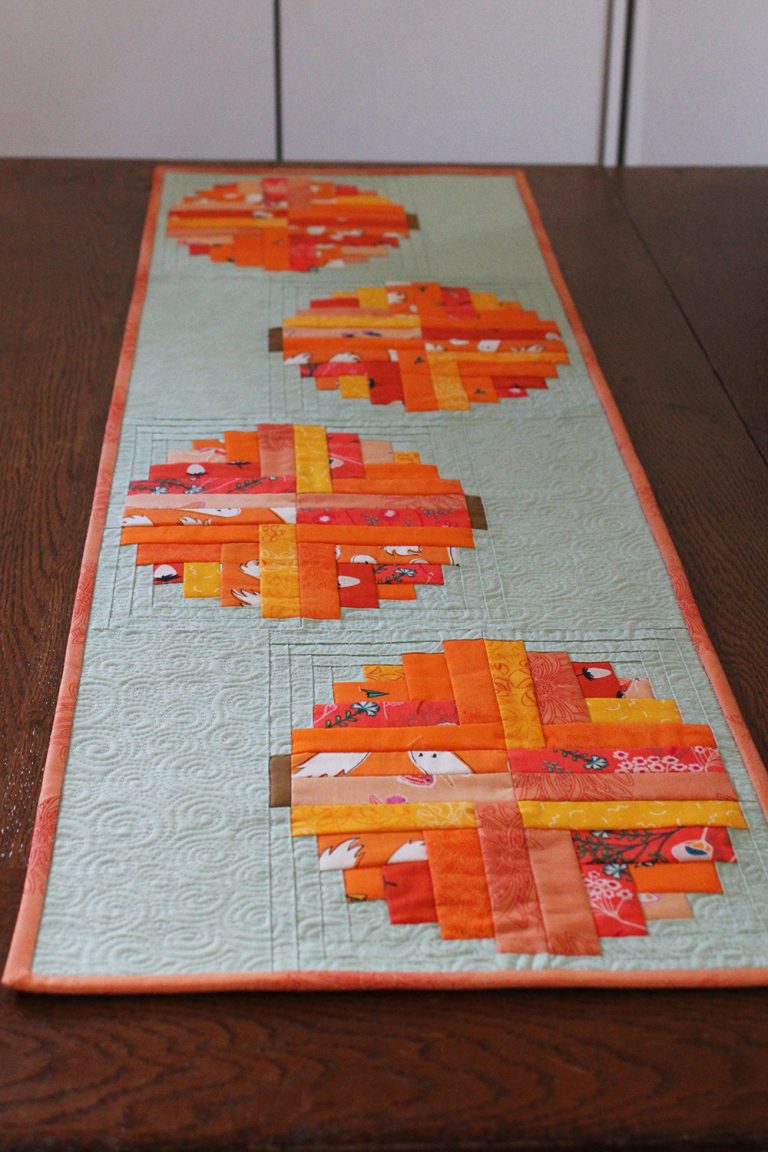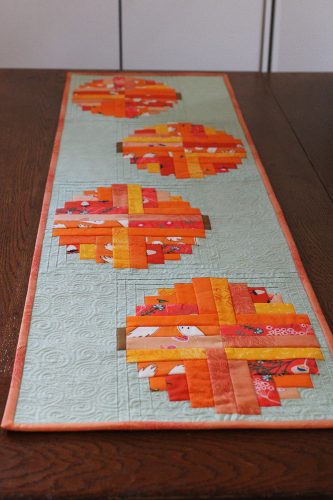 Curvy Log Cabin Trim Tool
This Scrappy Pumpkin Table Runner is part of my Ruler of the Month series. Each month I pick a ruler, show you how to use it, and offer a free pattern so you can try out your new ruler skills! This month I've done something different. The ruler I chose is a ruler I have featured as the Ruler of the Month before – it is the Curvy Log Cabin Trim Tool.
The Curvy Log Cabin Trim Tool makes faux-curved blocks. You still do all straight cutting and piecing. But, because of the way that the pieces are stitched together, it makes a curved-looking design. A great way to make curved shapes without sewing any curved blocks. And, this is a fabulous way to use your favorite scraps to make a new project!
We're using the 4″ Curvy Log Cabin Trim Tool. If you don't already own it, you can buy the Curvy Log Cabin Trim Tool in my shop – and I offer free shipping in the US on all orders!
If you've never seen the Creative Grids Curvy Log Cabin Ruler in action, you can watch this video to see how easy it is to make these "curvy" blocks that go together as easily as a Log Cabin block!
Scrappy Pumpkin Table Runner Pattern
This pattern is beginner-friendly. All the steps for making the pattern are broken down in this full-color pattern with lots of diagrams. If you prefer to read the text of a pattern, look at the images, or a combination of the two, you will enjoy the Scrappy Table Runner Pattern.
You can buy the scrappy pumpkin table runner pattern in my shop: