Sew a giant gift bag in just 15 minutes! It is perfect for giving oversized gifts, and is quick and easy to make! This "Santa Style" sack is just a few cuts and a few seams. Sew a Santa Sack Gift Bag in just 15 minutes with this quick and easy tutorial. You can use a colorful denim, as shown here, or you can use a favorite print fabric to make this oversized gift bag.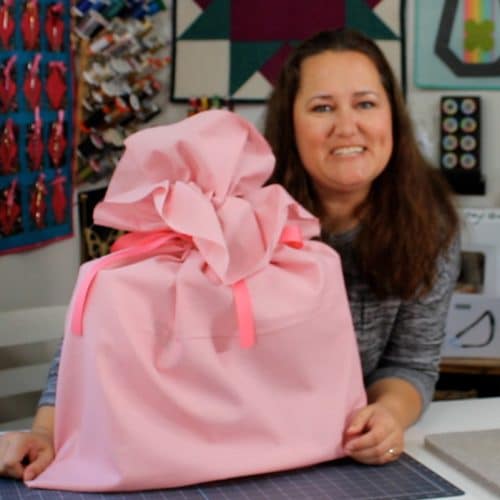 Watch the video for step-by-step instructions for making this bag. Even as the clock is striking midnight on Christmas Eve, you can whip up a big bag for that special gift following this simple tutorial.
Click here for the YouTube Video
In the video, the Boxed Bag template is used to box the corners of the bag. This is the easiest way to box your corners! Learn all about the Boxed Bag Template here. You can purchase the Boxed Bag Template here.
This project is available as a free pattern, fill out the form below to be added to the newsletter list and get your free pattern! The pattern also includes simple instructions for making your fabric gift bag whatever size you need!