I am so excited to announce a project I've been working on for weeks and weeks… Summer Sew Camp! This is a week-long set of projects designed specifically for teaching kids how to sew.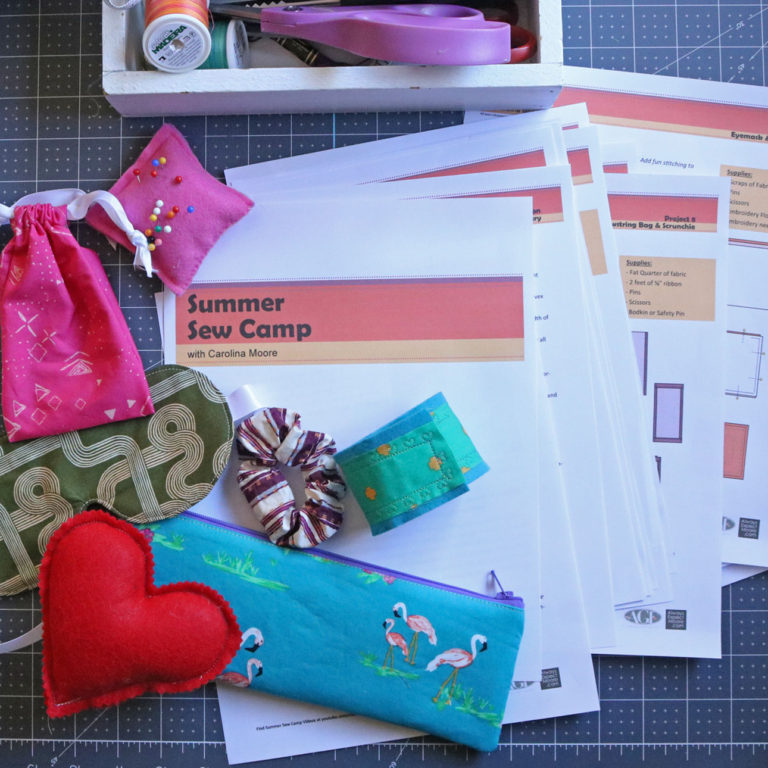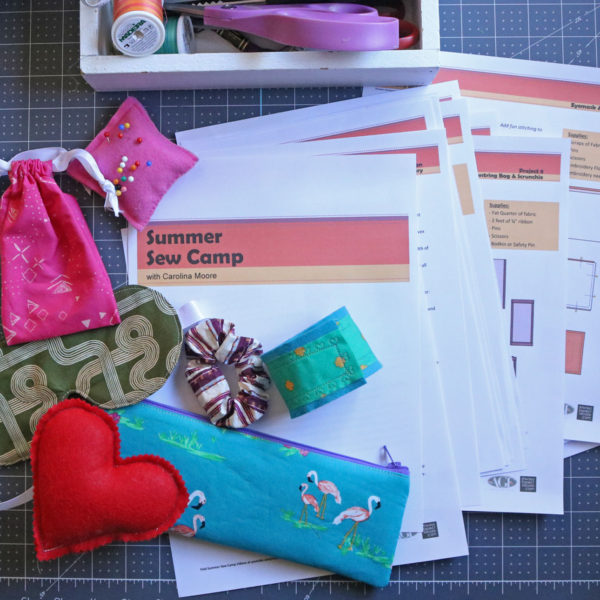 First of all – YES! Adults can play along as well (of course!) But I have designed this with kids in mind. Before we get down to things, let me answer a couple of questions I know you're going to ask:
How much does Summer Sew Camp cost?
It is free. The instruction pages are free. The videos are free. And they will stay free. It is my pleasure to pass on my love of sewing to the next generation.
How old do kids need to be to participate?
That is up to you. With 100% support from an adult, I think a child as young as 6 would have fun "helping" to make these projects. And older kids will be able to make them with little or no help. If children can operate a sewing machine, wield a hot iron, and are comfortable with scissors and pins, then they can make all of these projects.
What about rotary cutters?
No rotary cutters. I made all of these project instructions and videos without using a rotary cutter. Yes, really.
When does it start?
It is all live right now. You can scroll down to watch all the videos in the playlist. Or, if you prefer, you can subscribe below to get daily emails for a week with all the links you need!
I'm sure you have more questions … I answer lots of them in this video:
If you'd like to get started, you can download the introduction and get a detailed supply list by clicking here… you'll also find the full instruction packet here.
I also made a quick video just for kids … so if you'd like to show your child this video (it is less than 3 minutes long) to find out if Summer Sew Camp sounds like fun to them, check it out here:
You absolutely don't have to subscribe to access Summer Sew Camp. You can head to the link above to download the files, and head to my YouTube Channel to watch all the videos.
However, if you're like me, your email inbox helps you organize your life. If you sign up below, I'll send you an email with links to the supply list and intro details, and starting on Monday, you'll get an email each day with the two lessons for that day. When the week is up, you won't get any more emails from me unless you subscribe to my main mailing list.
I always recommend buying supplies at a local quilt shop, whenever possible. Local quilt shops have experts right behind the counter who can help you with just about any project. Every place we have lived, finding my LQS (Local Quilt Shop) has been as essential as finding the grocery store and a new dentist! However, if you need a quick link to a couple of the supplies I mention in the video, you can use these affiliate links:
Pins at the Fat Quarter Shop
Fabric Scissors at The Fat Quarter Shop or Fabric Scissors on Amazon
Fabric Marking Pen at The Fat Quarter Shop or Fabric Marking Pen on Amazon
Rectangle Quilting Ruler at The Fat Quarter Shop or Rectangle Quilting Ruler on Amazon
Square Quilting Ruler at The Fat Quarter Shop or Square Quilting Ruler on Amazon
Sticky Back Velcro for Fabrics on Amazon
Sew-in Magnetic Snap on Amazon
Heavy Weight Interfacing on Amazon
Fusible Fleece at The Fat Quarter Shop or Fusible Fleece on Amazon
Polyfil Stuffing on Amazon
If you'd like to watch the whole series, it is all in this playlist. There are 13 videos and it is over 250 minutes that teaches over a dozen projects. I don't recommend you binge it all in one day!
Or you can head to my YouTube Channel and Subscribe there.