I'm so excited to share this wedding dress quilt block with you! If you're looking to make a sentimental quilt for a bride, or a wedding quilt, then this wedding dress quilt block is perfect.
You can turn this wedding dress quilt block into all kinds of different items – such as a tote bag or a mini quilt. You can also use it on the back of a wedding quilt as part of the label. It uses large pieces and comes together quickly. It is such a special way to celebrate the bride!
Once you've stitched up your wedding quilt block, you can add beading, lace, embroidery, sparkles… whatever you like to customize the gown and make it match the bride's dress. This is a simple wedding dress quilt block but you can absolutely make this wedding dress quilt block more custom by adding details unique to the bride.
Get the FREE Wedding Dress Quilt Block by signing up for my Newsletter here:
Making the Wedding Dress Quilt Block
Once you've downloaded the pattern, you'll see how easy it is to make. This wedding dress quilt block uses traditional piecing. You don't need to print a foundation paper piecing pattern or learn any fancy techniques. This pattern does use half-rectangle triangles, but the pattern walks you through how easy they are to make! With just a few seams, you'll have this wedding dress quilt block stitched up and ready for your project!
You can make an entire wedding dress quilt – use different fabrics and embellishments for the dresses to add variety. You can use this same pattern for bridesmaid dresses in addition to the wedding dress block, and make a table runner that celebrates a bride and her bridesmaids. Use this bridal quilt block to make a zippered pouch or tote for the bride to use on her big day – every bride needs a place to hold all of her special items for the big day! And it becomes a very thoughtful gift that she can keep to use after the wedding as well.
I made the block using two different sets of fabrics. While the block only uses two fabrics, you can get a lot of interest just by changing the fabric you're using.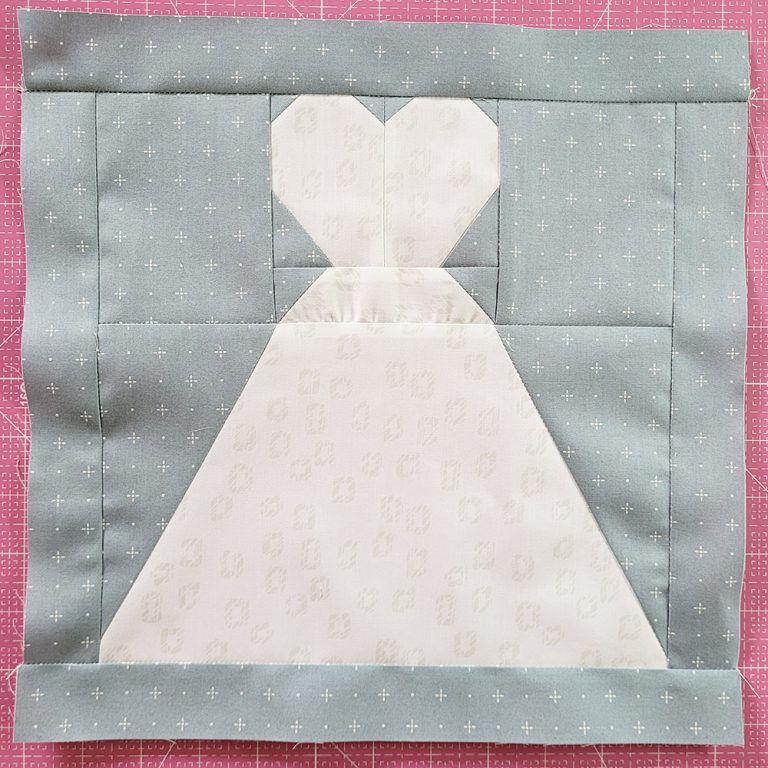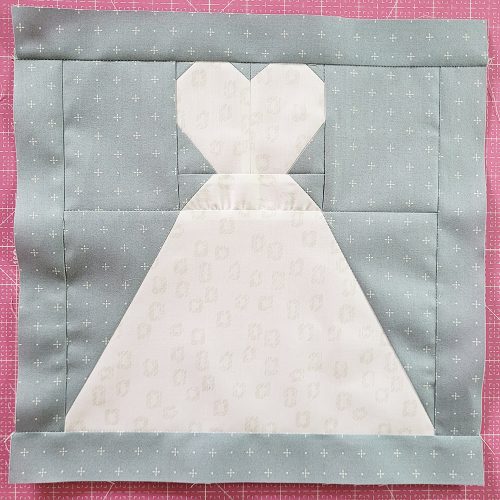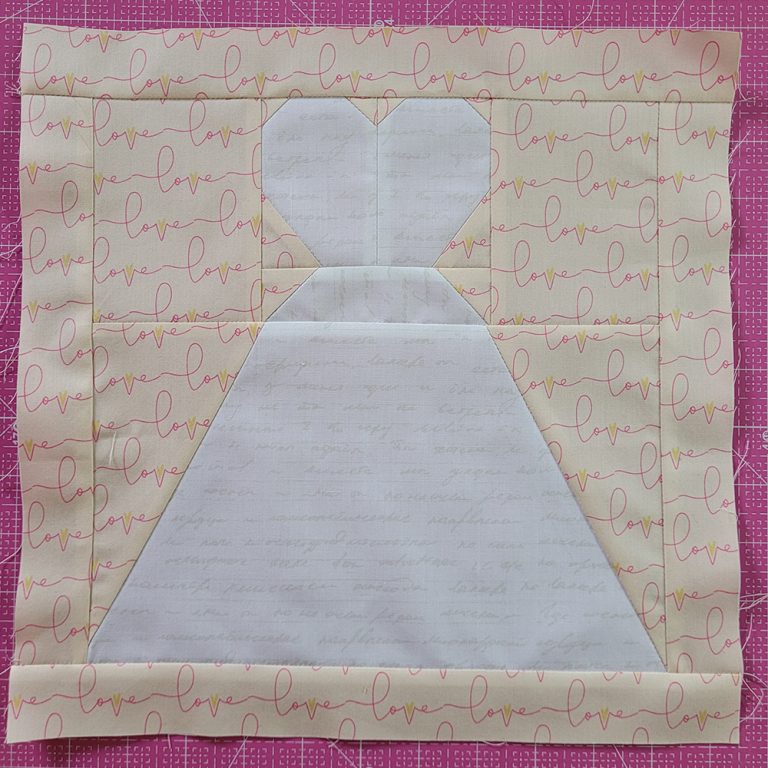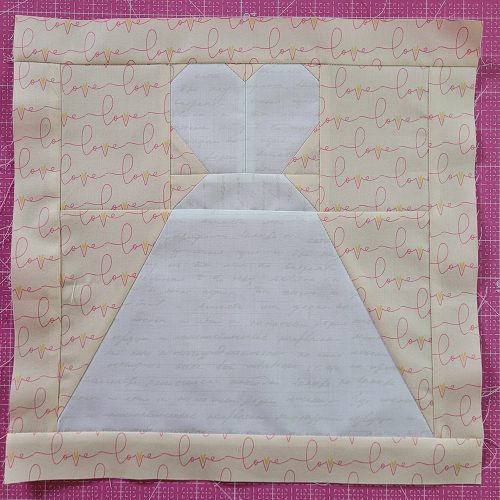 More Wedding themed quilt blocks:
Check out all these other great wedding themed blocks:
Wedding Dress Quilt Block by Carolina Moore
With This Ring by Inquiring Quilter
Wedding cake by Powered By Quilting
Loopy Hearts by Becca Fenstermaker
Tying the Knot by Patti's Patchwork
Car with Wedding Couple by Appliques Quilts and More
True Lover's Knot by Mom and Me Quilting Co.
Vintage Hankie Dress Quilt Block by Kaye Collins
Wedding Invitation Quilt Block by Julia of Inflorescence
Wedding Chapel by QuiltFabrication
Lucky horseshoe charm by Sue Griffiths
Apple Blossom Quilt Block by Scrapdash
Solitaire by Penny Spool Quilts
Something New by Perkins Dry Goods
Courthouse steps by Sew Joy Creations
Hearts Aflutter by Blue Bear Quilts