I'm so excited to be part of Katarina Roccella's Blithe Blog Tour! I've been a long-time fan of her whimsical fabric designs, and I have been a fan of Art Gallery Fabrics even longer! Katarina's new line, "Blithe" is in stores now… I know it is at my local shop Cozy Creative Center… check to see if your shop is carrying these fun fabrics!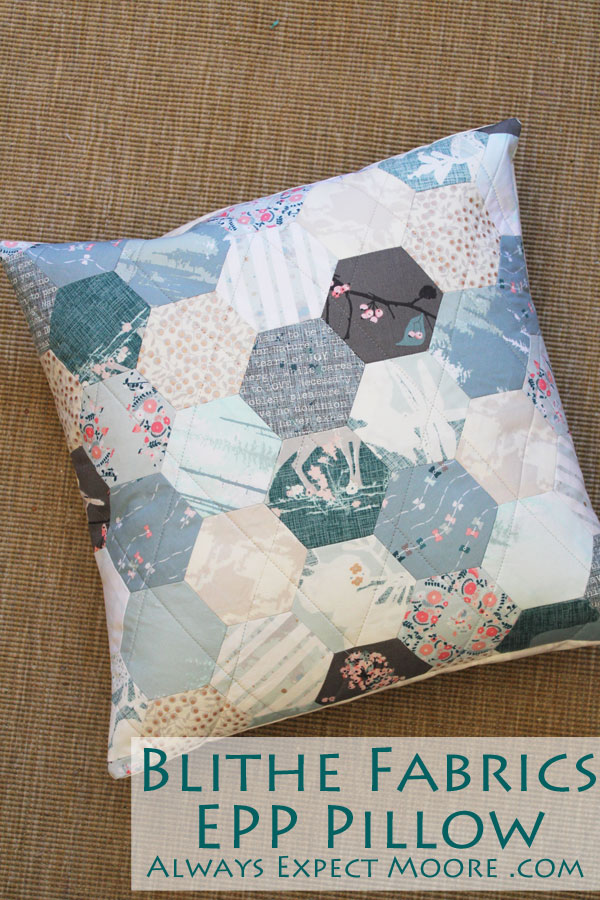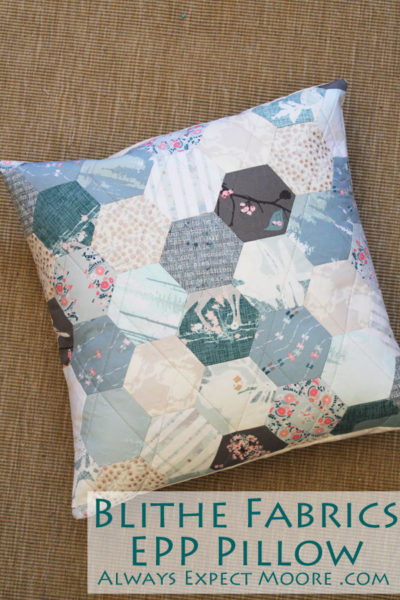 Katarina asked if I would be part of this fun blog tour, and of course I said YES! I already had a project in the works… which is a funny story.
I attended Houston Quiltmarket in October. It was my third time going, and I really enjoy seeing what is new in quilting. I went to sample spree, hoping to get my hands on Katarina's next line, "In Blue". They didn't have yardage yet, so instead I bought some Blithe. Which is equally beautiful. Really. The gorgeous colors and nature prints are just so inviting. And Art Gallery Fabrics always feel so nice, they are a pleasure to sew with. I don't know what kind of fairy dust they weave into their fabrics – but if you've never touched AGF, you're in for a treat!
I flew home after market was over, and was at the airport waiting for my flight. I had supplies with me for English Paper Piecing because I always have EPP supplies with me (and I had taught an EPP class that morning and done EPP demos while at market). I pulled out my Blithe and started stitching. I didn't know what it would become… but my hands like to stay busy.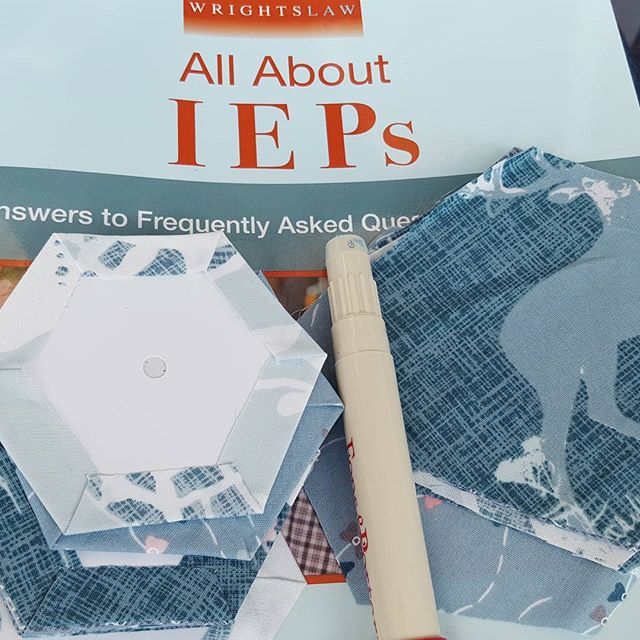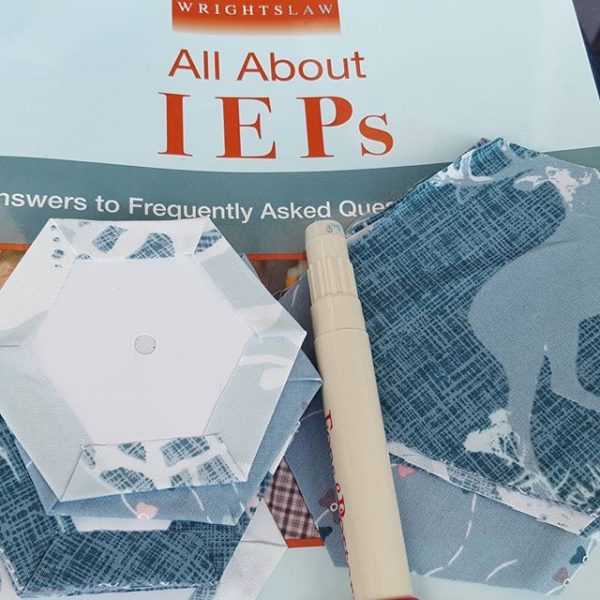 By the time I'd gotten home, I had a message from Katarina. We have chatted via Instagram in the past – I created a quilt sample for a past line of hers. She asked if I'd like to turn what I was making into a project for her lookbook.
Of course, yes. I had a project that might get finished eventually. But now, it had a deadline. I was off and running.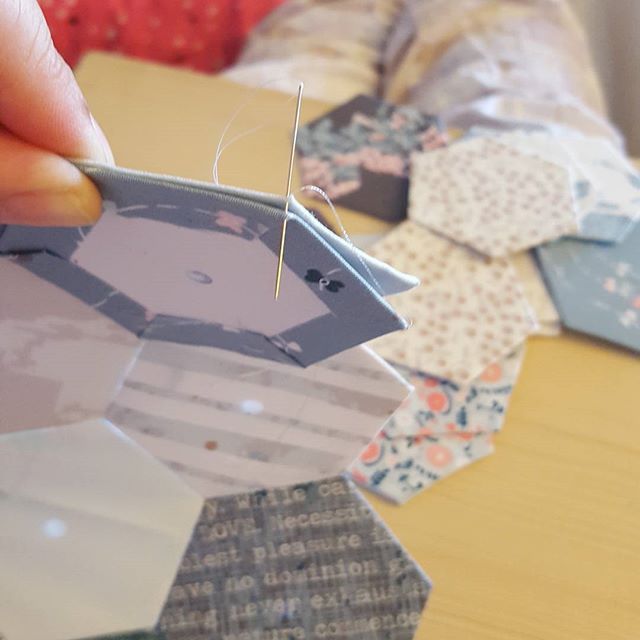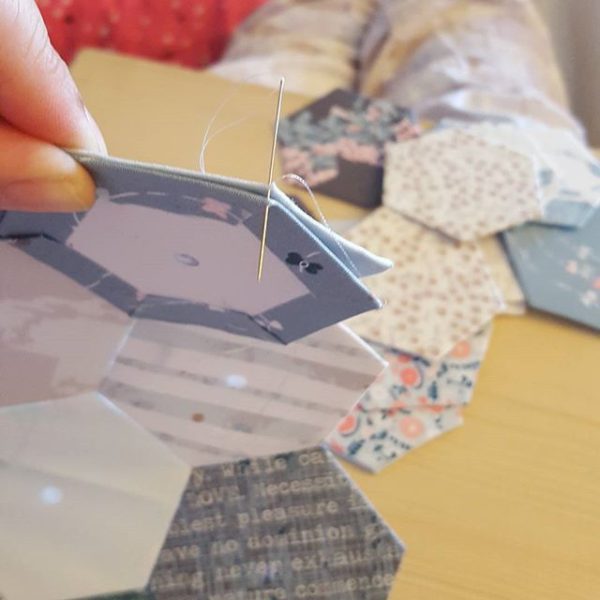 English Paper Piecing is my favorite. I don't knit or crochet, so this is the handwork that I can tuck in my bag and take wherever I go. When waiting at the doctor's office, when waiting to pick up kids from school, in the evening in front of the TV… I love to pick up my handwork.
If you've never tried EPP, here is a video of me at Quiltmarket, showing
how easy it is:
You're hooked already, right? Grab some papers and a glue pen, pick up your needle and thread, and start stitching!
Of course, once you're done stitching, you have to finish your project. Since this was going to be a pillow, I pulled out the papers, ironed on some of my favorite Thermoweb Fusible Fleece, and did some simple straight-line stitching with my walking foot.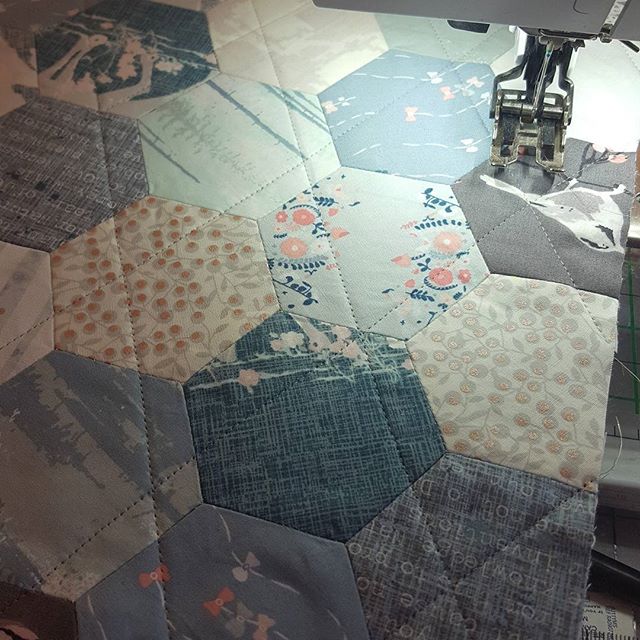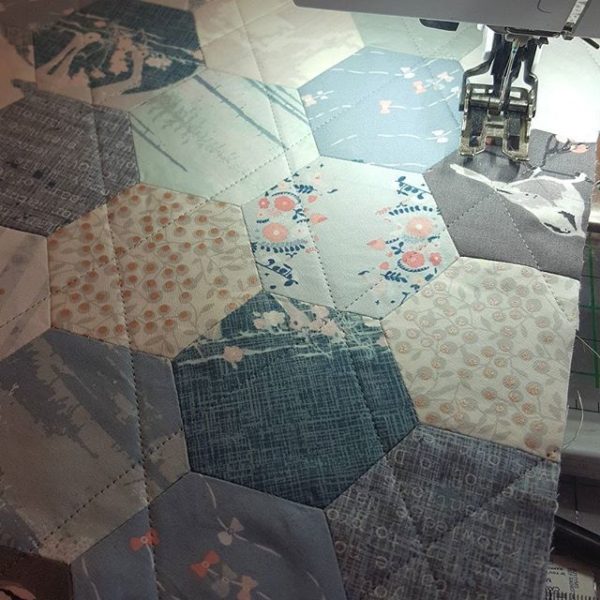 You'll notice I stitched to the side, and not "in the ditch". English Paper Piecing doesn't have a "ditch" to stitch in – the seam allowances are essentially pressed open. So quilting has to be done across the surface of the fabric.
Yes, I would love to have hand-quilted this piece. But time.
I did manage to put together another quick project for the lookbook… a simple clutch.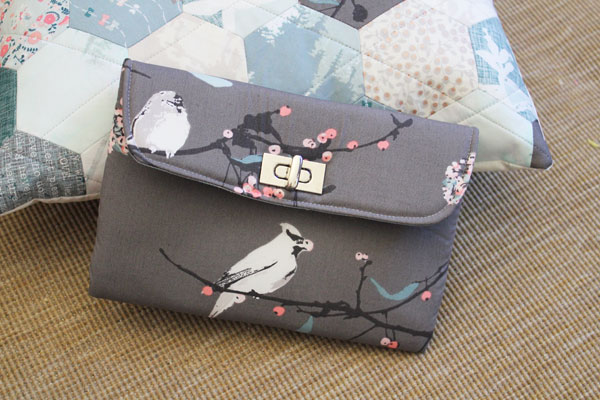 This is my "Stupid Simple Clutch" pattern that I'm still working on writing up. I'm hoping to release it this spring. Fingers crossed!
Those are the simple projects I created for the Lookbook, and for the Blog Tour… I hope you're getting inspired to play with some Blithe yourself! Drop me a comment below and tell me what you're planning to make!