(promised updates at the bottom of this message)
Hello Friends!
Seems there are quite a few "Friend Finding parties on the 'net on Fridays. I thought I'd link up to a few, and make some new friends.
Here are all the places I've linked up…
 > >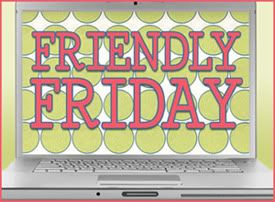 This is my first time doing this, so I'm going to track how many hits I get from each of these sites. I'll report right back here on this post on Monday!
As promised, here are the results, according to Google Analytics. Friendly Friday is hosted at a number of different sites, so I did the math to put the numbers together for all the hits I got from Follow Friday through all of these blogs. I did get several new followers that may be attributed to a Follow Friday Meme, but I don't know which one(s) to attribute these to. I noted all of those where the new follower left me a comment and told me in the comment where they found me.
https://nces.ed.gov/nceskids/createagraph/index.asp?ID=5eedf87564eb4f4ba8a16a23fd0f6db9
Two more notes (before my final analysis)… first, this graph represents the Follow Friday Meme traffic I got Thurs-Sun at 10pm PST. It does not represent traffic from any of the many other sources I get traffic through. Second, quantity of followers/traffic is only part of the equation. The quality of the followers/traffic is much more important.
All this being said, I probably won't be doing much in the "Follow Friday" meme department. The amount of work required to follow all the "rules" for some of these is pretty time consuming. The results for doing this work, versus the results I've gotten from other traffic-generating activities doesn't make sense if I'm using it to generate traffic to my blog. However, I did find a couple fun sites that I will be following… so in the future, if time permits, I will use these memes, or ones like them, to surf around for fun sites.
Expect Moore… soon!