This Flaming Hoop Quilt Block was inspired by this month's theme of creating a circus-themed quilt block. There are so many things I think of when I go to the circus – the animals, the performers, the ticket booth, the big top… but the one that really stood out to me as making a fun and unique quilt block was the flaming hoop. I really loved the challenge of creating the flaming hoop quilt block.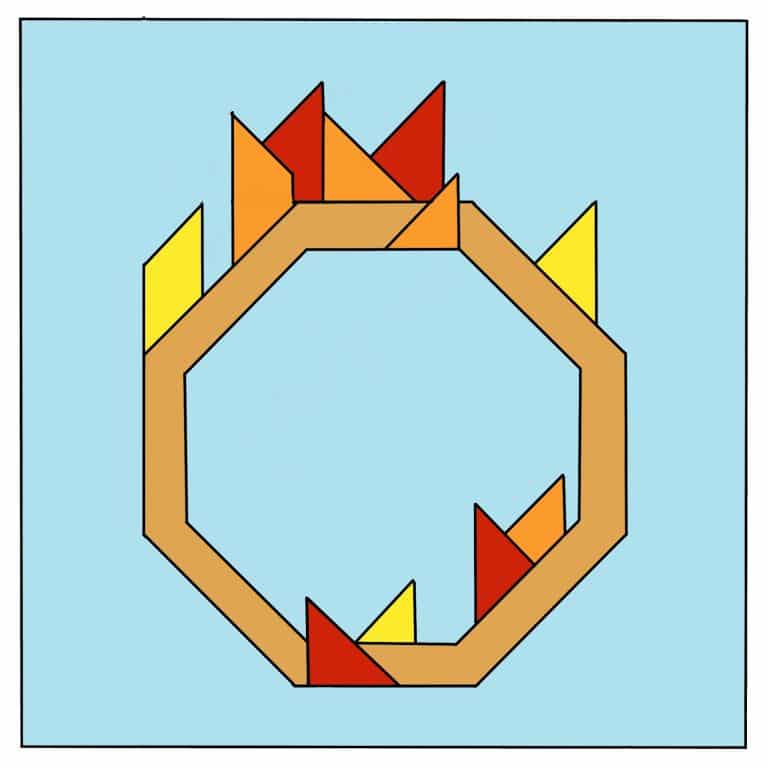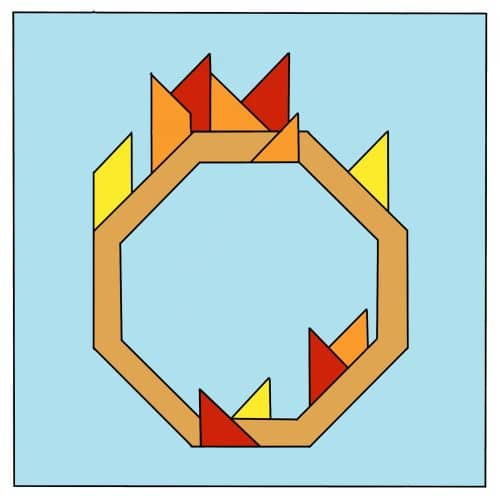 About the Flaming Hoop Quilt Block
This is not a beginner quilt block. While the techniques to make this block are simple – just triangles, rectangles, and squares, I've designed over forty 12″ finished quilt blocks… and this is the first time that I needed three full pages for the pattern. Usually I can fit the pattern on two pages. Last month was just a single page. But this block needed a full page just for all the cutting, and then two pages of sewing instructions.
On this pattern, because of the intense number of pieces used, I labeled each piece in the cutting instructions with the corresponding section. This way, while you are cutting, you can create piles for each section. Once you've done all the cutting, your pieces should be organized by section and ready to sew. That should save a lot of time when piecing a block like this Flaming Hoop that has so many different-sized units.
Also, I indicate the width and height of each of the units when piecing. Some units are square, but some are only a quarter or half inch off of square. I don't want you to have to rely on diagrams or guesswork to know which direction the unit needs to go in. So each piece indicates width and height. While the flaming hoop quilt block is not a beginner block, I've done everything I can to make this pattern as approachable as possible for all skill levels.
Get the Free Quilt Block Pattern
Sign up for the Flaming Hoop Quilt Block here:
If you're looking for more circus animals for your quilt, I also have this hippo quilt block that is a free pattern.
Check out these other great Circus themed quilt blocks:
Flaming Hoop Quilt Block by Carolina Moore
Elephant by Inquiring Quilter
Circus Popcorn by Inflorescence
Wagon Wheel
Big Top Banners by Sugar Sand Quilt Company
Peekaboo Clown by QuiltFabrication
Balloons by Patti's Patchwork
Big Top by Penny Spool Quilts
Top Hat by Crafty Staci
Day at the Circus at The Quilted Diary
Big Top at Patchwork Breeze
Giggles the Clown by Appliques Quilts and More
Clowning Around by Epida Studio
Merry-Go-Twirl
Dresden Three Rings