When deciding what Jungle-themed quilt block I wanted to make, I immediately thought of making a Hippo quilt block. While the Hippopotamus might not be the most glamorous animal in the jungle, it certainly makes for a fun quilt block! I hope you'll have as much fun making this quilt block as I had designing it!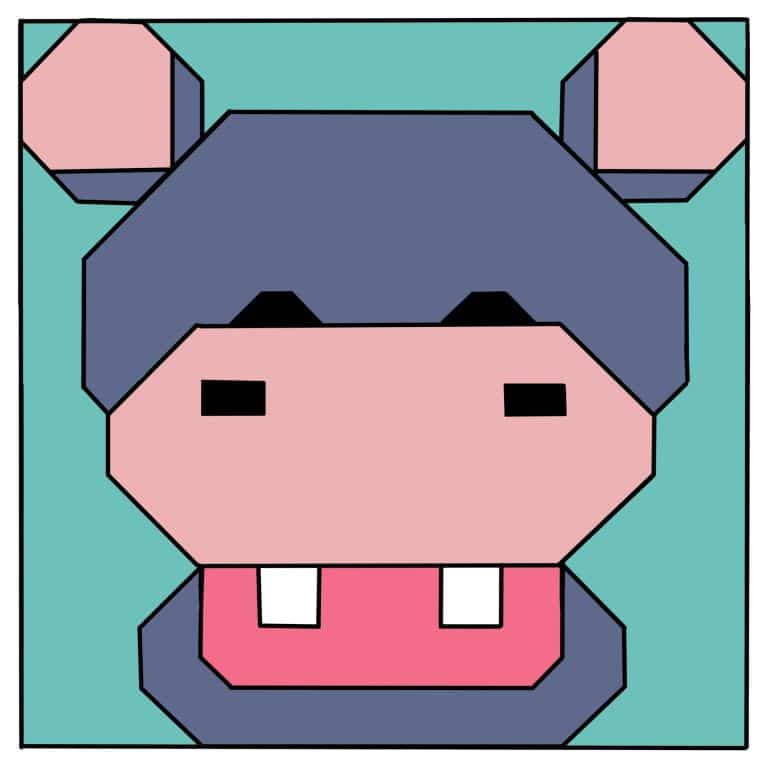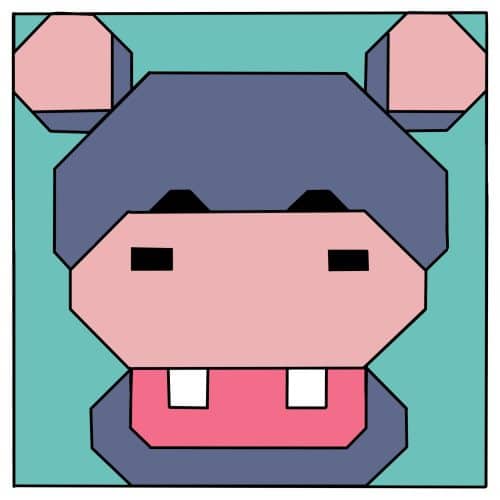 About the Hippo Quilt Block
This Quilt Block is traditionally pieced – you don't need to know any specialty techniques other than regular cutting and straight stitching. However, it does have some small pieces, so you'll want to make sure you starch your fabric well, and stitch with an accurate 1/4″ seam allowance. A confident beginner may be able to make this quilt block, but you may want to have a friend close at hand to provide accuracy tips as you sew. We can all agree that it is usually more fun to sew with a friend!
How to use the Hippo Quilt Block
The quilt block finishes at 12″ square in the quilt – which means you'll square it up to 12.5″ when you've finished sewing. You can use this Hippo Quilt Block in a number of ways – such as to add borders to make a wall hanging, make it into a tote, or use it part of a themed quilt. This hippo quilt block is very versatile – you can use the hippo in a jungle quilt, a hippo also makes a great addition to a zoo quilt. If you make many hippo quilt blocks, you can put them together to make an all-hippo quilt. Did you know that a group of hippos is called a "bloat" of hippos? That sounds a bit insensitive to me! Maybe the hippos don't mind?
In spite of it's aggressive nature, a hippo quilt block is also a fun addition to a Christmas Quilt. While it may not be readily apparent, do you know why a hippo can be Christmas-themed? Because there is a fun Christmas song titled, "I want a hippopotamus for Christmas!" So, you can add a hippo to any Christmas quilt for a bit of whimsy. Sometimes when I want the whimsy to be a fun joke between me, as the maker of the quilt, and the recipient, I add fun things to the quilt backing. You can make this quilt block and piece it into the quilt backing of a Christmas quilt, making it extra special!
How do you get the Free Hippo Quilt Block?
Get your quilt block pattern free when you sign up for the email newsletter using the form below, and you'll also get other free patterns:
More Jungle-themed Quilt Blocks
Check out all these other great jungle-themed quilt blocks:
Hippo Quilt Block by Carolina Moore
Emerald Tree Boa from Inflorescence
Tiger at Duck Creek Mountain Quilting
Snakes, Slugs and Snails at Scrapdash
Stacked jungle animals by Appliques Quilts and More
Palm Leaf by QuiltFabrication
Margaritaville by Inquiring Quilter
Chameleon Block by BoBerry Design Co.
Monkey Business at Patti's Patckwork
Tropical Bloom
Jungle Vines
Toucan Quilt Block by Purple Daisies Quilting
Teal Gorilla by Blue Bear Quilts