This quilt has been on my mind for months, and I'm so excited to share it as a Ruler of the Month quilt! Many times, when you see a quilt like this, it has been either foundation paper pieced or the pieces have been cut with a template. With 100 trees in this quilt, I didn't want to use a tedious method to make these blocks! So, I re-purposed the Creative Grids Strippy Stars tool to make this quilt using strip piecing methods! Strip Piecing is much faster than foundation piecing or cutting templates, which means this quilt goes together much faster. And, because of the way the Strippy Stars template is designed, you also avoid sewing any unsupported bias edges. Which means that your blocks will stay square!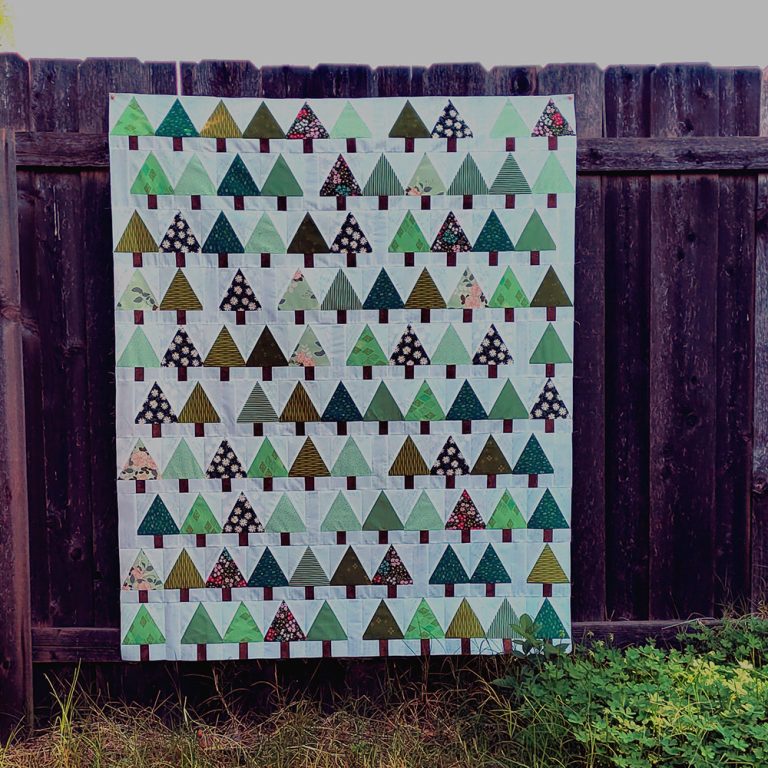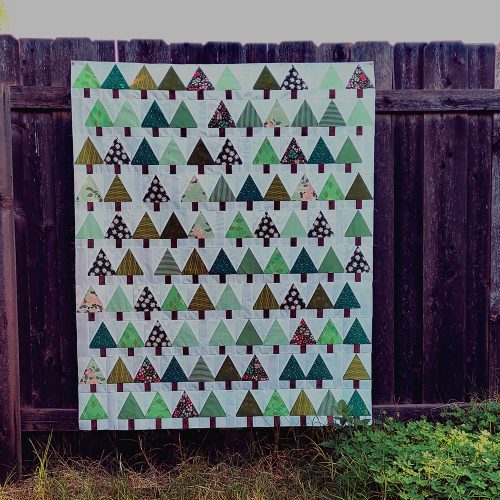 This post contains affiliate links which may provide a small commission to this site when a purchase is made. There is no additional cost to you.
If you're not familiar with the Strippy Stars tool, or want to get reacquainted, you can watch my video on this fabulous tool here:
I sell the Strippy Stars Tool in my shop. You can also find the Stripy Stars Tool at the Fat Quarter Shop and you can find the Strippy Stars Tool on Amazon. I love this tool so much I've actually made two other patterns using this ruler. The Patriot Mini and Pocket Advent Calendar are both available on my site.
And while I could have left these 100 trees in a grid format, that feels far too orderly for a forest quilt. So, I made sure that the trees got a random, staggered look to them. Much more fun and modern than a grid of identical tree blocks!
The Forest for the Trees quilt is a great winter quilt, with so many fabulous pine trees. But, I also love it as a cabin quilt! This past year my family visited the mountains two different times, and had a fabulous time staying in different cabins. This quilt is the perfect cabin quilt!
You can choose to make all your trees from the same fabric, but I loved making this tree quilt with an assortment of different Art Gallery Fabrics green prints. From blenders to solids to florals and geometrics, the different designs give an overall scrappy feel without being overpowering.
The forest for the trees quilt pattern can be purchased from my online quilt shop here: