I wanted to play with the Gnome die on my Accuquilt GO! machine, but I wasn't ready to start on Christmas quilts yet. So, I thought I'd try stitching up a gnome using Halloween fabric. I made one, and immediately fell in love with how it looked! I knew I wanted to make more, but I wasn't sure what I'd do with them.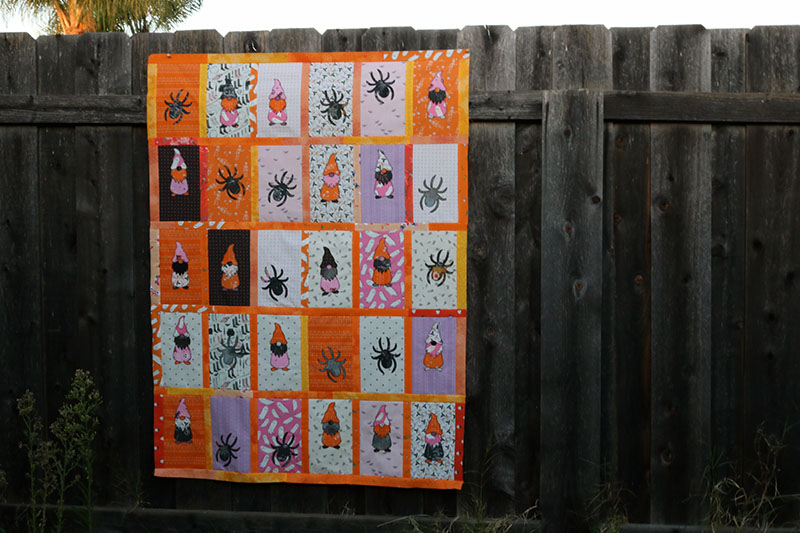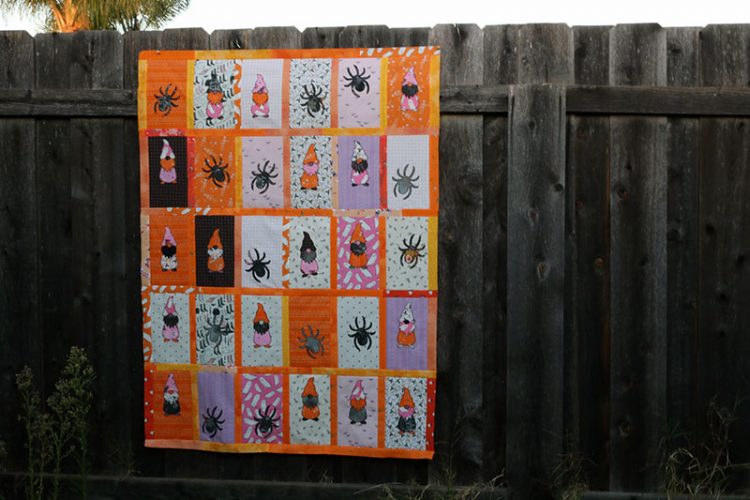 This post contains affiliate links which help support this site at no additional cost to you.
Even though I wasn't sure what I was going to make, I cut out hats, bodies, beards, feet, and noses from Halloween fabrics. I used Art Gallery Fabrics Spooky N Sweeter fabric as well as other Art Gallery Fabrics that coordinated. I fused Heat N Bond Lite to the back of all the fabrics before cutting.
For the background, I cut fabric 6″ x 10″. After seam allowance, this leaves a 5 1/2″ x 9 1/2″ block which is an odd size. But, I wasn't worried about combining these blocks with blocks of a different size. I also didn't worry about the position of my Halloween Gnomes. Some are closer to the top and some are closer to the bottom. I just kept them at least a 1/2″ from the edge to make sure there was plenty of room for seam allowance.
I did want to combine the gnome blocks with some other blocks. I had made two spider projects for Accuquilt – the Spider Cluster Table Runner and the Dangling Spiders – and I had some leftover spiders cut out. So, I added spider appliques to some of the blocks. You can find the Accuquilt Spider Die here.
I picked out a total of 30 blocks – 5 rows of 6 blocks each – and used 1 1/2″ strips that I had leftover from making the Scrappy Pumpkin Table Runner as sashing to put them all together.
I'll be quilting it using large black stitches on my Baby Lock Sashiko machine, which will complete the Halloween look on the quilt. And, I still have some leftover gnome blocks that I'll make zippered pouches with, just for fun.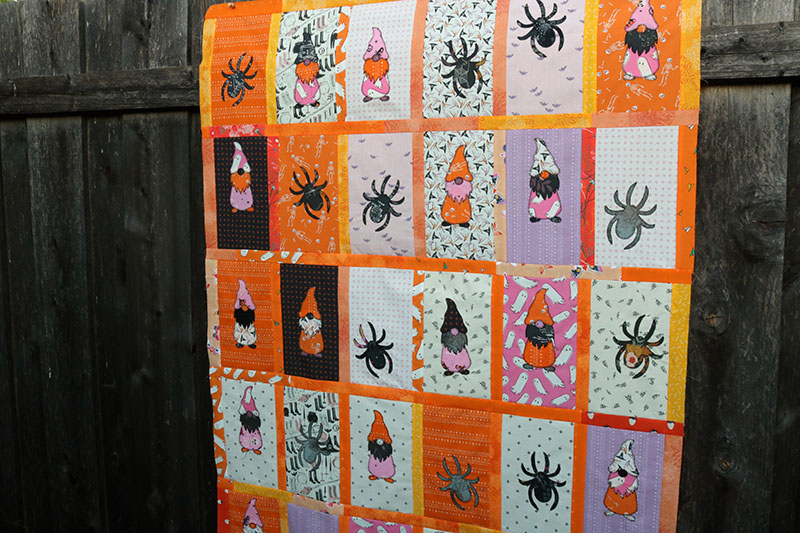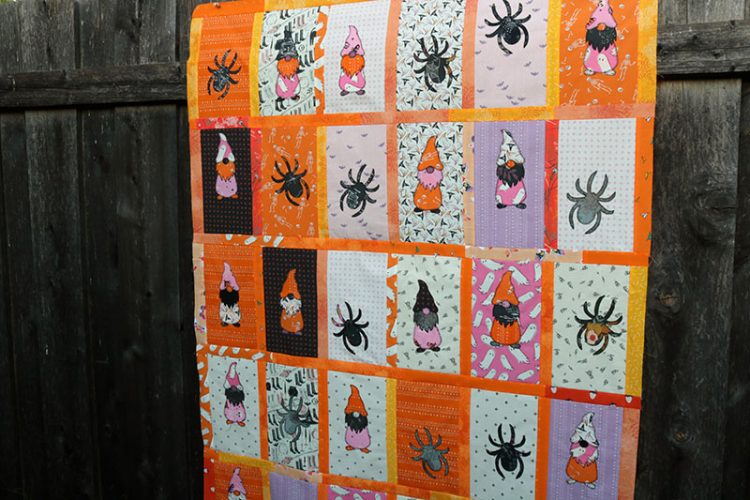 If you'd like to make a quilt like this, or play with any of these designs, then you'll want to get the Accuquilt dies I used. I used the Accuquilt Gnome Die as well as the Accuquilt Spider Die.