Do you have some favorite pieces of fabric you'd like to turn into wearable accessories? Or maybe you love hexagons and want to show it in your wardrobe. Maybe you want to try out some of this hexagon madness without committing to a big project. These hexagon fabric bracelets are perfect for you! They make a great gift for a fabric-loving friend, or to mail in a swap package with a fellow quilter. Simple to make with just hand stitching, you'll get addicted to these fun hexie bracelets!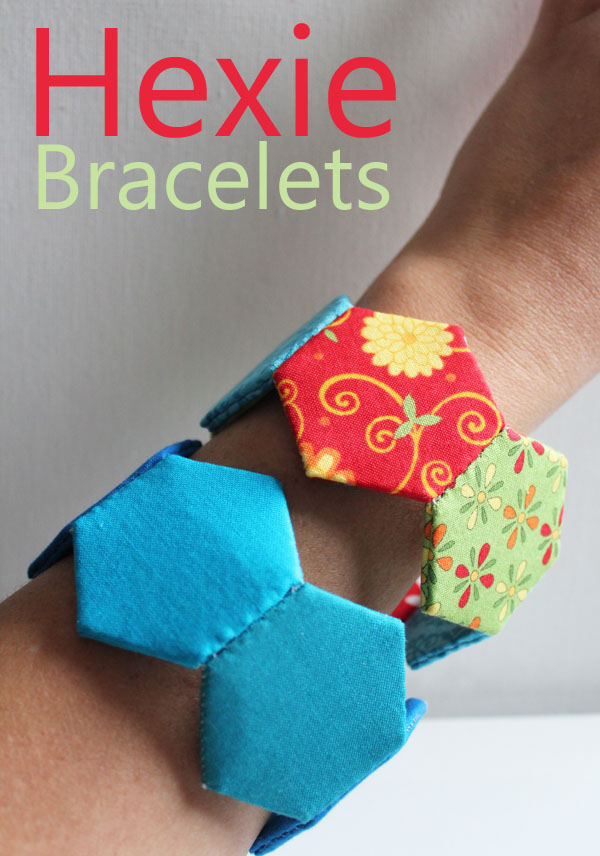 Supplies:
1″ Hexagon Template
Pellon 71F
Pencil
Scissors
Fabric (I used 4 Charm Squares for each bracelet)
Needle and thread
Start by tracing your 1″ hexagon onto the Pellon. You'll need 12 hexagons for each bracelet. For reference, a 1″ hexagon has sides that are 1″ across.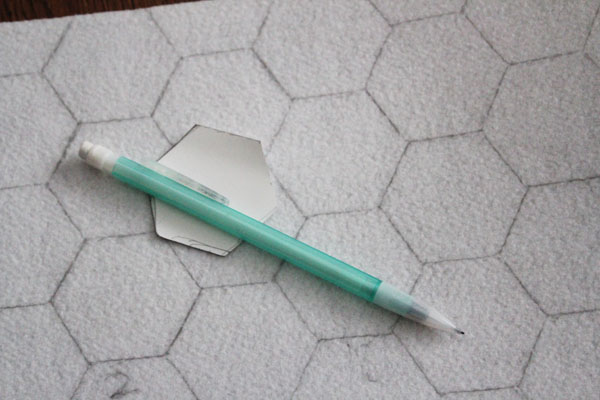 Cut out all your hexagons.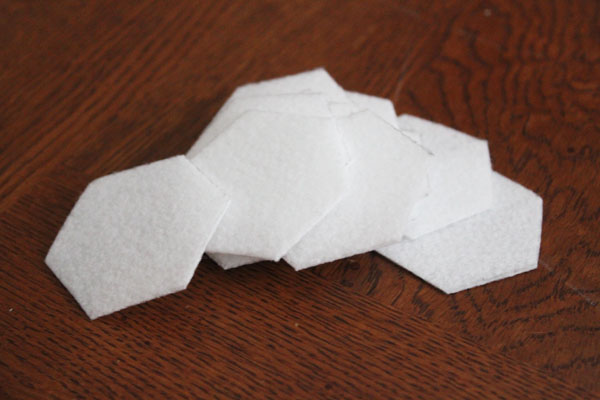 Fuse the hexagons to your fabric, and trim the fabric. You'll want to give yourself a generous 1/4″ of fabric all the way around each hexagon.
Fold over one edge of the fabric and tack down with a few stitches.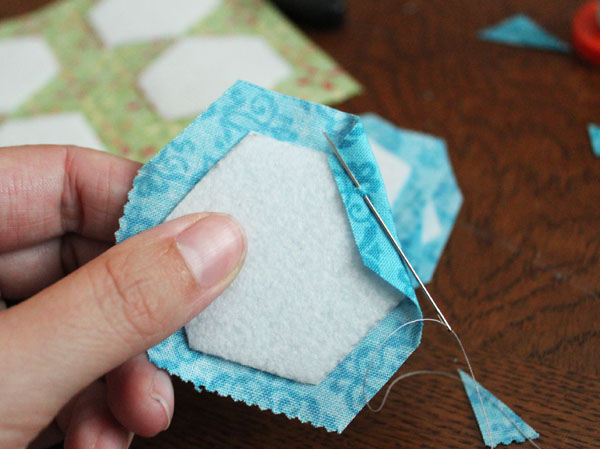 Fold down each side, and put two stitches in each corner to hold down the sides.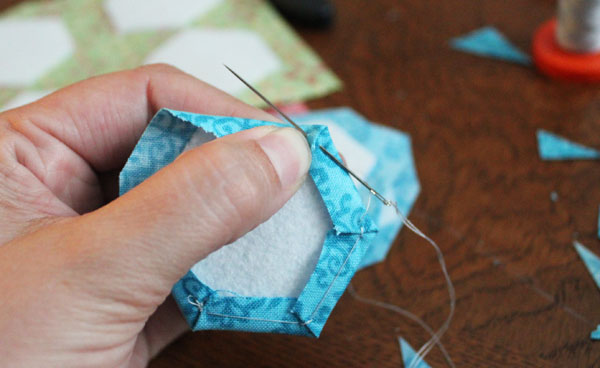 Add a few extra stitches on the final corner to secure, and cut the thread. Repeat for all 12 hexagons.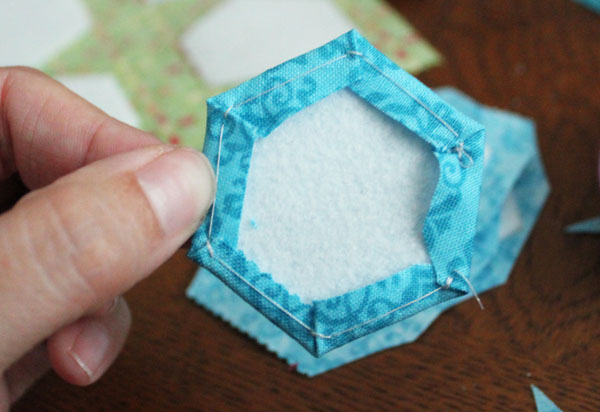 Put two hexagons right sides together, and stitch along one edge. You can whip stitch them together, or you can use a ladder stitch to secure the edges. Repeat with all the hexagons to make 6 pairs.
The ladder stitch, I found, is less visible than whip stitching the pieces together. Start by making a stitch on one edge. Where the needle comes up, start a stitch on the opposite side. Keep making stitches on alternating sides all the way across. Your stitches will look like a series of straight lines up and down across the edge of the hexagons.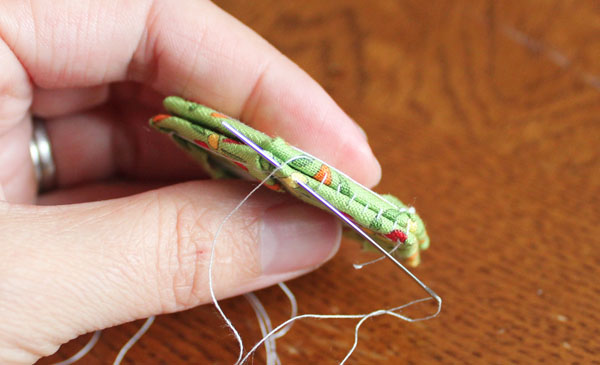 When you unfold the hexagons, and make them flat, you'll see the stitches. Pull on your thread to tighten the pieces together, then secure with a few stitches.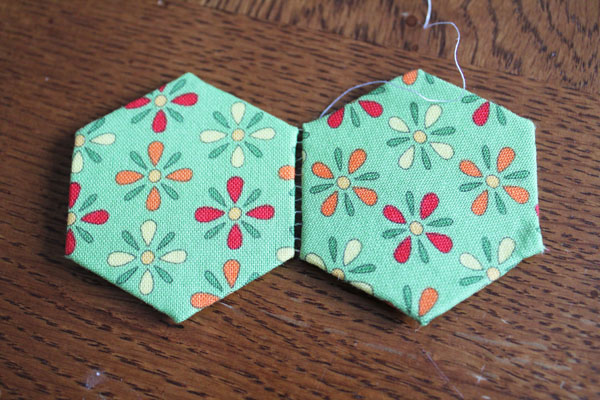 Once you have your 6 pairs, use the same stitch to stitch them together.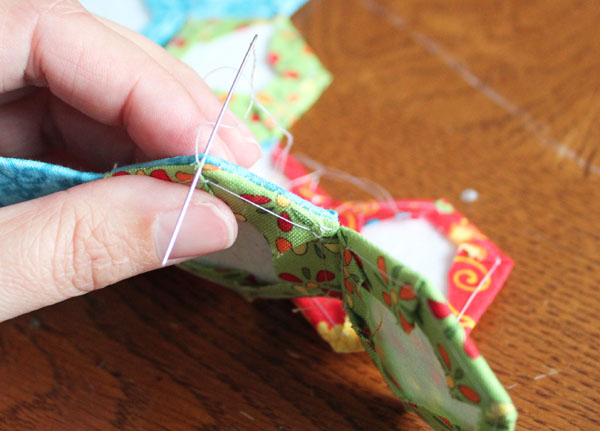 You'll want 6 hexagons down the middle, with the extra hexagon for each hanging off of either side.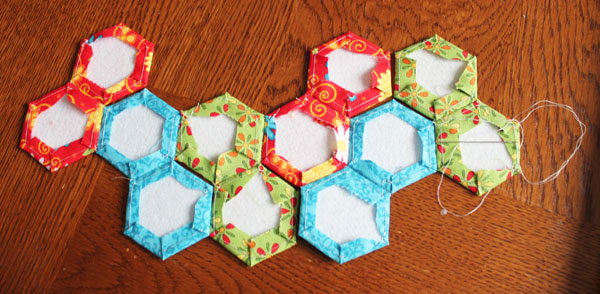 Fold over the matching pairs, one at a time, and stitch down around each edge. making a sandwich with the right sides out. This hides all the backs of your hexagons, and leaves just the pretty side.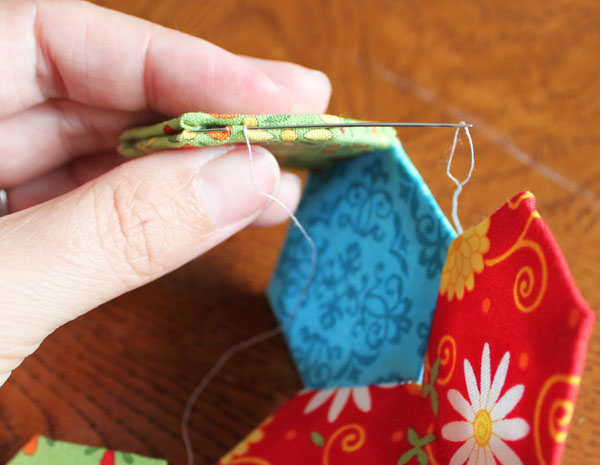 Repeat this with each hexagon, all the way around. When you get to the end, match up the two ends and stitch them together. Line the two pieces up, and stitch the two inside edges together first.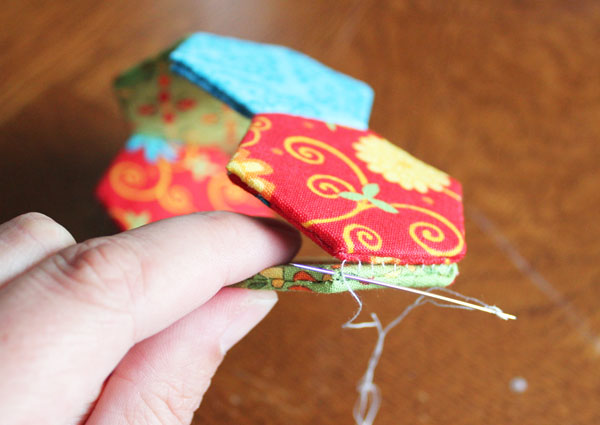 Then go back across, stitching together the two outside edges. Secure the thread with several stitches, and adjust the hexagons to form the shape of your hexagon bangle bracelet.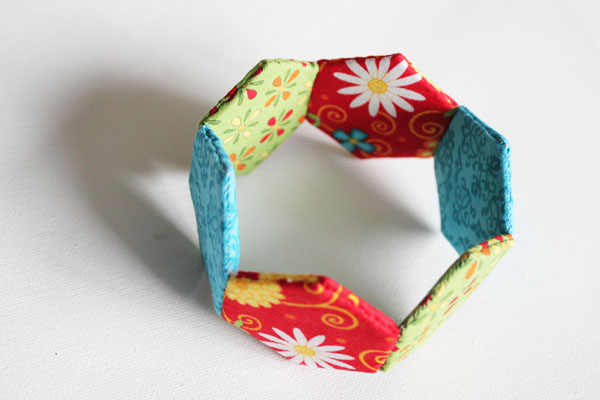 They're pretty addictive… you'll find yourself making a whole armful!