I'm so excited to share with you my new book! It is called "Learn How to English Paper Piece," and was written with Nancy's Notions. Learn how to English Paper Piece is available on the Nancy's Notions website so you can buy it now! And to celebrate, for the next two weeks some of my quilty friends are checking out the book to let you know what they think! Be sure to scroll down to check out all their posts about the book!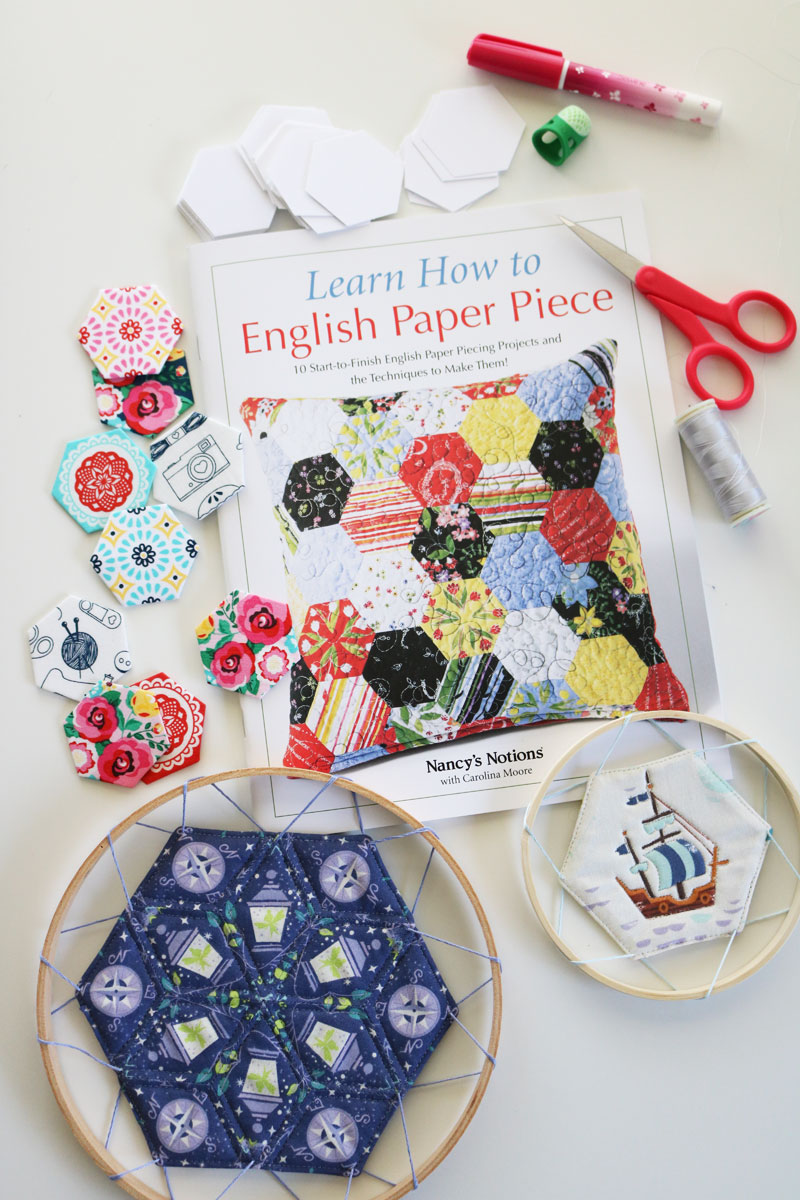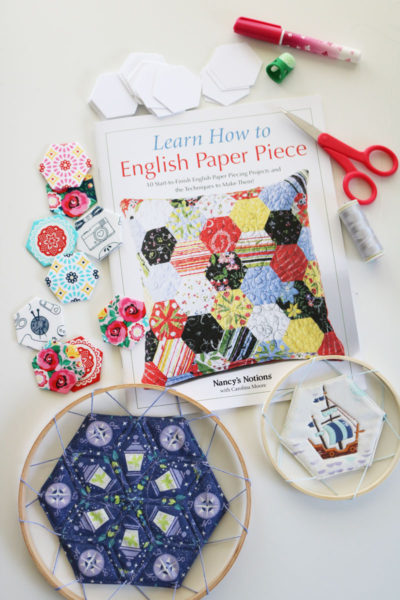 I've been a long-time EPP fan (that is English Paper Piecing for those of you not yet on a nick-name basis with this fun technique), and I was very excited when Nancy's Notions asked me to write a book on the subject! One of my biggest frustrations with EPP is how long it can take to make a substantial project! To make a quilt out of 1″ hexagons can take YEARS. So this book is the opposite of that. Many of the projects in this book can be done in a single day, or even an afternoon. Even the quilt in the book could be completed in a weekend if you really put your mind to it! That makes for some EPP that is actually manageable, don't you think?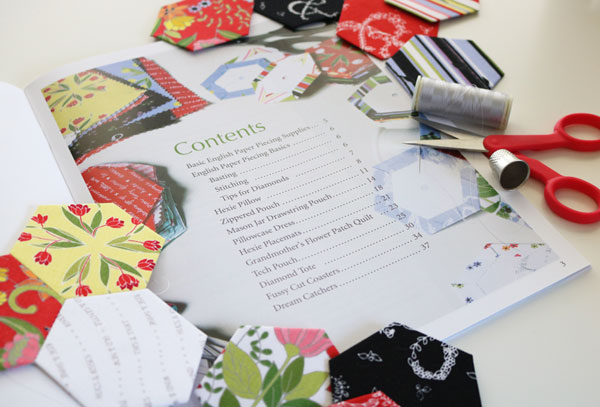 I also want to send a huge THANK YOU to my friends at Riley Blake Fabrics who sent me all of the fabric featured in this book! Aren't all these fabrics awesome?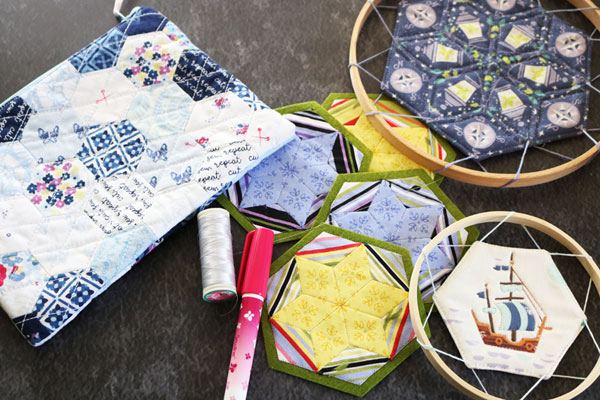 You'll learn how to English Paper Piece, as well as how to turn that EPP into a pillow, a pouch, a bag, a quilt, coasters, placemats, and more… check out all the fun projects in this video I put together about the book:
And if you're new to English Paper Piecing, you can get the starter set that Nancy's Notions put together on their website.
Books are amazing for sharing multiple patterns and projects along a theme, but if you are learning a new technique, it can be nice to have a person right in front of you showing you the basics. So I put together a simple video that shows you how to stitch together English Paper Pieced Hexagons. You can watch that here:
If you'd like to learn more about the book, over the next 2 weeks some of my quilty friends are sharing their thoughts! You can check out their thoughts on the book, what they plan to make, and even some finished projects made from the book!
Saturday, January 26th: Linda from Linda B Creative and Havalah from Sisters, What
Sunday, January 27th: Teresa from Sewn Up, Teresa Down Under and Stephanie from Modern Sewciety
Monday, January 28th: Jen from Faith and Fabric and Alicia from Sew What Alicia
Tuesday, January 29th: Sherry from Powered by Quilting and Marie from Underground Crafter
Wednesday, January 30th: Brooke from Brooklyn Berry Designs and Melody from Two Maker Chicks
Thursday, January 31st: Ali from Home Crafts by Ali and Sarah from Quilted Diary
Friday, February 1st: Bobbie from the Geeky Bobbin and Gemia from Phat Quarters
Saturday, February 2nd: Beth from Garland Girl Quilts and Bobbi from Snowy Days Quilting
Sunday, February 3rd: Kirsty from Bonjour Quilts and Simone from Charmed Life Quilting
Monday, February 4th: Aimee from Things Small and Simple and Mathew from Mister Domestic
Tuesday, February 5th: Kathy from Kathy's kwilts and more and Kim from Stitched in Purple
Wednesday, February 6th: Audrey from the Cloth Parcel and Anorina from Samelia's Mum
Thursday, February 7th: Laura from Slice of Pi Quilts and Lauren from Molly and Mama
Friday, February 8th: Sarah from Saroy and Stephanie from Swoodson Says