Need a little luck? Or want to send some luck to a friend? This Lucky Charms Quilt Block makes a great mini quilt, or a focus block on a larger quilt! With a horseshoe, a rainbow, and a four leaf clover for luck, these lucky charms are sure to brighten anyone's day!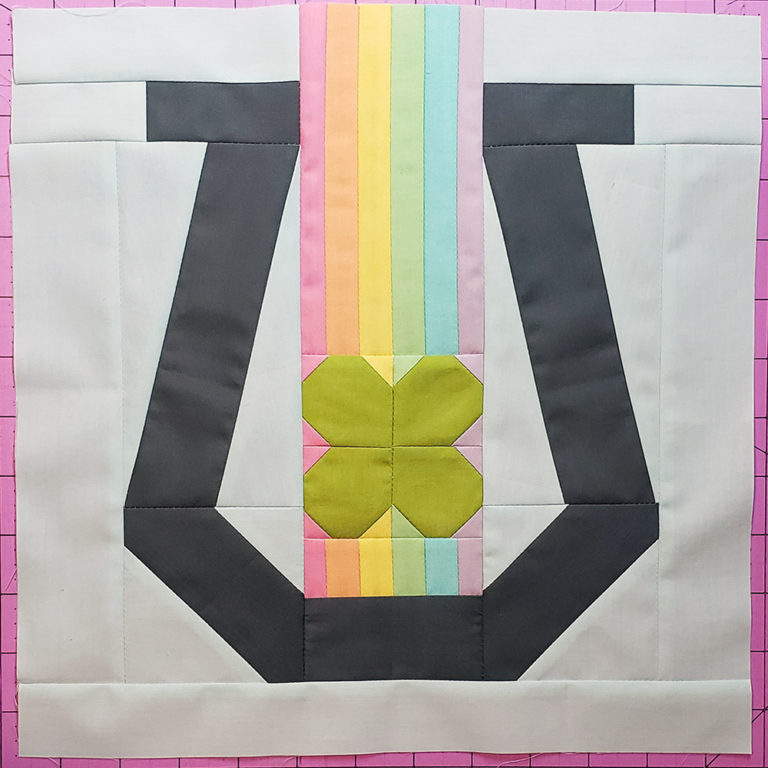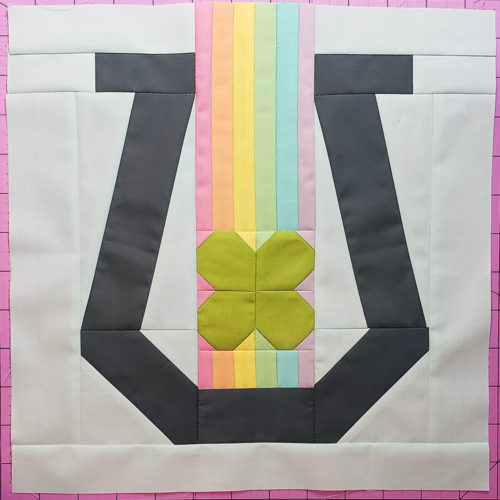 The block finishes up at 12″, once it is all stitched together. There is some small piecing, with a few pieces that are as small as 1″. But, the block comes together fairly quickly, and has a lot of interest for a block this simple!
When you use the block, make sure that your horseshoe finishes with the opening facing up. When horseshoes are hung above doorways for luck, the opening faces up so that the luck doesn't spill out!
Use the form below to sign up for my newsletter to get your Free Lucky Charms Quilt pattern. The download link will be sent to your inbox – be sure to check your spam or promotions folders if you don't see it show up in your inbox.
If you are uncertain about tiny piecing, my best advice is to start by starching your fabrics well. If you haven't starched fabrics before, check out my video on how to starch your fabrics:
Make sure that you have subscribed to my YouTube Channel so you don't miss any of my quilty videos! I am constantly adding more quilting videos!
And if want a little more luck in your quilting, check out all these other lucky themed quilt blocks!
Lucky Horseshoe by Carolina Moore
Lucky Squares at Slice of Pi Quilts
Lucky Spin by Carolyn Burgess
Charming Wreath Block by Blockofthemodotcom
Lucky Squares Improv at Love to Color My World
Luck and Sunshine
Luck o' the Irish at Patti's Patchwork
Simply Charmed by Cotton Street Commons
Hi My Name is Lucky by Heidi Pridemore
Swedish lucky horse by duck creek mountain quilting
Charmed Clover at Perkins Dry Goods
Charming Lucky by Puppy Girl Designs
Star Bright at Studio R Quilts
Lucky Charms by QuiltFabrication
Magically "Quilt"lious
Wishing Stars
Heart Shine 4th by Sara Flynn
Lucky Shamrock Block
Lucky Gnome
Feelin' Lucky by Inquiring Quilter
Pastel Clover at Blue Bear Quilts
Daddy Hex by Pretty Piney Quilts
Pieced Lucky Hat
Sam's Pot of Gold
Love and Luck by PhoebeMoon Designs
Maneki Neko by Capaquilts
The Butterfly Charm