I'm so excited to share the 2022 Mini Quilt Advent with you!
The Mini Quilt Advent is available for pre-order now, at the discounted pre-order price. Pre-orders only go through September 16th, and then price will go up. It is especially important to pre-order because only pre-orders are guaranteed to get an Advent Calendar (quantities are limited). All orders will ship early November 2022.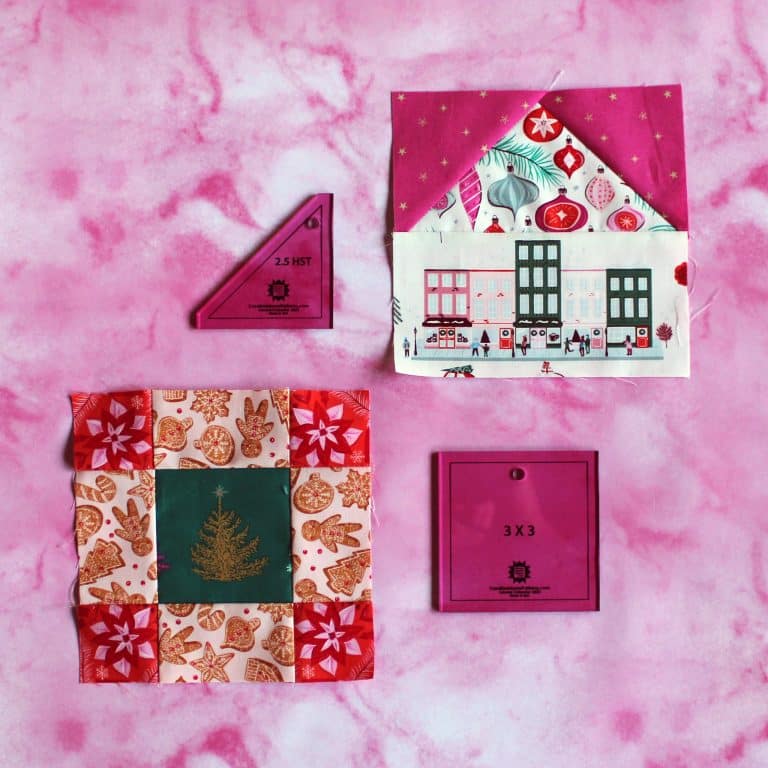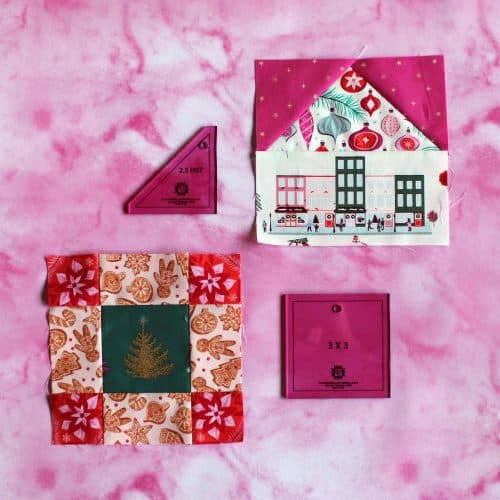 What is the Mini Quilt Advent?
It is a set of 12 Acrylic templates for making quilt blocks. Each is put in a numbered envelope with a pattern. Starting December 1, participants open an envelope each day, and use the template and pattern instructions to make the quilt block. As you continue to open more envelopes throughout the month, some of the patterns use previous templates in addition to that day's template to make the block.
You can turn the blocks into ornaments, mug rugs, or sew them together to make a mini quilt. The template pieces are all useful sizes that you can use on other projects. You can also use the patterns again and again to make other quilts and projects.
Because December is such a busy time, we keep this Advent to just 12 days. That way you can easily skip a day here and there and not feel behind.
What changes are there for the 2022 Mini Quilt Advent?
It is BIGGER! The 2022 blocks are 6″ finished quilt blocks!
The lines are PRINTED instead of etched, which makes it easier to read the lines!
We've managed to BRING THE PRICE DOWN (and the price includes US Shipping)!
This year we're using PINK for all the template pieces!
Comes in a zippered project bag for easy storage
ALL NEW PATTERNS – each of the 12 patterns is new this year – no repeats from last year!
Give me the details
The price for the Mini Quilt Advent is $75. Pre-order price through September 16th is $60 (prices include shipping). Only pre-orders are guaranteed an advent calendar – quantities are limited! Surprisingly – the $60 price is a full $25 less than last year's price!
You can use your own fabric, or get a fabric bundle instead. The Fat Quarter Bundle is plenty of fabric for making all 12 blocks. If you like extra fabric, get the Half Yard Bundle.
YES – there will be daily videos again this year showing the step-by-step of making each block. Watch one of last year's videos below:
Be sure to order your Mini Quilt Advent now at the pre-order price of $60 including shipping  – the price goes up to $75 after September 16th! All orders will ship early November 2022.
For an idea of what to expect in your 2022 Advent, with no spoilers, go check out the 2021 Advent here.
And if you missed the 2021 Mini Quilt Advent, but would like to get your hands on a set, there are still limited quantites available – go here for the 2021 Mini Quilt Advent.
I've already started playing with one of the Advent Sets I had shipped to me early – and I'm so excited! The pink, the printed lines, the bigger blocks, and all new patterns for this year … I can't wait to ship yours to you! If you have any questions, just let me know!