If you have kids and have never heard of the great pumpkin, then you're in for a real treat. And not the sugary chocolate-covered kind. The Great Pumpkin is like the Tooth Fairy of Halloween. In fact, I have it on good authority that he is a third cousin (twice removed) of the Tooth Fairy. He picks up candy to keep kids from getting a stomach ache, ruining their appetite, and all the other bad things copious amounts of candy are known for.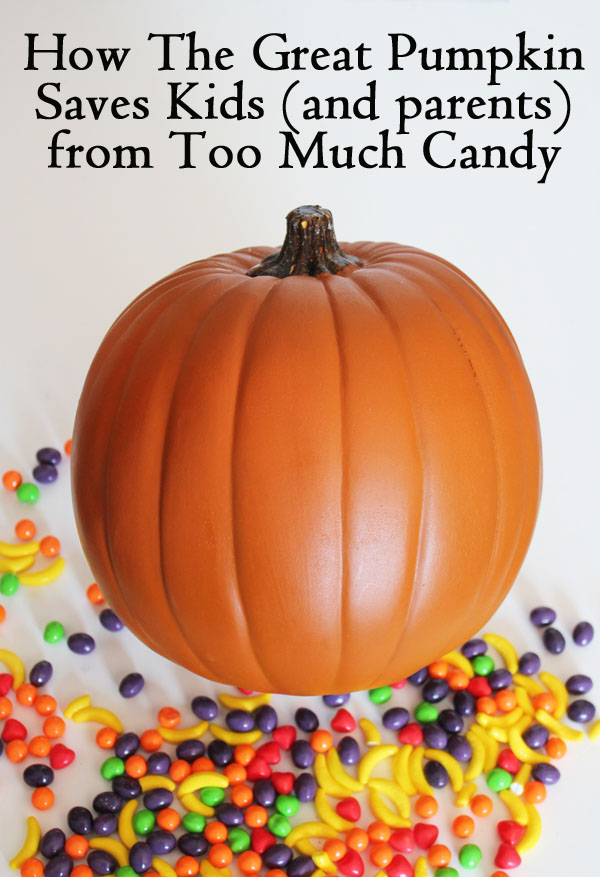 Here is how the Great Pumpkin works at our house:
My kids get to Trick or Treat as usual.
When they get home, they get to pick THREE pieces of candy that they can eat right then. If they're smart, they'll pick the full-sized candy bars… but it is up to them.
The rest of their candy goes back into their trick-or-treat bag, which is left by the back door.
While they are sleeping, the great pumpkin will collect their candy, and trade it in for a toy! (I have it on good authority that the great pumpkin will be trading in their candy for Lego this year).
When they wake up, they can come downstairs to see what the Great Pumpkin left for them!
The candy mysteriously makes its way into our pantry… but the kids are still to young to notice this coincidence.
This set-up is actually a fun twist on the way my mom traded us for our Halloween candy when I was a kid. We'd get a toy in exchange for the bulk of our Halloween treats. The benefit of getting the Great Pumpkin involved is that the kids need to go to bed in order for the Great Pumpkin to come! And anything to help over-tired and sugar-infused kids get bathed and in bed is a bonus!
Hope you have a happy (and safe!) Halloween!